Squeeze Page Preview: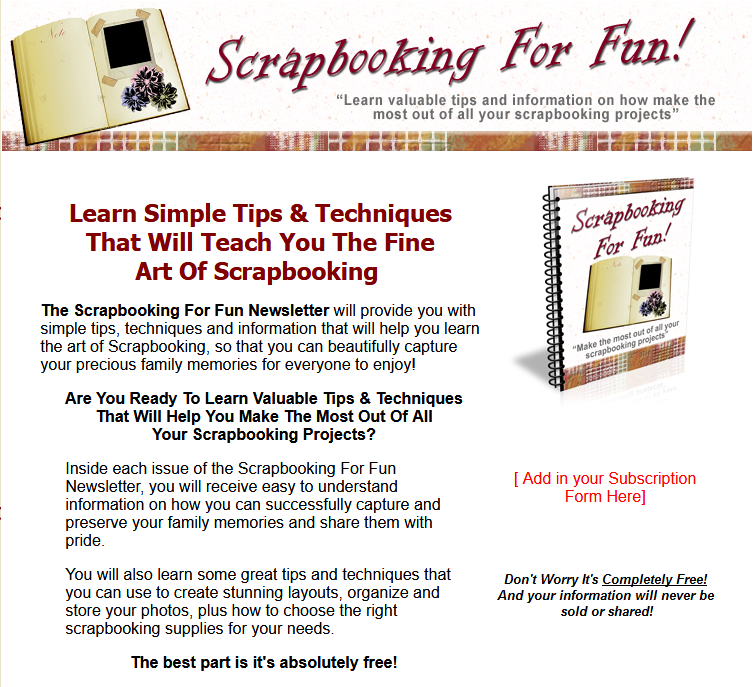 >>> Click Here To View Full Squeeze Page…
Features:
* 12 Issues Full Of Great Content
– Just add in your contact info and plug it in to your favorite auto responder. Each issue contains 500 words or more!
* One Ready To Go Squeeze Page
– Just add in your opt in form, upload to your server and your done!
* One Ready To Go Thank You Page
All ready to remind your subscribers to check their email and confirm their subscription. It even has built in revenue!
* 4 Researched Click Bank Products
These are top selling products on Click Bank that I've personally researched and chosen for each series.
* Extra Copy And Paste Article Content
You will get:
– Extra titles
– Extra opening paragraphs
– Extra closing paragraphs
– Extra fill in paragraphs
(these would make great tips that you add in to your follow ups system for more frequent contact with your readers)
Sample Content Preview
Hello "autoresponder code here",
In the last issue we talked about some easy ways to scrapbook on a
budget. In this issue we are going to talk about .
Above scrapbooking supplies, what must and should be constantly
prioritized are the photos. Photos are not easily replaceable. Not
everyone, is organized enough to actually keep the negatives
or store the digital copies properly. Photos are the keepers of your
memory. Photos are usually the main elements of your scrapbook
page. Although supplies are also important, they can be easily
replaced although with additional expense on your part.
Here are a few tips on how to safely store your photos and scrapbook
supplies as well, so you can use them for years to come:
Organize your Photos Accordingly
If you have a lot of photos, it would be best to take time and organize
them in photo boxes. Photo boxes are cheap tools for organization.
They can easily be bought in all craft stores or supply stores. Photo
boxes are usually acid-free, so they will help not to let your photos get
damaged. Label them accordingly. Whether it be by year, by person or
by theme, you decide.
What's important is they are compartmentalized so when the time
comes that you'll need them, you won't have to rummage around and
waste another half day looking for a particular photo. Store boxes in
cool, dry places that are not susceptible to moisture. Moisture will let
your photos stick on each other. It would also help if you take a sheet of
acid-free paper or wax paper and place them in between photos so
they won't lightly stick no matter how long they're stored.
As for digital files, don't keep the original copies on your hard drive
alone. It would be best to burn them on CDs or at the very least, store
them online through tools like Multiply or Photobucket so you can be
sure of getting a copy in case the hard drive crashes.
Hang Up or Compartmentalize
As for supplies, there are different ways of organizing those punches,
scissors, trinkets, beads and paper cutters. You can opt to use rolling
organizers where each drawer can be used for each type of tool. For
example, cutting tools can be on one drawer or box, punching tools can
be on another, stickers on another and so on and so forth.
Another way to organize is by hanging them so you can easily take hold
of them while you're scrapping. Plastic packets are great alternatives
since the tools can be easily seen and they can be hung so that they
won't clutter the working space. Paper can be stored on different trays
in order to make finding them easier. Apart from trays, vertical storage
is also useful as you can easily see them when you're working.
For small pieces of jewelry and other trinkets, you can either place them
in a toolbox or hang them using small plastic packets on a corkboard.
Just remember that they key to good organization is maintenance, so
every time you've finished with a project, take ten minutes to return all
your supplies and photos in the right place.
Make sure you look for your next issue soon. We will be talking more
about how to organize scrapbooking supplies and accessories.
Until then,
"your name here"
"your email address"
"your URL here"
Sample Extra Titles
The Secret For Great Scrapbooking Revealed in 5 Simple Steps
The Idiot's Guide To Scrapbooking Explained
The Unexposed Secret of Great Scrapbooking
The Ultimate Solution For Great Scrapbooking
The Truth About Great Scrapbooking
5 Odd-Ball Tips on Scrapbooking
Kids and Scrapbooking
7 Shocking Facts About Scrapbooking Told By An Expert
The Insider Secret on Great Scrapbooking Uncovered
The Insider Secrets of Great Scrapbooking Discovered
The Insider Secrets For Great Scrapbooking Exposed
Effective Strategies For Great Scrapbooking That You Can Use
The Birth of Scrapbooking
A Simple Trick For Great Scrapbooking Revealed
5 Simple Tactics For Scrapbooking Uncovered
Scrapbooking Starting In The Next 10 Minutes
5 Tips for Great Scrapbooking You Can Use Today
The Ultimate Strategy For Great Scrapbooking
And More…
Sample Extra Paragraphs
Use the rub on transfer technique. Rub-ons for long, had been the
favorite among both amateur and veteran scrappers. They create pretty
effects that make layouts extra special. There are plenty of ways for
which you may use rub-ons. The most common of which is to apply
them on the cardstock, photos or any sort of papers, may it be
patterned or plain.
————————————
And these people will most likely gather sample die cuts and
embellishments and stick-ons for each planned page. Thus, they tend
to choose the right pieces together for their possible layouts. At the
end, they will collect other stiffs that will match their themes.
————————————
Well, the free scrapbooking layouts here that we are talking about are
not the exact layouts that you would use step by step. Instead, we have
prepared free scrapbooking layout plans that will contribute largely with
the development of your craft and your own style. After all,
scrapbooking is one good way for your personality to radiate.
————————————
The organized group are those buyers who take time to bring with them
photos and memorabilia as reference for when buying. They browse
aisles by aisle and choose specific types of papers according to their
immediate needs, matching their choices with the materials that they
have.
————————————
Most stores keep their papers in horizontal stacking, either by racks or
by shelves. This is largely because they are equipped with much space
to work with. Unfortunately, most of us don't have that enough space so
the best solution would be to furnish snap top cases for better
organization. Not only are these cases great for paper stacking, they
also work well for storing other scrapbooking materials that you
normally or presently use.
————————————
In fact, this hobby has already become a craze and believe it or not, its
popularity has exceeded golf. At a conservative measure, there are four
scrapbookers in every American family while there are only three
golfers who could play golf in each household.
And More…
Other Details
- 12 Part Autoresponder Email Messages (TXT, DOC)
- Squeeze Page (HTML, PSD)
- Ecover (PSD, JPG)
- Affiliate Programs List
- File Size: 18,900 KB