Squeeze Page Preview: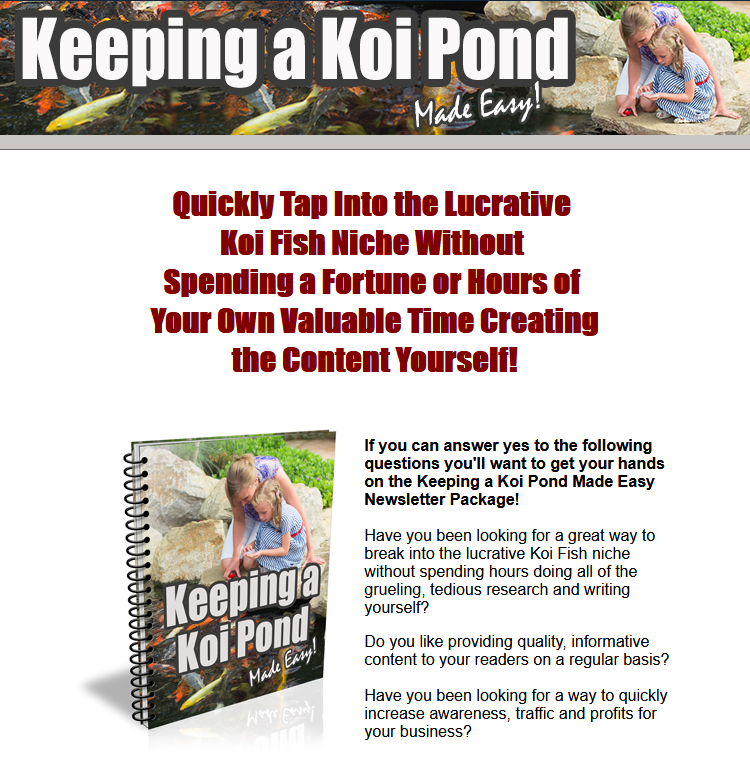 >>> Click Here To View Full Squeeze Page…
Features:
* 12 Issues Full Of Great Content
– Just add in your contact info and plug it in to your favorite auto responder. Each issue contains 500 words or more!
* One Ready To Go Squeeze Page
– Just add in your opt in form, upload to your server and your done!
* One Ready To Go Thank You Page
All ready to remind your subscribers to check their email and confirm their subscription. It even has built in revenue!
* 4 Researched Click Bank Products
These are top selling products on Click Bank that I've personally researched and chosen for each series.
* Extra Copy And Paste Article Content
You will get:
– Extra titles
– Extra opening paragraphs
– Extra closing paragraphs
– Extra fill in paragraphs
(these would make great tips that you add in to your follow ups system for more frequent contact with your readers)
Sample Content Preview
Hello "autoresponder code here",
In the last issue we had a brief introduction to Koi ponds. In this issue we are going to go over some of the essential Koi pond supplies you should consider.
As a new Koi pond owner, you may be overwhelmed with the amount of supplies needed to properly maintain your Koi pond. While the importance of the majority of these items cannot be denied, the feeling of being overwhelmed by the amount needed should be disregarded. Simply knowing the function of each item can help you understand why they are needed.
There are certain items that you need to have on hand at all times. Because you pond is outdoors, emergency situations do occur. Nature is simply unpredictable at times, and you don't want to be caught in a situation where an item is needed and there is no quick way to obtain it.
– Filters
Having a working filter is essential for removing unwanted pollutants, and maintaining proper water quality. If you don't have a proper filter, water quality issues can occur, which in turn will cause your fish to have health issues.
– Pump
A pump is essential to the health of your pond. If you water is not moving, there is no way the system can process the water. Moving water can also be from waterfalls, fountains, and other water features, but in no way should completely replace your pump.
– Dechlorinator
Tap water contains chemicals that can potentially harm your fish. When adding new water for any reason, you must add Dechlorinator to eliminate these chemicals.
– Test Kits
You will need to have ammonia and nitrite test kits on hand at all times. You will need to perform weekly water tests on your water to ensure proper water quality. Emergency tests may also be needed in the event that you notice discrepancies in your Koi behavior or in the water.
– Pond Salt and Baking Soda
Pond salt and baking soda are used to regulate PH and Nitrate levels in the event that you find a discrepancy. Pay close attention to the amounts you are supposed to add to your pond, which depends on size and the issues you are currently having.
– Bags
You must have the proper bags on hand to transport Koi. Don't attempt to transport your Koi in trash or regular plastic bags, as they are not designed for this, and may cause damage to your Koi. Unless you remembered to keep the bags you brought your koi home in originally, you will have to make a trip to your local pet store. Make sure to get bags sizable enough to hold your Koi.
– Rubber Bands
You will need quite a few rubber bands for each bag you buy. Make sure that your rubber bands are good quality, as you don't want the pressure from the water to pop the rubber band in the middle of the transport.
– Net
You will need to have a net sizeable enough to compete with your Koi. You will never need the net to pull the Koi out of the water with, but you will need it to lead and direct your Koi into the place you want them. Nets can potentially damage your Koi, especially as the larger they get.
– Bucket
A paint bucket is a better option for catching your Koi, as they cannot hurt your Koi like a net can. Make sure that your bucket is sizable enough to hold your Koi.
– Koi Staple Food
Like any other pet, Koi need to be fed daily. Talk with your local pet store or Koi dealer when picking foods for your Koi, as different seasons may dictate the type of food you need to be feeding. Koi have even been known to eat out of their owner's hand, so make sure to get food in which you are able to do this with.
– Treats and Snacks
Like other animals, Koi delight in treats, and will respond in a playful manner to them. Specific Koi treats are available at your local pet store. If you don't mind feeding "human" food to your pets, you may even consider feeding your Koi veggies, fruit, and bread.
Make sure you look for your next issue soon. We will be talking about the basics of keeping Koi.
Until then,
"your name here"
"your email address"
"your URL here"
Sample Extra Titles
The Raising Koi Fish Diaries
Raising Koi Fish – An Overview
The Ugly Side of Raising Koi Fish
An Unbiased View of Raising Koi Fish
What's Really Happening with Raising Koi Fish
The Ultimate Guide to Raising Koi Fish
5 Simple Facts About Raising Koi Fish Explained
What to Do About Raising Koi Fish Before It's Too Late
The Secret for Raising Koi Fish Revealed in 5 Simple Steps
The Ultimate Solution for Raising Koi Fish That You Can Learn About Today
Be The First to Read What the Experts Are Saying About Raising Koi Fish
The Truth About Raising Koi Fish
Find Out Who's Talking About Raising Koi Fish and Why You Should Be Concerned
5 Odd-Ball Tips on Raising Koi Fish
The Raising Koi Fish Chronicles
Kids, Work and Raising Koi Fish
7 Shocking Facts About Raising Koi Fish Told by an Expert
The Insider Secret on Raising Koi Fish Uncovered
What Everyone is Saying About Raising Koi Fish Is Dead Wrong and Why
The Insider Secrets of Raising Koi Fish Discovered
The Unexplained Mystery into Raising Koi Fish Uncovered
The Insider Secrets for Raising Koi Fish Exposed
Effective Strategies for Raising Koi Fish That You Can Use Starting Today
And More…
Sample Extra Paragraphs
Your filtration system is extremely important. There are 2 types of filtration, mechanical and biological. Mechanical filtration relieves the pond of solids such as dead algae, insects, and Koi wastes. It is important to have enough filtration to sustain the size of the pond, and the amount and size of your Koi. Biological filtration causes a nitrogen cycle, which is what removes dissolved wastes from your pond. Without biological filtration, built up waste will turn into ammonia and kill your Koi within just a few days.
————————————
Natural Koi Treats – The best type of treat to feed your Koi is what they would find naturally in their pond. Things such as earthworms, tadpoles, and bloodworms are found in ponds, and may be eaten by your Koi without your knowledge. The best way to find out what natural treats are available is just to look around the pond. Once you know what it out there, then you can either dig up the treats from the ground around the pond or buy similar products at your local store.
————————————
Keeping you Koi pond clean should be one of your number one priorities. A clean pond could mean the difference between you Koi living a beautiful stress free life, and potentially suffering until they ultimately die. The water in which your Koi live is not only where they eat, sleep, and feed, but it is also where they use the bathroom in it as well. If you do not properly clean your pond, it is almost as if your Koi are living in the bathroom toilet.
————————————
When purchasing new fish, it is a good idea to quarantine the new fish separately from your current population for no less than 15 days. Knowing that the Koi Herpes Virus is activated at exactly 74 degrees Fahrenheit allows you to expose your fish to the right conditions for the disease to show itself. Koi that live in the conditions for this amount of time and do not develop any symptoms will have a substantially less chance of having the virus.
————————————
Bread- One of the cheapest treats available is Wheat Bread. Take a piece of bread, break it up, and roll it into small balls before throwing it into the pond. Be sure to avoid all types of white bread, as it may contain small amounts of bleach and other chemicals that can potentially be dangerous to your Koi.
————————————
As a new Koi pond owner, you may be overwhelmed with the amount of supplies needed to properly maintain your Koi pond. While the important of the majority of these items cannot be denied, the feeling of being overwhelmed by the amount needed should be disregarded. Simply knowing the function of each item can help you understand why they are needed.
And More…
Other Details
- 12 Part Autoresponder Email Messages (TXT, DOC)
- Squeeze Page (HTML, PSD)
- Ecover (PSD, JPG)
- Affiliate Programs List
- File Size: 62,800 KB