Squeeze Page Preview: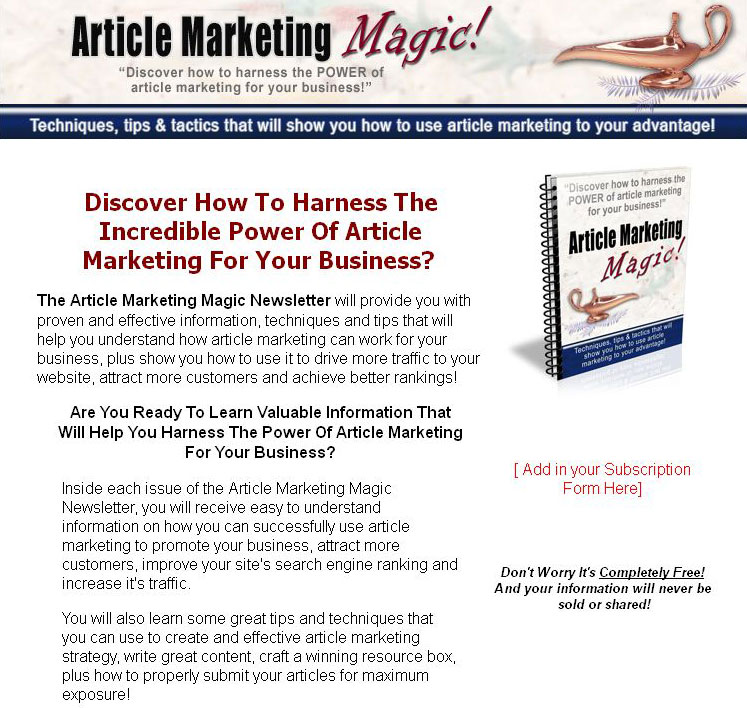 >>> Click Here To View Full Squeeze Page…
Features:
* 12 Issues Full Of Great Content
– Just add in your contact info and plug it in to your favorite auto responder. Each issue contains 500 words or more!
* One Ready To Go Squeeze Page
– Just add in your opt in form, upload to your server and your done!
* One Ready To Go Thank You Page
All ready to remind your subscribers to check their email and confirm their subscription. It even has built in revenue!
* 4 Researched Click Bank Products
These are top selling products on Click Bank that I've personally researched and chosen for each series.
* Extra Copy And Paste Article Content
You will get:
– Extra titles
– Extra opening paragraphs
– Extra closing paragraphs
– Extra fill in paragraphs
(these would make great tips that you add in to your follow ups system for more frequent contact with your readers)
Sample Content Preview
Message # 1
Subject line: Your First Article Marketing Magic Issue
Hello "autoresponder code here",
Welcome to the first issue of Article Marketing Magic. In each issue of
the Article Marketing Magic newsletter you will have access to valuable
information on how you can successfully harness the power of article
marketing for your business. In this first issue we are going to introduce
you to what article marketing is and what it can do for your business.
While the search engine wars continue to escalate, marketers are
looking for ways to improve not only their standings but how their
companies are perceived online. Both can be solved with the advent of
article marketing. Through article marketing strategies, marketers and
companies now have the ability to alter perception, increase goodwill
and improve web traffic all at the same time.
The use of articles to provide information and to alter perception has
been used as long as mass printing. Press releases are one of the
most traditional forms of article marketing wherein articles are used by
business owners to subtly advertise their products in space that isn't
typically bought or is not considered as advertising space. To such a
degree, because it is not paid for, articles are considered as more
credible than typical product content or company hand-outs.
The article increases likelihood to be seen and printed when the
content to a good degree, is helpful on top of it being a plain marketing
tool. The same rule adapts to the Internet age wherein marketers have
articles made by professional writers, freelancers or global companies
and submit them to article directories. Most of these articles have a
keyword-rich density wherein specific words are placed intentionally
within the article, so it can easily be picked up by search engines.
It is also a common practice in today's online age to submit to more
than one article directory in order to gain higher standings in the search
engines although it is believed that duplicate content usually doesn't
gain high standings in the search engines. Article directories are said
to quickly increase web traffic because of its ability to include a
backlink going back to the original site and because it is constantly
searched through by search engine bots. In addition, article directories
are also free submission sites.
You do not have to create a new website along with paying for
unnecessary expenses such as buying the domain and the hosting
plan. And despite the clamor for unique articles to submit, there are
plenty of article marketing services such as Private Label Content or
Article Spinning that continue to give out rights to articles to more than
one purchaser.
Each SEO expert will have a different formula when it comes to article
content. There is still a present battle as to what the most efficient
keyword density is or whether keyword stuffing really does work,
whether it is quality rather than quantity that counts in article marketing.
There are still even continuous arguments as to whether article
marketing is an effective method to gain exposure and traffic for
websites. Nevertheless, the common formula used by most articles is
this: a 500-word article with a 2% to 3% keyword density. Anything
more is already considered as keyword stuffing and is banned by most
article directories because it tends to oversell the product or service
rather than coming up with good-quality content.
Article Marketing is one of the most-explored methods for increasing
web exposure to date, although admittedly, its potential for growth and
usage is still very much young and will most likely continue on for years
on end.
Make sure you look for your next issue soon. We will be talking about
some of the great benefits of article marketing and what they can do for
you.
Thank you again for joining,
"your name here"
"your email address"
"your URL here"
Other Details
- 12 Part Autoresponder Email Messages (TXT, DOC)
- Squeeze Page (HTML, PSD)
- Ecover (PSD, JPG)
- Affiliate Programs List
- File Size: 16,842 KB