Squeeze Page Preview: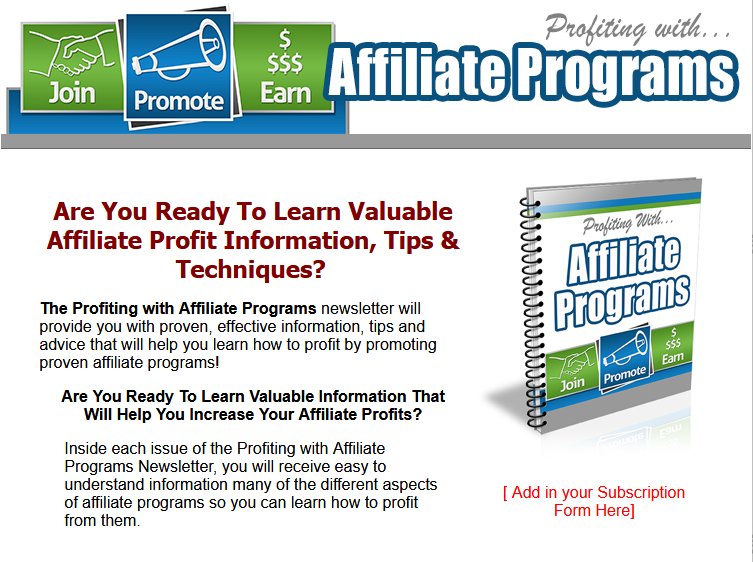 >>> Click Here To View Full Squeeze Page…
Features:
* 12 Issues Full Of Great Content
– Just add in your contact info and plug it in to your favorite auto responder. Each issue contains 500 words or more!
* One Ready To Go Squeeze Page
– Just add in your opt in form, upload to your server and your done!
* One Ready To Go Thank You Page
All ready to remind your subscribers to check their email and confirm their subscription. It even has built in revenue!
* 4 Researched Click Bank Products
These are top selling products on Click Bank that I've personally researched and chosen for each series.
* Extra Copy And Paste Article Content
You will get:
– Extra titles
– Extra opening paragraphs
– Extra closing paragraphs
– Extra fill in paragraphs
(these would make great tips that you add in to your follow ups system for more frequent contact with your readers)
Sample Content Preview
Hello "autoresponder code here",
In the last issue we talked about some (proven effective) affiliate marketing tips.
In this issue we are going to go over some simple techniques for keeping track of your affiliate sales.
The number of referrals you can generate for your affiliate marketing program can range from dozens, to several hundreds. Great if there are only a few names on your list so far since they would be easy to familiarize with but what if you've collected enough names equivalent to a mid-sized city's worth of phone numbers or email addresses?
Without an organized system, you could easily lose potential income from referrals you can't monitor. Learn how to keep track of your affiliate referrals offline and online so you'll never have to waste your efforts.
– Offline tracking techniques
Just because you're in affiliate marketing doesn't mean all your affiliate referral prospecting methods are limited online. Offline activities can be incredibly useful for generating leads.
If you're the type of affiliate who has an active social networking life, you probably make use of conferences, trade shows and meetings to mine affiliate referrals. If you do, then make sure you are organized enough to take advantage of all the prospects you get in touch with during these occasions.
An excellent way to do this is to obtain a prospect's business card. That piece of paper should hold enough information for you to use later to get in touch with that person. If you attend multiple events or are constantly generating leads online, make a few notes on the back of the business cards so you never forget important information about the person, such as the event they attended, what they said and other business-related stuff you might have discussed.
Keep all business cards collected specifically for your affiliate marketing program separate from your other business cards. This will prevent confusion later when you begin communicating with these people. Don't be afraid to use labels and to make notes – this will help ensure that you keep track of all your affiliate referrals and never forget critical information and data.
– Online tracking techniques
One of the fastest and most convenient ways to track affiliate referrals is to use online resources. Some of these include:
– An affiliate referral tracking application
Once your referral activities begin in earnest, you'll find it difficult to manually track the number of referrals you bring to your affiliate company's website. You'll need a reliable application to perform this efficiently. Some of these referral tracking applications may be downloaded for free, although you might prefer premium editions if your affiliate business is big enough.
These applications are quite easy to use so you can conveniently keep track of the activities of your affiliate referrals. Many of these applications even offer extras, such as features that allow you to monitor your banner exchanges, start pages and affiliate links – essentially the kind of activities you'll been doing in order to promote your website.
– Your affiliate marketing program's tracking system
Majority of established affiliate marketing programs have their own tracking system for their affiliate's referrals. Check your program for this. You'll usually only need your own affiliate ID in order to gain access to your stats.
Your affiliate program is able to do this because the affiliate links you post on your web pages are coded. This usually comes in the form of a tracking cookie. Each time your visitors click on that link and arrives on the affiliate company's website, their tracking system will register the unique code coming from your site. Activities related to this code will be kept in the company's system which you can view at any time.
Make sure you look for your next issue soon. We will be talking about creating unique websites for your affiliate promotions.
Until then,
"your name here"
"your email address"
"your URL here"
Sample Extra Titles
The Most Overlooked Solution For Affiliate Programs
Unknown Facts About Affiliate Programs Made Known
Unanswered Questions Into Affiliate Programs Revealed
Rumored Buzz on Affiliate Programs Exposed
Detailed Notes on Affiliate Programs In Step by Step Order
The Untold Story on Affiliate Programs That You Must Read or Be Left Out
Hidden Answers To Affiliate Programs Revealed
Instant Solutions To Affiliate Programs In Step by Step Detail
Unanswered Questions on Affiliate Programs That You Should Know About
Confidential Information on Affiliate Programs That Only The Experts Know Exist
Shortcuts To Affiliate Programs That Only A Few Know About
The History of Affiliate Programs Refuted
The Basics of Affiliate Programs That You Can Benefit From Starting Today
The True Story About Affiliate Programs That The Experts Don't Want You To Know
Why Everybody Is Talking About Affiliate Programs…The Simple Truth Revealed
New Questions About Affiliate Programs Answered And Why You Must Read Every Word of This Report
Brief Article Teaches You The Ins and Outs of Affiliate Programs And What You Should Do Today
New Article Reveals The Low Down on Affiliate Programs And Why You Must Take Action Today
Why Almost Everything You've Learned About Affiliate Programs Is Wrong And What You Should Know
Unbiased Article Reveals 5 New Things About Affiliate Programs That Nobody Is Talking About
And More…
Sample Extra Paragraphs
Very little, if any, arguments exist as to the best way of promoting your affiliate marketing products on websites. Yes, yes, the gazillions of websites, not to say affiliate marketing sites, out there make it quite difficult to end up on your page right away, but you don't have to fret: with the power of search engines, pretty much everything is possible nowadays. If concepts such as web hosting and creating your own affiliate marketing site are relatively alien to you (as it is for quite a lot of people), then this article is for you.
————————————
What exactly is affiliate marketing? It is a technique posing as a business opportunity that lets those with entrepreneurial spirit explore the world of passive income through marketing products for other businesses. You can earn through commissions.
————————————
Appearance of competing products in the same market segment. Competition can do wonders for your affiliate marketing business. It can also affect it in a negative way. The affiliate product you're selling now may have great response but should a similar product appear in the future that will compete directly with you for market presence, you could be in for some serious neck-to-neck race.
————————————
But how, you ask, do you get anything important out of a simple number? Well, knowing your hit per sale ratio and making informed affiliate program decisions based on that is one of the best things you could ever do to elevate your affiliate marketing enterprise. You might find yourself wishing you had a higher hit per sale ratio by either having more hits every day, or having more sales out of your current hits. You could actually choose from a million solutions out there, but in this article, the liberty has been taken to discuss two of the most logical affiliate program decisions you can make and to which a lot of other affiliate marketers can attest to.
And More…
Other Details
- 12 Part Autoresponder Email Messages (TXT, DOC)
- Squeeze Page (HTML, PSD)
- Ecover (PSD, JPG)
- Affiliate Programs List
- File Size: 14,900 KB