Salespage Snapshot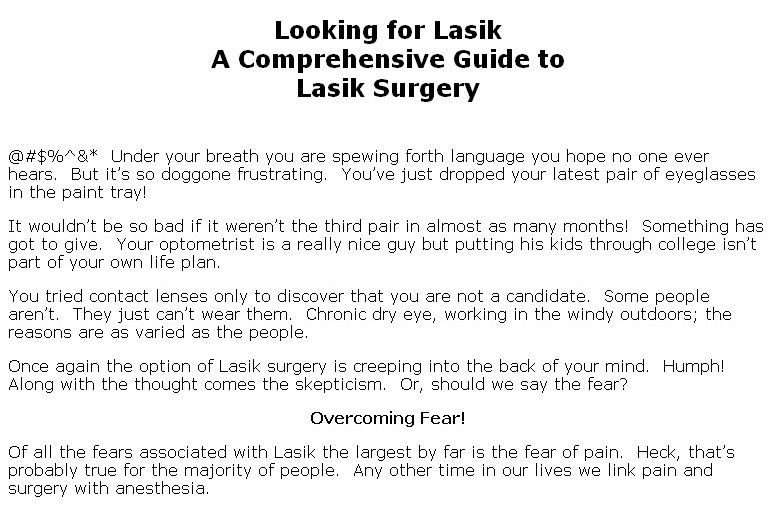 >> Click Here To View Sales Page...
Sample Content Preview
History of LASIK
Eye surgeries that involve incisions in the cornea began as early as the later part of the 1890's but it was largely experimental during those times. The success of eye surgeries took place after fifty more years from the time it started.
During World War II, the Japanese began conducting experimental surgeries in correcting myopia among Asians. Back then, the procedure entailed a series of corneal incisions in order for flattening to be done. As the eye undergoes the healing process, the cornea becomes depressed thus, the refractive errors in patients is being corrected. Due to the many complications that arise and the general predictability, physicians abandoned this early technique.
Beginning of Keratomileusis
Around the same time, a Spanish born physician by the name of Dr. Jose Barraquer began experimenting with the process named Keratomileusis in Columbia. He was able to remove 60% of the top cornea. He then froze and reshaped the cap in order to accomplish the appropriate correction. When sewn back, the cap heals back into its proper place in the cornea affording permanent changes in eyesight. This method was later known as "freeze myopic keratomileusis". Although this method was not perfect, Keratomileusis proved to be a safer and more precise option compared to the early refractive surgery attempts done by the Japanese. Because of this, Dr. Barraquer is now known as the father of modern refractive surgery.
In the early part of 1960's, Keratomileusis was relatively hard to perform and the outcomes were very unpredictable. Without the use of contemporary diagnostic tools, correction of defective vision was made through the process of trial and error. Several years later, experimentation and research in this field gave birth to a refined version called Automated Lamellar Keratoplasty (ALK).
Other Details* Sales Page:
Included, HTML, MS Word Doc
* File Format:
MS Word Doc, PDF
* Number of Pages:
31
* Download File Size:
169 KB