Salespage Snapshot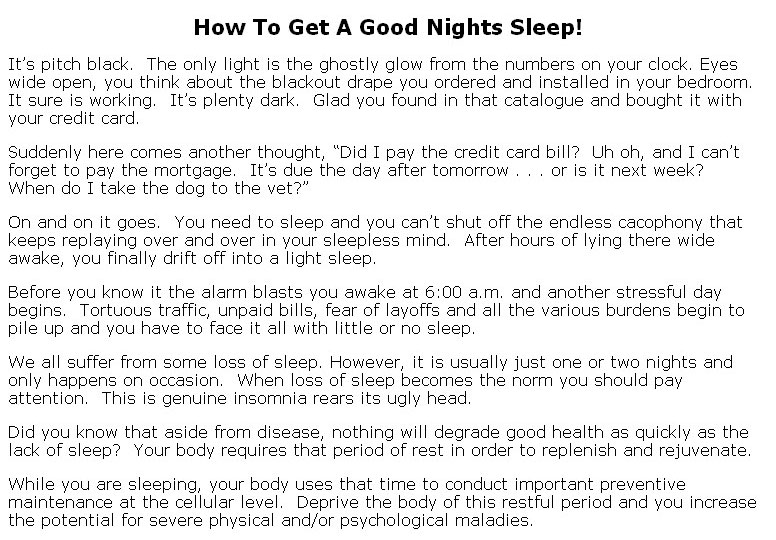 >> Click Here To View Sales Page...
How To Get A Good Nights Sleep Plr Ebook Table Of Contents
What Causes Insomnia and Who Suffers From It?
The Types of Insomnia and Its Impact on One's Health The Interrelationship of Depression and Insomnia
What Symptoms Indicate A Serious Sleeping Disorder?
Sleeping Disorders #1 – Night Eating Syndrome
Sleeping Disorders #2 – Restless Legs Syndrome
Sleeping Disorders #3 – Circadian Rhythms Syndrome
Sleeping Disorders #4 – Conditioned Insomnia
Sleeping Disorders #5 – Sleep Apnea
Who Gets Sleep Apnea?
How Sleep Apnea Manifests Insomnia?
Insomnia In Infants and Children
Treating Insomnia – Do OTC Meds Work?
Curing Insomnia With Behavior Modification.
What Are The Long Term Effects of Insomnia?
Sample Content Preview
It is commonplace for several people to suffer at least an occasional night of almost non-existent sleep. The causes of insomnia differ from person to person.  What made a student insomniac varies from what caused a shift worker or a traveler or an employee to acquire such sleeping disorder.
Insomnia, which is the inability to sleep satisfactorily or to have any sleep at all, is one of the most common sleep disorders. It is characterized by restlessness, sleep interruptions, decreased sleeping time than the usual, or sometimes complete wakefulness.
Aside from the annoyance that insomnia can cause to its sufferers, this sleep disorder causes those afflicted to lose enthusiasm and energy, acquire memory and concentration problems, feel lethargic, frustrated, and of course sleepy. Worse cases that may be induced by insomnia is one's being prone to accidents, reduced work productivity and the aggravation of psychological and medical conditions.
So what exactly are the culprits that make insomnia one menacing sleeping problem?
1. Emotional Distress
More particularly when it is from internalized anxiety or anger, emotional problems can easily trigger this sleep disorder.
2. Substance Abuse
Drinking too much coffee, colas or other "energy-upper drinks" is known to cause insomnia. Caffeine from these drinks is the main reason. Chain smokers can also be easy victims of insomnia because of the nicotine that cigarettes contain. Herbal remedies, alcohol and other medications can also make one prone to becoming an insomniac. Some may think that alcohol, when consumed, can make one feel drowsy. But little did they know that in the long run, when the alcohol gets metabolized, sudden wakefulness will follow.
Other Details* Sales Page:
Included, HTML, MS Word Doc
* File Format:
MS Word Doc, PDF
* Number of Pages:
65
* Download File Size:
201 KB