Salespage Snapshot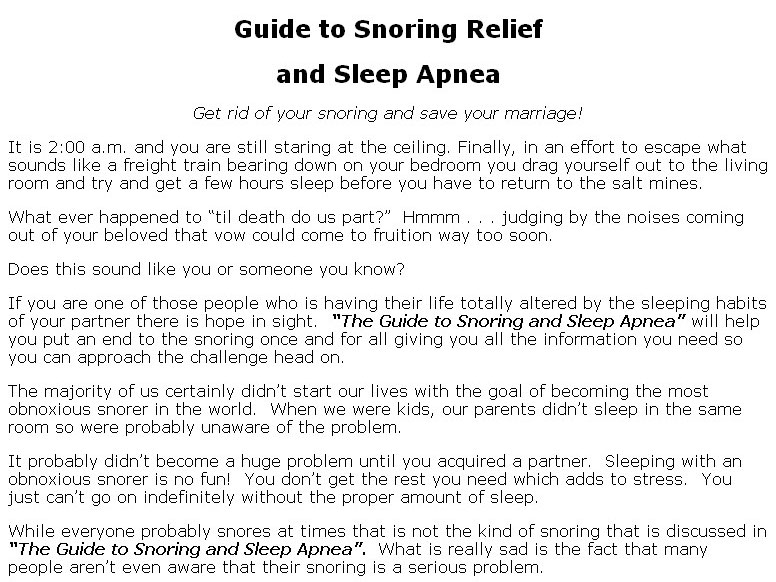 >> Click Here To View Sales Page...
Ebook Table Of Contents
What Causes Snoring?
What Causes Sleep Apnea?
What Are the Different Types of Sleep Apnea?
Who Is At Risk for Snoring and Sleep Apnea?
What Are the Symptoms of Sleep Apnea?
Is it Sleep Apnea or Allergies?
Negative Effects of Sleep Apnea
Testing for Sleep Apnea
Treatments for Sleep Apnea
When Surgery is Necessary
Snoring Remedies
Modifying Lifestyle
Sleep Apnea and Snoring in Children
Nutrition
Exercise
Ebook Sample Content Preview
What Causes Snoring?
Snoring Culprits
Statistics show that about 45% of adult's snores from time to time while around 25% snores regularly.  This is mostly considered as a problem that needs some intervention or treatment.
Generally, snoring is most common in men than women.  Overweight people show more tendencies to snore than those within normal weight.  Age appears to aggravate the situation as well.
With this disturbing condition, a lot of companies have designed devices that are said to cure snoring.  About 300 devices or more are already registered in U.S. Patent and Trademark Office.  Some of these evolve from a traditional idea in which a tennis ball is put inside a sock that is then sewed to the back of the pajama.  Supposedly, this forces the snoring person to sleep on his back, which counters the findings, that snoring become worse if a person lies on his back.
Other Details* Sales Page:
Included, HTML, MS Word Doc
* File Format:
MS Word Doc, PDF
* Number of Pages:
67
* Download File Size:
194 KB