Squeeze Page Preview: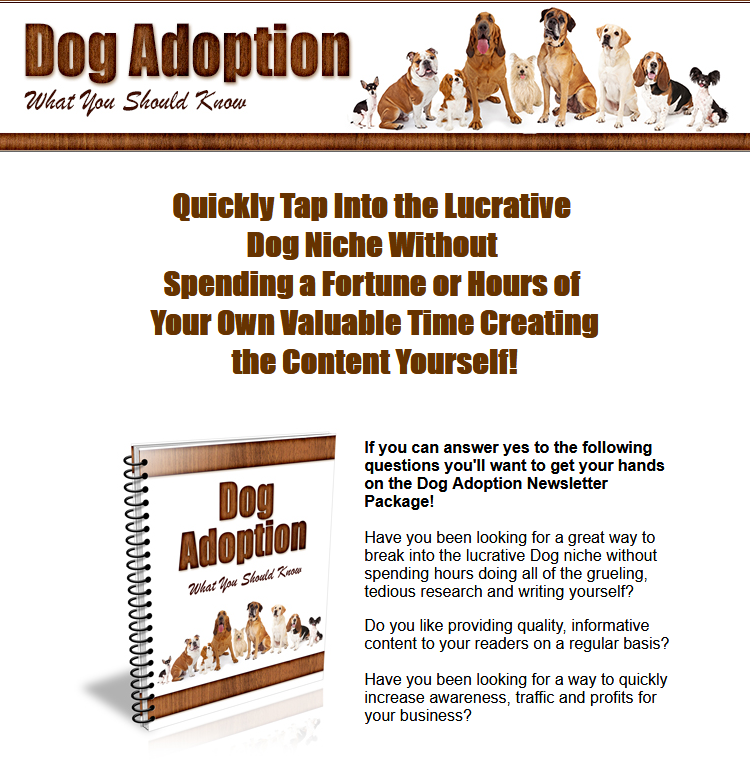 >>> Click Here To View Full Squeeze Page…
Features:
* 12 Issues Full Of Great Content
– Just add in your contact info and plug it in to your favorite auto responder. Each issue contains 500 words or more!
* One Ready To Go Squeeze Page
– Just add in your opt in form, upload to your server and your done!
* One Ready To Go Thank You Page
All ready to remind your subscribers to check their email and confirm their subscription. It even has built in revenue!
* 4 Researched Click Bank Products
These are top selling products on Click Bank that I've personally researched and chosen for each series.
* Extra Copy And Paste Article Content
You will get:
– Extra titles
– Extra opening paragraphs
– Extra closing paragraphs
– Extra fill in paragraphs
(these would make great tips that you add in to your follow ups system for more frequent contact with your readers)
Sample Content Preview
Hello "autoresponder code here",
In the last issue we talked about training your newly adopted dog with positive and negative reinforcements. In this issue we are going to talk about adopting a companion dog.
Many dog lovers will argue that any dog is a good companion. Indeed, dogs by their friendly nature are good companion dogs. When the decision for adopting a dog is to have a companion, the choices will be limited generally to smaller dog breeds that are expected to serve no particular task other than as a pet and as comfort.
This tradition of having small dogs for decoration dates back thousands of years to Chinese nobility where the Pug and the Pekingese where favorites. In Europe, lap dogs are also popular with royalties and the wealthy throughout history and are still used as gifts today. In fact, because of their generally small breed, companion dogs love to sit on their owner's lap that earned them the term of lap dogs aside from their comforting warmth.
Several companion dogs for example the Maltese, terriers and spaniels were breed with the intention of serving good company for refined ladies and gentlemen during the 19th century. Children and dogs though have this natural affinity to each other that popularity of companion dog breeds increased.
Companion dogs have a life expectancy of up to 16 years. They weigh, depending on the breed, from 4 to 16 pounds and are prone to ailments that are related to their size. Before adopting a dog for a companionship, it would be well to do a little research regarding health, ailments, and other breed specific issues on health.
Companion dogs being generally small dogs are energetic and rambunctious. While they are not ideal around children because they move very fast, they are good company to older people who could use extra cheer around the house. One of the downside to having a companion dog is that because of their size, they are vulnerable to larger animals. When you are located in areas where winters could be very cold, you would want to consider companion dog breeds that are fluffy or are longhaired.
The benefits far outweigh the risk though as these dogs are content to follow wherever their owners go, are very easy going, and are content to sit with their owners for long periods of time. They are excellent pets for people living in small apartments, they also cost less to maintain and are excellent for people that are less active since the running around the house is exercise enough for them.
Some of the most popular companion breed dogs are the Chihuahua, Pomeranian, Yorkshire Terriers, Pugs, Dachshunds, and Shih-Tzu's.
Make sure you look for your next issue soon. We will be talking about some tips for training your newly adopted dog to walk on a leash.
Until then,
"your name here"
"your email address"
"your URL here"
Sample Extra Titles
Unknown Facts About Adopting a Dog Revealed by The Experts
The Hidden Truth on Adopting a Dog Exposed
The Secret of Adopting a Dog That No One is Talking About
The Unexposed Secret of Adopting a Dog
Adopting a Dog – An Overview
The Ugly Side of Adopting a Dog
An Unbiased View of Adopting a Dog
The Ultimate Guide to Adopting a Dog
5 Simple Facts About Adopting a Dog Explained
What to Know About Adopting a Dog Before It's Too Late
The Secret for Adopting a Dog Revealed in 5 Simple Steps
The Ultimate Solution for Adopting a Dog That You Can Learn About Today
Be The First to Read What the Experts Are Saying About Adopting a Dog
The Truth About Adopting a Dog
5 Odd-Ball Tips on Adopting a Dog
Kids, Work and Adopting a Dog
7 Shocking Facts About Adopting a Dog Told by an Expert
The Insider Secret on Adopting a Dog Uncovered
What Everyone is Saying About Adopting a Dog Is Dead Wrong and Why
And More…
Sample Extra Paragraphs
A little planning can still go a long way when deciding which dog to adopt. Even if your previous plans are all but forgotten, remembering the tips below can still help you resist that overpowering desire to bring them all home.
————————————
On occasions such as these, the owner will attempt at stopping the dog from continuing, but when the dog is not trained, all the dog hears from its owners is just another bark, an important bark maybe but incomprehensible.
————————————
For health reasons, the doghouse is usually constructed a few inches from the ground. This also wards off insects and other small animals from entering aside from insuring that the place remains dry. Then you begin building.
————————————
People living in small apartments have the tendency to adopt small breeds. Understandably, the consideration for many is the available space. When you have small children though, it is not wise to have small dogs around a small space. Small dogs are very energetic and highly active creatures that will tend to topple things aside from not being safe to be around little children. Large dogs on the other hand are slower and more placid. If you have the time to get the dog out regularly for walks and exercise, a large dog will fit in nicely even when the space is limited. Larger dogs though cost more to maintain.
————————————
Each dog breed has characteristics that set it apart from the rest of the canine community. And while the dog's breed helps in approximating the general behavior, temperament, and characteristics of the dog, it still comes down to the individual characteristics of your chosen dog. To find your perfect dog match, use the following information.
And More…
Other Details
- 12 Part Autoresponder Email Messages (TXT, DOC)
- Squeeze Page (HTML, PSD)
- Ecover (PSD, JPG)
- Affiliate Programs List
- File Size: 99,900 KB