Squeeze Page Preview: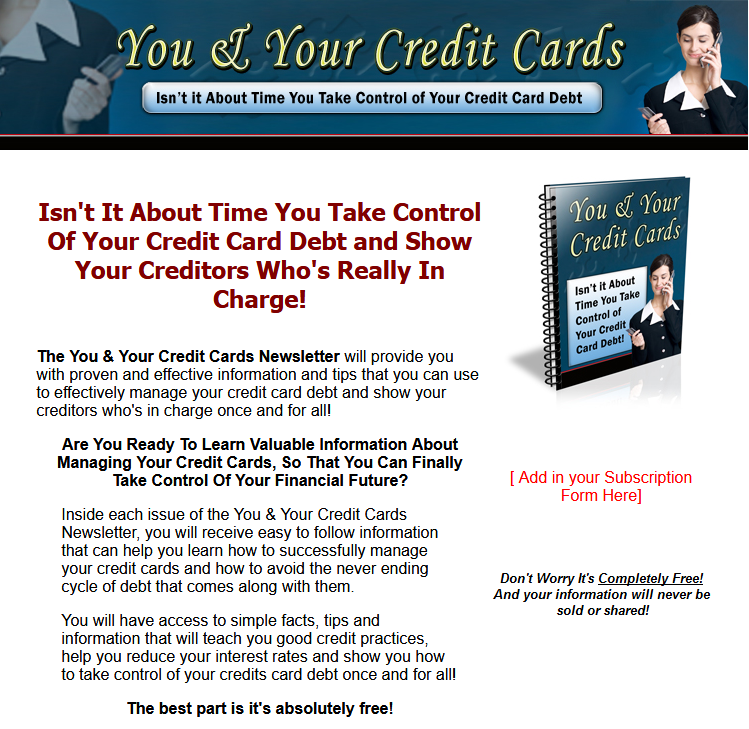 >>> Click Here To View Full Squeeze Page…
Features:
* 12 Issues Full Of Great Content
– Just add in your contact info and plug it in to your favorite auto responder. Each issue contains 500 words or more!
* One Ready To Go Squeeze Page
– Just add in your opt in form, upload to your server and your done!
* One Ready To Go Thank You Page
All ready to remind your subscribers to check their email and confirm their subscription. It even has built in revenue!
* 4 Researched Click Bank Products
These are top selling products on Click Bank that I've personally researched and chosen for each series.
* Extra Copy And Paste Article Content
You will get:
– Extra titles
– Extra opening paragraphs
– Extra closing paragraphs
– Extra fill in paragraphs
(these would make great tips that you add in to your follow ups system for more frequent contact with your readers)
Sample Content Preview
Hello "autoresponder code here",
In the last issue we talked about some of the ways that you can dig
your way out of credit card debt. In this issue we are going to talk
about getting to know your credit score.
When you see advertisement after advertisement on television of
businesses who want you to find out your "free" credit score, that is
a red flag that someone is looking to make some money off of
you. The funny thing is they aren't lying to you but at the same
time, you can be sure that those companies paying good
money for advertising so that they can make a buck off of
you.
The truth is, you can actually find out what your credit report says
about you. What they are telling you about that is true. Your credit
report tells you your credit score which helps you understand how
creditors see you which is important if you decide to apply for a
new loan.
But your credit report also shows a detailed history of your past
use of credit, currently open accounts and anyone who has
checked your credit score in the last year.
This is important information for you because anyone can check
your credit report anytime they want to. And if there are too many
inquiries on your credit report, that itself can drive down your
score. So if you find someone is checking your score too often,
you can take action to put a stop to it.
But there are a couple things they are not telling you on those
advertisements. One is that if you use their services, they will give
you the credit report for free but not the credit score. They are
going to have their hand out for that little tidbit of information. But
the truth that those companies will not tell you is that you can get
that score at least once a year absolutely free if you know how. In
other words, those people hitting you up on television to check
your credit score are relying on the fact that;
– You don't know how to check it yourself and
– You are willing to give them money for something you can get for
free once you know how.
The basic information you should know about credit reports is that
there are three agencies that maintain credit reporting and they
are; Equifax, Experian and Transunion. You can check on
what each of these companies has in their file at any given time.
In addition to a lot of detail about your credit history as we just
discussed, your credit "health" will be represented in the form of a
number of a "score". That score will run between 300 and 850.
The higher your credit score, the better you will be received by
credit organizations who are deciding whether on not to extend
you a loan.
Once you have this information, you can take action to improve
your credit history. First of all, review the credit detail in depth.
You may find accounts still open that you have not used for years.
Close those accounts. If you have a credit account that is not
being used, it is of not value to you, it only runs down your credit
score and there is always a danger someone will use it.
But the next step is to start being "credit smart" in how you use
credit to help see that credit score go up over the next year. The
steps to do that are….
– Always pay your bills on time. Late payments are reported to
the credit bureaus and it runs your score down.
– Make more than the minimum payments. If you only pay the
minimum on each credit card you owe, that will get noticed by the
credit tracking software and make your credit score go down.
– Cut down on the amount of times your credit score is checked.
Excessive inquiries into your score indicate that you are looking
at getting more credit and that hurts your score.
– Close unneeded credit accounts.
– Start closing some of your credit card accounts once you pay
them off.
– Don't take out any new accounts.
Don't let yourself get excited by the virtual nonstop advertising
about your credit history. You don't need to know this information
every day. But check it a couple times a year, no sooner than
once every three months to keep tabs on what is going on with
your credit history. It's the responsible thing to do and you can just
relax and change the channel on those noisy commercials.
Make sure you look for your next issue soon. We will be talking
about why it's ok to get angry at your credit card debt.
"your name here"
"your email address"
"your URL here"
Sample Extra Titles
Who Else Is Lying To Us About Credit Cards?
What You Don't Know About Credit Cards May Shock You
The Dirty Truth on Credit Cards
The Credit Card Trap
The Low Down on Credit Cards Exposed
Dirty Facts About Credit Cards Revealed
The Undeniable Truth About Credit Card Debt
The Idiot's Guide To Credit Cards Explained
Unknown Facts About Credit Cards Revealed By The Experts
The Hidden Truth on Credit Card Debt Exposed
The Unexposed Secret to Cutting Credit Card Debt
Credit Cards – An Overview
The Ugly Side of Credit Cards
An Unbiased View of Credit Cards
The Ultimate Guide To Managing Credit Card Debt
And More…
Sample Extra Paragraphs
If that is one of the sources of credit card abuse in your family,
its time for the family to get together and have a discussion. Each
member of the family must understand that there is such a thing as
fiscal responsibility and if credit card abuse is done by any one
member of the family, the privilege of that credit card is going to
be taken away.
————————————
Make sure your kids are aware that you paying their bills is a
privilege and that they are very lucky to be able to start their adult
lives with a sponsor like this. Then give them three jobs they must
complete to show they are worthy of this privilege.
————————————
To write a budget, you simply sit down and take inventory of those
two factors. You inventory how much money you have coming in.
Then you inventory how much money you have to pay out. This
step alone is a huge step forward toward getting your debt
problem under control. A computer spreadsheet like Microsoft
Excel is excellent for this kind of family budget planning and
analysis because you can move things around and let the
computer do the math for you.
————————————
But that leaves the management of those credit card debts to one
partner and the other one just has to pay a set amount. And if the
credit cards get used by either partner, that legal amount would
have to constantly be changed and that would prove to be a
constant headache of administration.
———————————-
So one of the many issues to be discussed and a plan made for is
how to separate that credit card debt. Whoever continues to hold
the family accounts will continue to get those bills and be expected
to pay them. Now the least preferable way to handle the debt is to
build the payments into any forced settlement agreement such as
child support. So at the time the divorce is final, the amount of the
debt and the payments that must be made could be calculated
and half of that put into the amount that the income generating
partner must provide.
And More…
Other Details
- 12 Part Autoresponder Email Messages (TXT, DOC)
- Squeeze Page (HTML, PSD)
- Ecover (PSD, JPG)
- Affiliate Programs List
- File Size: 1,650 KB