Squeeze Page Preview: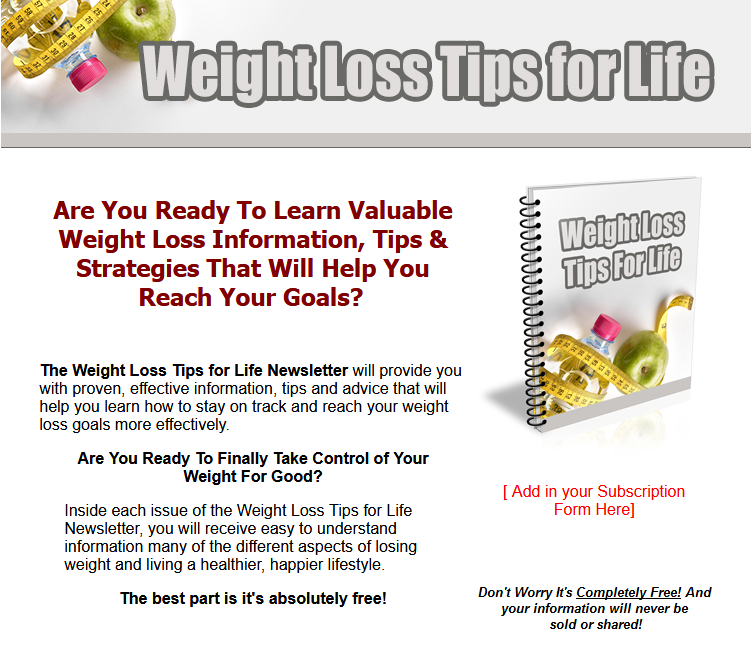 >>> Click Here To View Full Squeeze Page…
Features:
* 12 Issues Full Of Great Content
– Just add in your contact info and plug it in to your favorite auto responder. Each issue contains 500 words or more!
* One Ready To Go Squeeze Page
– Just add in your opt in form, upload to your server and your done!
* One Ready To Go Thank You Page
All ready to remind your subscribers to check their email and confirm their subscription. It even has built in revenue!
* 4 Researched Click Bank Products
These are top selling products on Click Bank that I've personally researched and chosen for each series.
* Extra Copy And Paste Article Content
You will get:
– Extra titles
– Extra opening paragraphs
– Extra closing paragraphs
– Extra fill in paragraphs
(these would make great tips that you add in to your follow ups system for more frequent contact with your readers)
Sample Content Preview
Hello "autoresponder code here",
In the last issue, we talked about slimming down the smart way. In this issue, we are going to go over some of the negative effects of the Atkins Diet.
It wasn't all that long ago that the Atkins Diet was making the news. People were excited about the idea of being able to eat all the meat they wanted and still lose a lot of weight. The interest in the diet was staggering, and enough people saw impressive results to keep the diet at the forefront for quite some time. It seemed to be more than just a regular fad diet. However, it didn't take long for people to start questioning the potential bad effects of the Atkins Diet.
Well, the Atkins Diet is still around. It may not get nearly as much attention as it used to, but there are plenty of people who start the program daily. This is a mark in its favor as it shows it is more than just a fad diet. In fact, a lot of other diets have come and gone since Atkins made its initial splash. But what about the supposed bad effects of the Atkins diet?
Let's clear one thing up right away: there is no consensus in the medical community as to the long-term effects (good or bad) of the Atkins program. They are still worthy of debate and further research, and you should at least be aware of them before deciding to try the Atkins Diet.
On the one side, you have people who have lost a lot of weight on the diet. They are happy with how much weight they have lost, and how quickly (a loss of 5 to 10 pounds in the first week isn't unheard of). They also enjoy being able to eat high protein foods, regardless of how much fat they contain. This means eating things like steak, bacon, fish, pork, chicken, beef and eggs. If people on the Atkins Diet take supplements and exercise while on the program, they continue to lose weight. One thing is for sure, it's hard to argue with results.
Results are one thing, and how those results are achieved is another. Critics state that one of the bad effects of the Atkins Diet is that the weight loss comes from not only a loss of fat, but also a loss of water and muscle. So, while they're not necessarily questioning whether people are losing weight, they are asking if the type of weight loss is good or not.
There is also evidence that any diet that is high in saturated fat can lead to an increased risk of heart disease. If this is the case, then you need to decide if the higher risk of getting heart disease is better than risk of developing other diseases associated with obesity. Or, to put it another way, the more overweight you're, the more you may want to try the Atkins Diet.
As of now, there is no final word as to all of the effects of the Atkins Diet. The best advice is to talk to your personal doctor so you can discuss your options and see if Atkins is a good choice for you.
Make sure you look for your next issue soon. We will be talking about how your body type effects weight loss.
Until then,
"your name here"
"your email address"
"your URL here"
P.S. Keep in mind that this isn't medical advice. It should not be used as or substituted as medical advice; from a medical professional. This newsletter is for informational purposes only.
Sample Extra Titles
Facts, Fiction and Weight Loss
The Pain of Weight Loss
Weight Loss for Dummies
The Weight Loss Game
The Upside to Weight Loss
Weight Loss No Longer a Mystery
The New Fuss About Weight Loss
7 Questions and Answers to Weight Loss
The Downside Risk of Weight Loss That No One is Talking About
The Top 5 Most Asked Questions About Weight Loss
What Everybody Dislikes About Weight Loss And Why
Weight Loss – An In Depth Analysis on What Works and What Doesn't
What Weight Loss Is – And What it is Not
Want to Know More About Weight Loss?
Here's What I Know About Weight Loss
Weight Loss – The Conspiracy
Outrageous Weight Loss Tips
Ruthless Weight Loss Strategies Exploited
5 Closely-Guarded Weight Loss Secrets Explained in Explicit Detail
Weight Loss Exposed
Weight Loss – Is it a Scam?
And More…
Sample Extra Paragraphs
Consider joining a weight loss support group to help you along your weight loss journey. This will surround you with people who want to help you with your goals, and give you someone to fall back on when you are tempted to break your diet. You might even make some new friends!
————————————
If you want to lose weight, you should strive to get about thirty minutes of exercise each day. You can do whatever exercising you feel most comfortable with running, walking, swimming, biking, playing sports, etc. Since the basic formula for losing weight is taking in less calories than you burn, by exercising each day you'll increase the amount of calories you burn daily.
————————————
Sign up with an online community that focuses on weight loss. Not only will you get valuable information, but you will be in a support group that will keep you motivated in your endeavor. This is also a good support system for people who are too self-conscious to join a group in person.
————————————
A good way to help you lose weight is to make sure you're getting the right ratio of macro-nutrients for each meal. Ideally you want to have forty percent of protein, forty percent of carbohydrates, and twenty percent of fat in every meal. Following this basic guideline can produce great results.
————————————
A good way to help you lose weight and be successful with your diet is to not dwell too much about your progress. Stay busy with work or with your friends and family and try not too much about your weight loss. Thinking about it too much can cause you to lose motivation because you want to see results right away.
————————————
Reduce the amount of carbohydrates that you eat throughout the day. Also do not eat any carbohydrates late in the afternoon or in the evening. You can increase the amount of good fat and protein that you eat to compensate for your lost calories when you cut out the carbohydrates.
————————————
For easier digestion, try including more raw foods in your diet. Uncooked foods are often easier for your body to break down because their natural enzymes have not been destroyed by the cooking process. Older people will often have an easier time getting the nutrients they need from raw food.
And More…
Other Details
- 12 Part Autoresponder Email Messages (TXT, DOC)
- Squeeze Page (HTML, PSD)
- Ecover (PSD, JPG)
- Affiliate Programs List
- File Size: 23,100 KB