Squeeze Page Preview: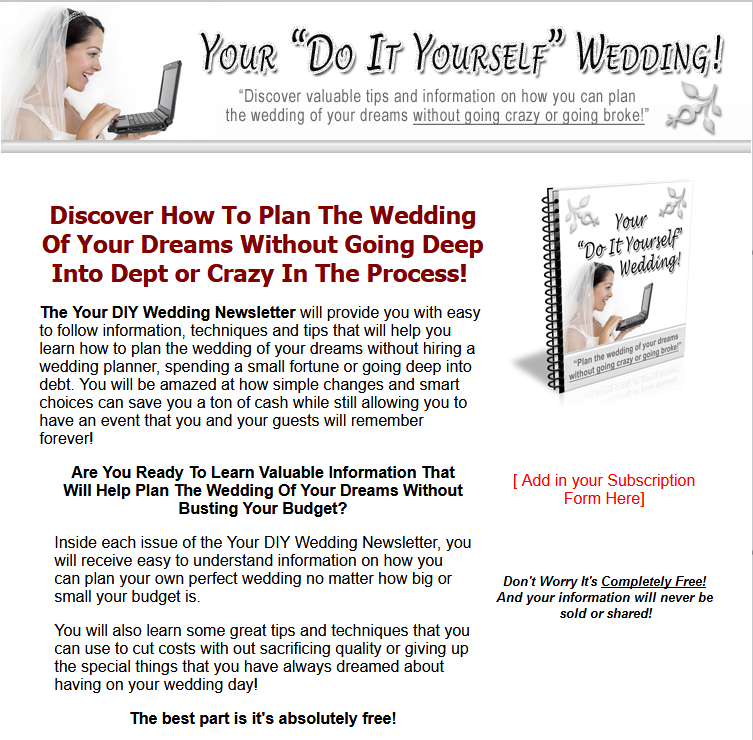 >>> Click Here To View Full Squeeze Page…
Features:
* 12 Issues Full Of Great Content
– Just add in your contact info and plug it in to your favorite auto responder. Each issue contains 500 words or more!
* One Ready To Go Squeeze Page
– Just add in your opt in form, upload to your server and your done!
* One Ready To Go Thank You Page
All ready to remind your subscribers to check their email and confirm their subscription. It even has built in revenue!
* 4 Researched Click Bank Products
These are top selling products on Click Bank that I've personally researched and chosen for each series.
* Extra Copy And Paste Article Content
You will get:
– Extra titles
– Extra opening paragraphs
– Extra closing paragraphs
– Extra fill in paragraphs
(these would make great tips that you add in to your follow ups system for more frequent contact with your readers)
Sample Content Preview
Hello "autoresponder code here",
In the last issue we talked about how to feed all your guests in style
without going into debt. In this issue we are going to talk about finding
the perfect cake for your special day!
Your wedding cake. There is no doubt that it is the centerpiece of the
reception. Not only is it a part of a tradition, it is a scrumptious dessert
for you and your guests to enjoy!
The prices of a wedding cake can run from the hundreds well into the
thousands of dollars. When it comes to picking out the perfect wedding
cake for your special day it is important to look at a lot of different ideas
before you decide on the one you want.
To begin your search for the perfect cake you can start by visiting
bakeries, looking at bridal magazines and browsing online. Keep in
mind that the more tiers and the fancier the cake is the more expensive
it will be. Another important thing to keep in mind is that the actual one
you have on display doesn't have to feed your entire guest list.
With that in mind you are open to having a smaller, but more elegant
cake for you and your intended to cut in to at your reception. Then have
an equally as tasty sheet cake in the kitchen to serve to guests.
You should also consider the time of year and location of your wedding
is important when choosing a cake. If you're having and outside
wedding in the summer, things like mousse, cream filling or ice cream
cake will not work well.
Here are some other quick tips that you can use to keep the cost of
your wedding cake as low as possible without sacrificing what you
want.
– Try to stick with basic flavors and fillings for your cake, exotic
flavorings will add to the cost of the cake. If your heart is set on fruit
filling you can always offer guests various toppings like; fresh
strawberries, chocolate syrup, raspberries, sprinkles and whipped
cream for their slice of cake.
– Order from a grocery store rather than a bakery. Many grocers have
onsite bakeries, just like they have onsite florist departments. They
often produce cakes just as good as a specialty bakery.
– Why not try cupcakes as an alternative to the traditional tiered cake.
These can be made in a variety of flavors and arranged on a tiered
rack or in a creative design on the cake table.
Of course, the best way to save on your wedding is to make it yourself
or have a talented friend or relative bake it. Consider the cost of some
cake mixes and frosting, and you can see how baking your own cake
can save money.
If you have plenty of time before the big day you can sign up for a cake
decorating class so that you can be sure to create a cake you will be
proud to share.
Remember wedding cakes don't have to be elaborate, just tasty. When
decorating, consider using fresh flowers. This will add some real class
to the cake and bring in the colors of your wedding too.
The cake topper is another place where you can show your uniqueness
as a couple and save money by having a less traditional and less
expensive topper.
Instead look for something original and less costly. Consider some of
the things that you and your intended share or like to do together.
Maybe you are Nascar fans, football fanatics, enjoy scuba diving or
music. Then begin to look around for, statues, figurines, bobbles or toys
that will work for your cake.
Did you know that there are places that will take photo's of the bride
and groom and turn them into bobble heads for your cake? It may not
be the inexpensive topper that we have been talking about, but it is a
fun and festive way to top a cake!
Be sure to shop around before you decided on the perfect cake, style
and decorations, Remember your wedding cake should be as
individual as you, but it doesn't have to bust your budget!
Make sure you look for your next issue soon. We will be talking about
choosing the right music for your reception, no matter what your budget.
Until then,
"your name here"
"your email address"
"your URL here"
Sample Extra Titles
Who Else Is Lying To Us About Planning Your Own Wedding?
What You Don't Know About Planning Your Wedding May Shock You
The Low Down on Planning Your Own Wedding Exposed
Dirty Facts About Planning Your Wedding Revealed
The Undeniable Truth About Planning Your Wedding That No One Is Telling You
What Everybody Else Does When It Comes To Planning A Wedding And What You Should Do Different
The Idiot's Guide To Planning Your Own Wedding
Unknown Facts About Planning Your Wedding Revealed By The Experts
The Hidden Truth on Planning Your Wedding Exposed
The Secret of Planning Your Wedding That No One is Talking About
The Unexposed Secret of Planning Your Own Wedding
Planning Your Wedding – An Overview
The Ugly Side of Planning Your Wedding
An Unbiased View of Planning Your Wedding
The Ultimate Guide To Planning Your Wedding
5 Simple Facts About Planning Your Wedding Explained
What To Do About Planning Your Wedding Before It's Too Late
The Secret For Planning Your Wedding Revealed in 5 Simple Steps
The Ultimate Solution For Planning Your Wedding That You Can Learn About Today
And More…
Sample Extra Paragraphs
Wouldn't it be nice if you were the one who will design your own
wedding dress on your big day? Of course it would be. This is because
you get the chance to make a statement with all the variations you want
to create in your wedding dress. Today, because of the advent of
technology and easy access to knowledge, more and more brides-to-
be are getting into designing their own wedding dresses.
————————————
Also, each culture has its way of performing the ceremony. Sometimes,
traditional ceremonies are combined with religious practices that make
for a truly unique wedding. But things somehow change and there are
newer practices followed by couples in their wedding.
————————————
Color – This is one thing that the bride should be able to choose. But
when you are choosing your color, take into consideration your
bridesmaids' coloring. Have a base color, but be willing to compromise
on the shade. The other thing that some brides do is to have a rainbow
wedding.
————————————
When planning a wedding, it would help if you find time to surf the
internet. Here, you can find stores that sell quality yet cheaper wedding
dress or suits as well as souvenirs and other items needed to push
through with the wedding.
————————————
Unlike before when knowledge is limited in terms of design and its
technicalities, modern brides can have their dream wedding dress
created by themselves. Now, they can see their dream wedding dress
created before their very own eyes the way they want it to be.
————————————
When choosing a caterer, the couple should have a careful look at the
menu. If they don't like what's in there, they could ask the caterer if they
can customize a menu just for the wedding. However, this may cost the
couple extra money.
————————————
When planning a wedding, it always include the attire specifically the
gown of the bride and the suit of the groom as well as the attire of
everybody else who is part of the entourage. In fact, the wedding dress
or the suit is always a big part of the "problems" any bride and groom
experiences in their big day. This is because brides as well as grooms
are so anxious on how they will look like during the wedding day. But,
experts say that, you don't necessarily have to spend so much money
just to look good. All you need to do is shop around for cheap wedding
attire that can fit your taste, style, and preference.
And More…
Other Details
- 12 Part Autoresponder Email Messages (TXT, DOC)
- Squeeze Page (HTML, PSD)
- Ecover (PSD, JPG)
- Affiliate Programs List
- File Size: 17,100 KB