Salespage Snapshot: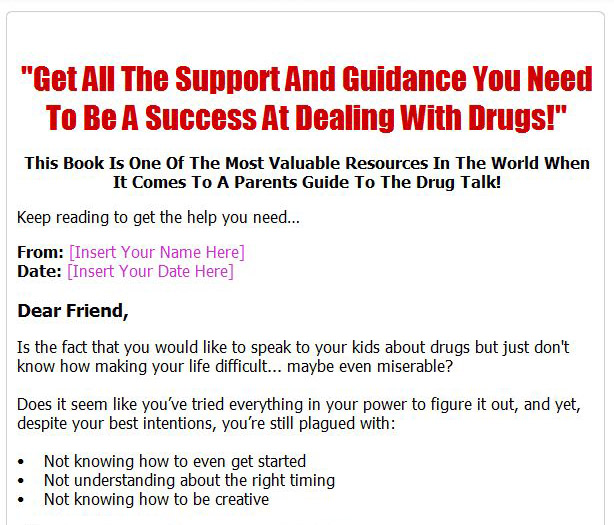 >>> Click Here To View Full Sales Page…
Table of Contents
Foreword
Chapter 1:
Drug Basics
Chapter 2:
Pick The Right Time and Have The Right Attitude
Chapter 3:
Be Creative In Explaining The Risks
Chapter 4:
Explain The Advantages of Being Drug and Alcohol Free
Chapter 5:
Make Sure You Are A Good Role Model
Chapter 6:
The Dangers In Not Having the Drug Talk
Sample Content Preview
Chapter 2
Pick The Right Time and Have The Right Attitude
Synopsis
Talking about drugs is a sensitive topic. That is the reason why you should pick the right time and have the right attitude when discussing about it. But, when is the right time and how to know if you have the right attitude to discuss drugs?
Knowing the Right Time and Having the Right Attitude
Since talking about drugs is not the same as talking about the activities at school, you should always know the right time and have the right attitude for you to discuss successfully. There are several ways on how to know the right time and having the right attitude. Some of these are as follows:
• Know Your Kid's Schedule
Knowing your children's schedule is important if you want to pick the right time and have the right attitude. If your kids are busy with their school activities, don't interrupt them. The reason behind it is that they might not concentrate on what you are saying and could think of something that would allow them to accomplish their school activities. If possible, know your kid's free time or you could inform them in advance that you want to talk about something important so they could allot time for you.
• Bond with Your Children First
Bonding with your children first could let you set their mind and can allow you to pick the right time easily. Plus, you could quickly have the right attitude as you are all having fun with your bonding. But, when discussing about drugs, don't give them shocking introduction. Try to take it slowly but in a serious manner.
• Make Sure to Discuss During Your Free Time
Your free time is always the right time for you to discuss about drugs. Just make sure to focus on the discussion and turn off your devices so that if anyone calls you, you will not get distracted. However, even if it is your free time, make sure that it's the free time of your children too. Through this, you and your children could focus and take the topic seriously.
• Take Away Everything That May Disturb Your Discussion with Your Children
Taking away everything that may disturb your discussion with your children will let them focus on what you say. If your kids are watching TV or playing games with their game consoles, you can tell them to turn it off first for you to have some talk with them.
Considering those mentioned details above will not just let you achieve success, but also you can guarantee that your kids have understood everything you have discussed. So, always pick the right time and have the right attitude.
Chapter 3
Be Creative In Explaining The Risks
Synopsis
Some surveys showed that there are kids who are not comfortable talking to their parents about what they feel and what they are going through. These are also those who aren't comfortable talking about how to stay free from drugs as well as excessive use of alcohol.
Tips When Talking about Drugs with Your Kids in a Creative Manner
• Give Information Appropriate for Their Age
Simple details repeated on important occasions must get the message across regarding the dangers of alcohol and drugs. For instance, if your kid is eating fruits, you can talk with them regarding how fruits are good and healthy for their body.
When it comes to drugs, if these are exposed in conversations or media, you can ask your kid if they know what this means. Tell them that those are addictive and could harm one's bodies severely. If they ask some details, don't hesitate to answer them.
The older your kids get, the more information they would seek. Make sure that you are updated with the drug names and how they could affect one's body so that you could give the right details. If you don't know all the answers, there are more facts you will find.
• Indicate Your Family Values
Your children should know how you feel about using drugs and consuming alcohol. For instance, you could say that in your family, you don't agree taking any kind of drugs unless your doctor says so. It's quite dangerous to provide this on your own as this is a serious stuff. Several individuals have made mistakes in taking numerous drugs and they became sick and some already died.
• Tell Them about Your Beliefs
Show your children that you always practice what you preach. Avoid drinking alcohol excessively if you want your kids to be responsible drinkers. If you are taking tons of vitamins, try doing it discreetly.
• Talk about Peer Pressure
Your kids need to determine good friends from bad one. Good friends are always there to care and listen to them. People trying to pressure them into drinking, smoking or using drugs are not good friends. Encourage your children to engage in different healthy activities like sports to be fit, feel good, and be energetic.
There are other ways you could explain the risks of drugs. Depending on what you believe in, you can explain that sometimes adults enjoy a glass of alcohol. Tell them that when alcohol is consumed too often, this would be the time that it is dangerous.
You should pick the right time to talk about drugs to your kids. Children are being exposed with various things like alcohol and drugs. Start encouraging them how they could take care of themselves as well as take pride in their healthy bodies.
If you don't know everything about drugs, there is nothing you should worry about as you can consider making a research. There are lots of resources available out there. However, make sure that they are accurate and would help you guide your children. If you don't know where to get started, asking help from experts can offer you a big hand.
Other Details
- 1 Ebook (DOCX, PDF), 29 Pages
- 1 Salespage (HTML)
- Ecover (JPG)
- File Size: 26,399 KB