Salespage Snapshot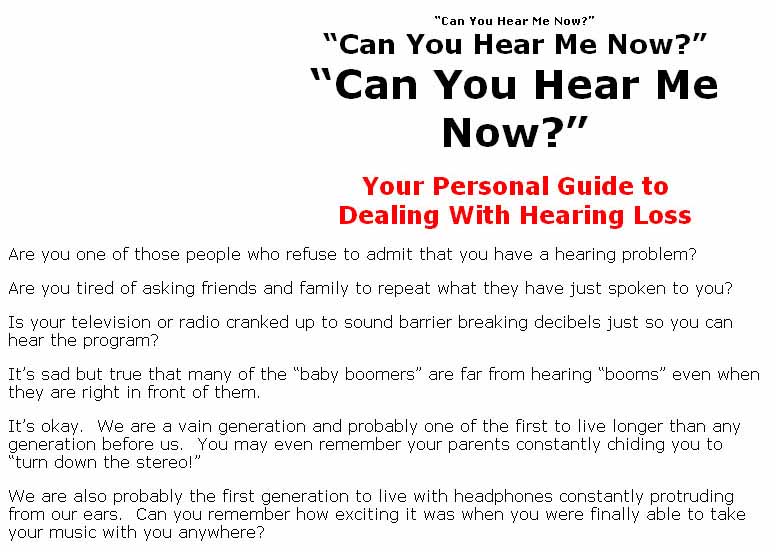 >> Click Here To View Sales Page...
Ebook Table Of Contents
How the Ear works
Causes and Symptoms of Hearing Loss
Treatments
Hearing Tests
Types of Hearing Devices
Hearing Loss and Speech
Wearing Headphones
Hearing and Your Job
What is Usher Syndrome
Vision and Hearing Loss
What is Acoustic Neuroma
Meniere's Disease
Tinnitus
Communication and Hearing Loss
Cochlear Implants
Sample Content Preview
How The Ear Works
Considering its puny size, your ear is an extraordinary instrument. A sugar cube sized piece of equipment, you are able to distinguish all speech sounds along with another nearly half a million other sounds.
Your ears' main function is to collect, process, and send sound to your brain. But that is not all; those two small intricate mechanisms that you have on the sides of your head are also responsible for keeping your balance.
To easily understand how your ear works, you should get to know its three main sections and the functions of these areas. The ear is basically divided into three sections: outer, middle, and inner ear. These three parts are all connected to each other in order for you to hear and process sounds to the brain.
Outer Ear: Acoustic Catcher
Other Details* Sales Page:
Included, HTML, MS Word Doc
* File Format:
MS Word Doc, PDF
* Number of Pages:
61
* Included Graphics:
Ecovers, PSD
* Download File Size:
1,509 KB