Salespage Snapshot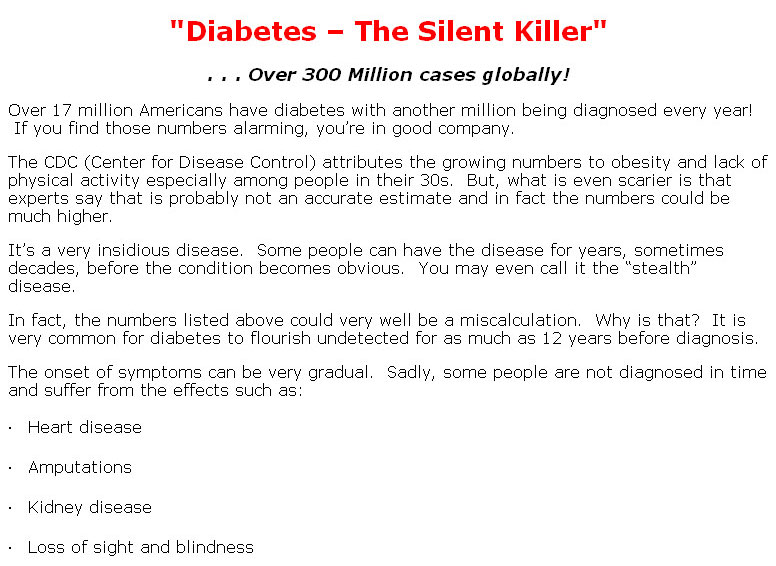 >> Click Here To View Sales Page...
Ebook Table Of Contents
A Global Epidemic
The Best Course of Action is Prevention
Prevention thru Better Nutrition
Why Is It Called The Stealth Disease?
What Are the Symptoms?
Diabetes Defined – Type I and Type II Diabetes
Your Cardiovascular System and Diabetes
All about the Pancreas
Newly Diagnosed?  Why you need a Nutritionist
Vitamins, Minerals and Supplements
Mealtime – Eat Protein Serving First
Mealtime – Eat Carb Serving Second
Mealtime – Eat Veggies and Grains Third
Obesity and Diabetes
Diet and Exercise
Ebook Sample Content Preview
Diabetes – A Global Epidemic
When you hear the word epidemic, you may likely think of diseases that plague thousands of people in less developed countries far away. However, epidemics are not exclusive to such places. In fact, the world's most widespread epidemics strike a lot closer to home than what you may think.
An epidemic defined is a disease that has come to affect a large portion of a given population. The exact parameters differ among experts but a good estimation puts the number at around 3% of a population. If the number of people affected by the disease reaches this number, it can be considered an epidemic.
Given this definition, people living in developed countries of the world are not exempt from a growing global epidemic – one that has seen little attention until recently.
Diabetes is now considered an epidemic that is affecting not just a select number of countries but the entire globe. It joins a short, but unfortunately, growing list of diseases of which, HIV/AIDS is part of.
Other Details* Sales Page:
Included, HTML, MS Word Doc
* File Format:
MS Word Doc, PDF
* Number of Pages:
63
* Download File Size:
189 KB