Salespage Snapshot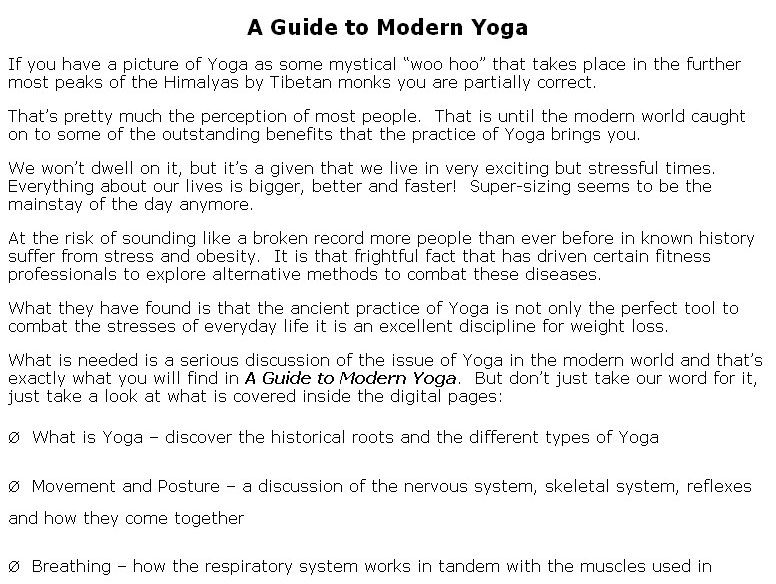 >> Click Here To View Sales Page...
PLR Ebook Table Of Contents
What is Yoga?
Movement and Posture
Breathing
Abdominal and Pelvic exercises
More Abdominal/Pelvic Exercises
Postures for Standing
Back Bending Postures
Forward Bending Postures
More Forward Bending Postures
What Are Twisting Postures?
The Headstand
The Shoulder Stand
Relaxation and Meditation
Yoga and Your Baby
Yoga Resources
Ebook Sample Content Preview
What is Yoga?
All About Modern Yoga
Yoga is an ancient art of meditation and exercise that has its origin roots in religion and mysticism. The original purposes of Yoga were liberation of the self from worldly desires and the attainment of a state of spiritual perfection through practicing various physical positions, breathing exercises, and mental conditioning.  Modern Yoga focuses more on the physical aspects of Yoga and it's health benefits, doing away with the mysticism and finding rational, scientific explanations for why certain feats formerly thought to be "supernatural" were actually feasible through Yoga.
The origins of Yoga were founded in the Hindu faith, with 6 major branches of classic Yoga philosophy. Later branches of Yoga spread out widely all over the Far East, merging with other Asian belief systems. The most notable branches that persist to this day are Buddhist Yoga, Zen Yoga, and Tibetan Yoga. These three branches in particular most easily integrated Yoga as part of their practices because the basic beliefs in Yoga meshed perfectly with their passive philosophies.
Other Details* Sales Page:
Included, HTML, MS Word Doc
* File Format:
MS Word Doc, PDF
* Number of Pages:
58
* Included Graphics:
Ecovers, PSD
* Download File Size:
1,244 KB