Salespage Snapshot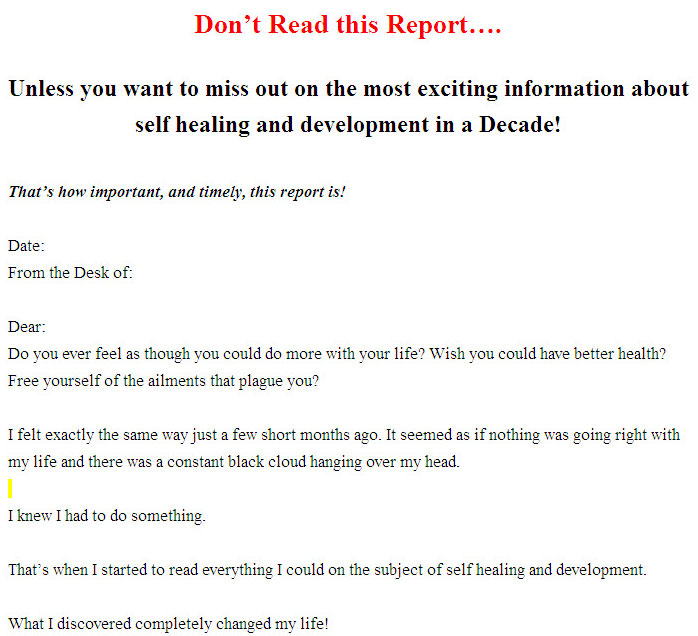 >> Click Here To View Sales Page...
Ebook Sample Content Preview
Self-healing is the latest subject under heavy discussion. Since scientist and medical experts are coming up with secrets spread out in the foreign legions, and discovering cures for cancer, and various other diseases, holistic medicines is now the top pick subject.
Recently medical experts found that seaweed has a natural ingredient that has proven to kill cancerous cells in a short time. Thus, seaweed supplements are currently discussed around the world. The new medical breakthroughs have lead scientist and medical experts to explore other possibilities as well. So stay tuned into self-healing and development, since you may find a wealth of benefits.
Some of the latest news has hit the Internet. Many authors are writing books left to right discussing the many self-healing practices taking place today. In addition, self-development is a top topic, which certain holistic meds has proven to heal the body and mind.
The latest news today brings you many holistic changes into the new age. Thus, with the new age we will discuss the sounds of natural music, Radionics, biofeedback, neurofeedback, yoga, meditation, and many other hot topics for your convenience. Some of the latest alternatives for self-development include some of the products and strategies listed, but also include accelerated learning and subliminal learning.
Seaweed in Self-Healing and Development
Cancer patients can now benefit from the latest breakthrough in medicines. Recently, experts have discovered that ingredients in natural seaweed can kill cancerous cells in a matter of one hour or more. Thus, with this new finding the word is spreading quickly on the Internet, giving each of us the opportunity to benefit from the latest holistic medicines.
Other Details* Sales Page:
Included, HTML, MS Word Doc
* File Format:
MS Word Doc, PDF
* Number of Pages:
165
* Included Graphics:
Ecovers
* Download File Size:
979 KB