Salespage Snapshot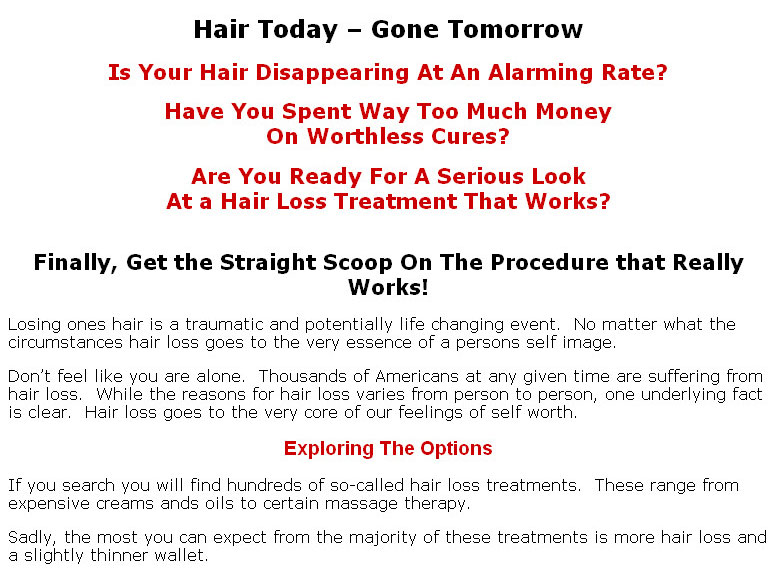 >> Click Here To View Sales Page...
PLR Ebook Table Of Contents
Who Is a Candidate
What Is the Procedure
All About Micrografting
Side Effects of Hair Transplantation
Costs and Financial Alternatives
Appearance After the Procedure
How Many Surgeries Are Required
What About Scarring
Caring For Hair After Transplant
What About Women
Are Eyebrow Transplants Possible
Finding a Transplant Surgeon
Is it Painful
What About Poor Results
What Is Hair Cloning

PLR Ebook Sample Content Preview
Who Is a Candidate
What is the History of Hair Transplants and Are you a Candidate?
The first records of the demand for "additional hair" extends clear back when Julius Caesar ruled. However, in 1939, the first published methods for hair transplant (also called grafting) was achieved by a Japanese Dermatologist, Dr. Okuda.  Unfortunately, much of the hair transplant history was not credited to him since World War II crumbled the Western Hemisphere.
First Hair Transplants
The actual process of the remedy for a balding head surfaced in 1952 in New York City.  Dr. Normal Orentreich submitted the first proposal for a hair transplant operation. His first few drafts about hair transplant were actually rejected by the medical community. However, during the latter months of 1952, he performed the first hair transplant for male baldness. This operation worked under the principle that transplanted hair will continue to grow normally and will even exhibit the same characteristics it had where it originally grew.
Other Details* Sales Page:
Included, HTML, MS Word Doc
* File Format:
MS Word Doc, PDF
* Number of Pages:
69
* Included Graphics:
Ecovers, PSD
* Download File Size:
1,301 KB