Salespage Snapshot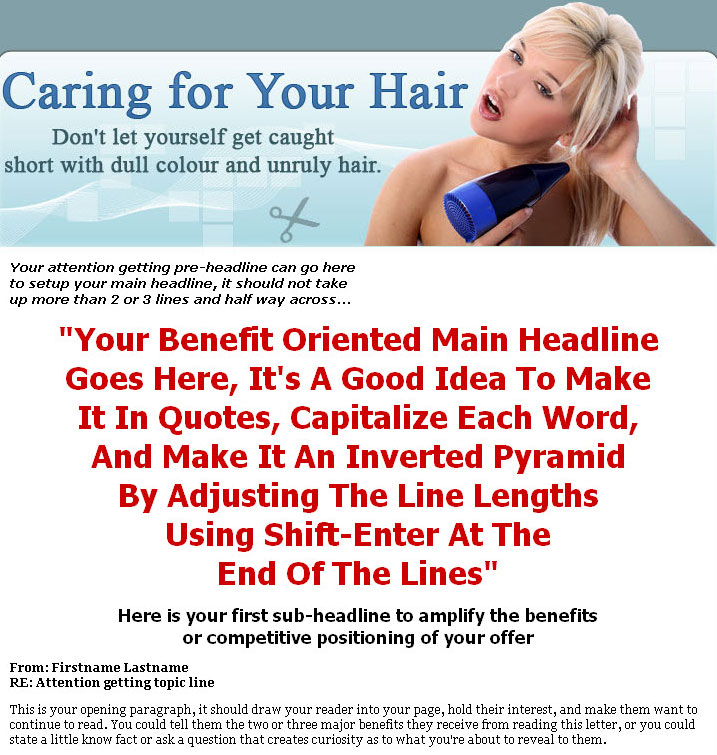 >> Click Here To View Sales Page...
Table Of Contents
5 Ways to Reduce Dandruff    3
Curly Hair Care Tips    4
The Best Organic Hair Care Lines    4
Easy Steps to Caring For Your Hair    5
Great Homemade Hair Care Solutions    6
Hair Care Tips for Men    7
Hair Care Tips for Red Heads    8
3 Things About Organic Hair Dye    8
Tips for Great Blonde Hair Care    9
Things You Need to Know About Hair Loss    10
Beautiful Hair From The Inside Out    11
Hair Care Per Person    12
5 Tips for Shiny Hair    13
Hair Care For People With Severe Allergies    14
Baby Hair Care    15
The Best Hair Care Salon Treatments    15
5 Tips to Supermodel Hair    16
Brunette and Black Hair Care Tips    17
John Masters Truly Organic Hair Care    18
L'Occitane The Best Men's Hair Care Products    19
Morocco Method Vegan Hair Care    20
Romantic Hair Care Ideas    21
Top 5 Hair Care Products From L'Occitane    21
5 Steps For Summer Hair Care    22
Sample Content Preview
5 Ways to Reduce Dandruff
Dandruff is detected by the itchy and flakiness of the scalp. You can always check with your dermatologist to identify the problem and for remedies that help cure it. You may not even have dandruff; your current hair product including shampoo and conditioner could be irritating your scalp. So, try switching your product first to a non-dandruff fighting shampoo and conditioner. See if the flakiness goes away. Stress can be a main cause for dandruff, so make sure that you try relaxing techniques daily to reduce your stress level.
1. Shampoo
Wash your hair with warm to cool water. Try a mild shampoo for a few weeks, and if you do not see any results, use an anti-dandruff shampoo. You should notice improvement in 4-6 weeks. Avoid alcohol based products, or any other styling products until the dandruff subsides. Instead use a leave-in conditioner to maintain shape.
2. Aloe Vera
You need to soothe your scalp because it is red and irritated, so try Aloe Vera. Rub the gel onto the scalp and keep it on overnight. Be sure to replace your pillowcase.
3. Apple Cider Vinegar
Try pouring two tablespoons of Apple Cider Vinegar onto your scalp, or lemon juice, or even try a mixture of both. Leave it on for as long as you like about 20 minutes to an hour should work and then shampoo.
4. Coconut Oil
Coconut Oil is a mild and soothing choice in relieving dandruff. You can chill it and work it through your hair. After a few days the dandruff should be gone.
Other Details* Sales Page:
Included, HTML
* File Format:
MS Word Doc, PDF
* Number of Pages:
24
* Included Graphics:
Ecovers
* Extras:
eBay Sales Page
* Download File Size:
942 KB