Squeeze Page Preview: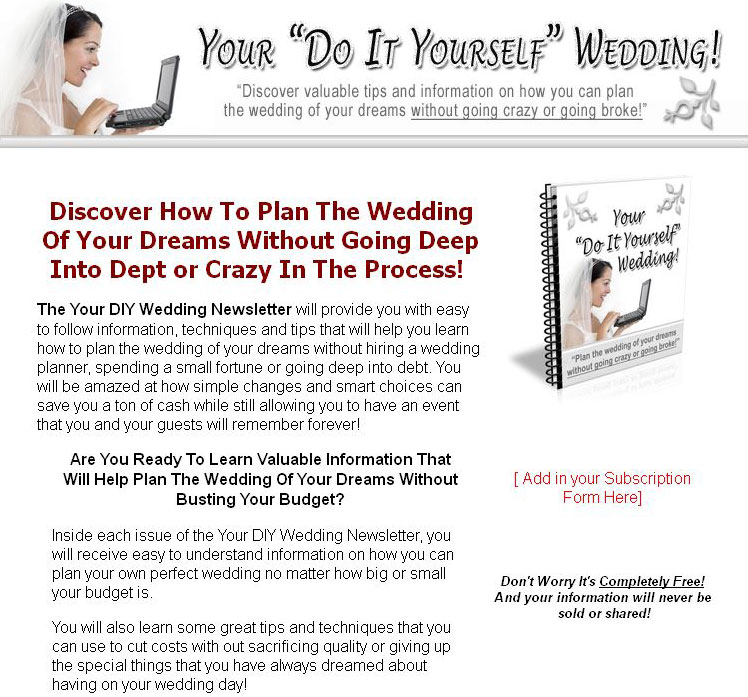 >>> Click Here To View Full Squeeze Page… Your Diy Wedding Plr Autoresponder Email Series  Features:
* 12 Issues Full Of Great Content
– Just add in your contact info and plug it in to your favorite autoresponder. Each issue contains 500 words or more!
* One Ready To Go Squeeze Page
– Just add in your opt in form, upload to your server and your done!
* One Ready To Go Thank You Page
All ready to remind your subscribers to check their email and confirm their subscription. It even has built in revenue!
* 4 Researched Click Bank Products
These are top selling products on Click Bank that I've personally researched and chosen for each series.
* Extra Copy And Paste Article Content
You will get:
– Extra titles
– Extra opening paragraphs
– Extra closing paragraphs
– Extra fill in paragraphs
(these would make great tips that you add in to your follow ups system for more frequent contact with your readers)
Sample Content Preview
Message # 1
Subject line: Your First DIY Wedding Issue
Hello "autoresponder code here",
Welcome to your first issue of "Your DIY Wedding". In each issue of
Your DIY Wedding you will learn valuable tips and information on how
you can plan the wedding of your dreams without going crazy or going
broke!
Did you know that statistics show the average wedding costs $20,000
or more. Most young girls dream of the fairytale wedding including the
long white gown, bridesmaids, a sit-down dinner, and a band that
everyone will want to dance to.
In fact most brides have been dreaming about their wedding day since
they were a little girl. However these dreams can often come with a a
big price tag and the realization that their fairytale day may never
happen. Even though weddings are very costly, rest assured that your
dream day can come true.
By taking the time to plan every detail, you will be amazed at the
amount of money that you can save and how it will help make your
wedding a day to remember for you and all of your guests!
It's only natural to want the Cinderella fantasy wedding, complete with
ice sculptures, a heavenly cake, and hundreds of guests who've flown
in from all around the world to enjoy the festivities and it's only human to
cry at the bill that this dream can come with.
It's no secret that the cost of the perfect dream wedding can add up
fast. Especially when you factor in the cost of the dress, flowers,
photographer, food, drinks, music, decorations and the venue your
wedding can seem like an unattainable dream. But it doesn't have to
be that way.
So, how can the average person have a beautiful wedding with all the
bells and whistles without going into debt or going crazy?
Perhaps these three little words say it best!
They are "do it yourself" (D IY).
When you do it yourself you can have the elegant, beautiful wedding of
your dreams without going crazy or going broke.
Don't panic, having a do it yourself wedding doesn't mean giving up
style and flair. It means using your imagination, using your own hands
as well as recruiting the help of family and friends.
So where should you start?
One of the first things to consider is the budget. The question of how
much is available to spend and who is paying for what are two of the
important questions when it comes to setting the budget.
Once the budget is set, the next step is creating a timetable. Some
important factors to consider include honeymoon, work schedules,
holidays and family occasions, and day of the week.
Then you will want to start looking at rings, making announcements,
choosing invitations and planning the pre-wedding activities such as;
engagement parties, a dinner for the families of both parties to get
acquainted, rehearsal dinners, bridal showers and so on.
After making the wedding known to everyone, the next step is the guest
list. This list usually affects several aspects of the wedding especially
the budget and the size of the party.
Here is a quick tip:
Try dividing the guest list into five categories: a) bride's list; b) groom's;
c) couple's common friends; d) groom's parents' list and; e) bride's
parents' list. This will help you sort it out effectively! Don't worry if the list
is too big at first. It often takes several revisions before you come up
with the perfect guest list.
As I mentioned earlier, when it comes to planning the perfect wedding
there are many things to consider like the ceremony, reception
music, flowers, wedding gowns, bridesmaids dresses, and the groom's
attire, photographers and more.
Inside each issue of the Your DIY Wedding newsletter I will do my best
to provide you with the best tips and tricks from the experts to help you
cut costs without cutting class and sophistication. We will explore
different ways that you can plan and save on all aspects of your
wedding.
Make sure you look for your next issue soon. We will be talking more
about how to save money when planning your perfect wedding.
Until then,
"your name here"
"your email address"
"your URL here"
Other Details
- 12 Part Autoresponder Email Messages (TXT, DOC)
- Squeeze Page (HTML, PSD)
- Ecover (PSD, JPG)
- Affiliate Programs List
- Checklists Links In Lesson
- File Size: 17,647 KB