Squeeze Page Preview: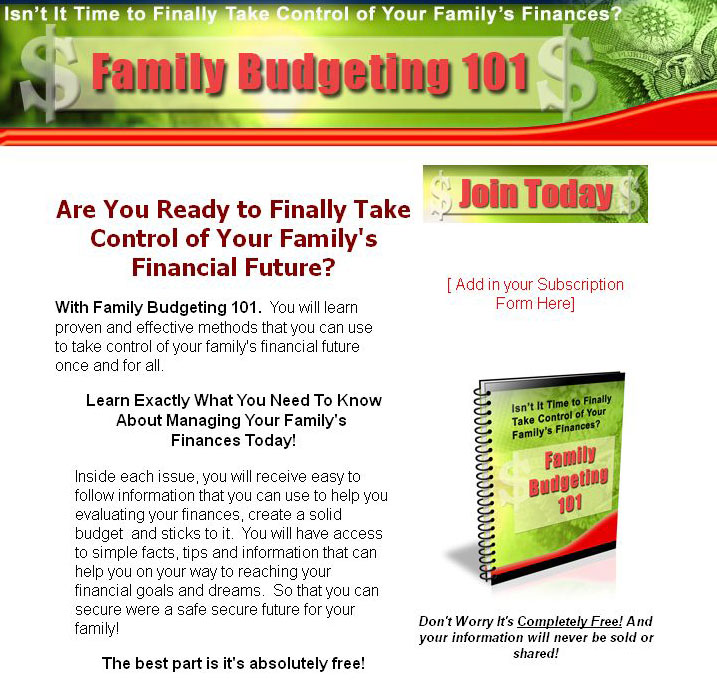 >>> Click Here To View Full Squeeze Page…
Features:
* 12 Issues Full Of Great Content
– Just add in your contact info and plug it in to your favorite auto responder. Each issue contains 500 words or more!
* One Ready To Go Squeeze Page
– Just add in your opt in form, upload to your server and your done!
* One Ready To Go Thank You Page
All ready to remind your subscribers to check their email and confirm their subscription. It even has built in revenue!
* 4 Researched Click Bank Products
These are top selling products on Click Bank that I've personally researched and chosen for each series.
* Extra Copy And Paste Article Content
You will get:
– Extra titles
– Extra opening paragraphs
– Extra closing paragraphs
– Extra fill in paragraphs
(these would make great tips that you add in to your follow ups system for more frequent contact with your readers)
Sample Content Preview
Message # 1
Subject line: Your First Family Budgeting 101 Issue
Hello "autoresponder code here",
Welcome to the first issue of Family Budgeting 101.
In each issue of Family Budgeting 101 you will learn valuable
information on how to successfully save and budget your money.
I would like to start this first issue off with some secrets that will
help you get started on the family budget.
Let's face it the high cost of living in today's society, wherever
you may be, has made budgeting a priority among many families.
In today's inflationary world, nothing is more important than
knowing how to wisely spend the somewhat meager income
that you bring home.
Did you know that…….
financial problems usually arise due to lack of proper budgeting
skills, or failure to Stick to the budget you create. No matter how
much income you may have, it is still important to keep track of
your assets, liabilities, earnings and expenses.
It is ironic but a person who earns thousands will have the same
problems with the person who earns by the hundreds. Most
often, different kinds of people, with diverse income levels,
have budgeting problems. Others who may have been
successful in creating a budget, usually fail to stick to the budget
that they have worked so hard to put in place.
What exactly is a budget?
A budget simply refers to a financial plan that takes the incoming
and outgoing monetary resources into consideration. A good
budget should not only mean a balance or equity between income
and expenditures. It also means lesser expenses, and making an
allowance for savings.
Let's say you earn a thousand dollars per month to begin planning
your budget you should map out all the necessary expenses you
will have during a month such as your house payment, food and
transportation. What remains after you deduct your total
expenses from your income is your savings.
Sounds simple enough right?
What you do with your savings will make a difference later on, when
the need arises. You can choose to keep your savings in a piggy
bank or place it in a bank where there is minimum interest rate but
at least your money is safe from you and from intruders. Once your
savings grows you can enlist the services of a financial adviser
who can give you higher-yielding investment options.
Now let's go over a feud tips to make sure that you keep within
the family budget that you set:
1. Maintain a logbook where you can list your income and expense
account on a weekly or monthly schedule.
2. Buy your groceries at one time. To do this, make a list of all the
things that you would need for your target period and purchase
them at one time. Sometimes, there are discounts if you buy by
the dozen so take advantage of this.
3. Avoid going to the supermarket and shops if you do not need
to buy necessary items. This will keep you from making
unnecessary purchases and keep you from straying away from
your budget.
With these things in mind make sure you look for your next issue
When we will be going over some ways that you can make your
budget better.
I hope you have enjoyed your first issue of family budgeting 101.
Thank you again for joining,
"your name here"
"your email address"
"your URL here"
Other Details
- 12 Part Autoresponder Email Messages (TXT, DOC)
- Squeeze Page (HTML, PSD)
- Ecover (PSD, JPG)
- Affiliate Programs List
- File Size: 27,245 KB