Squeeze Page Preview: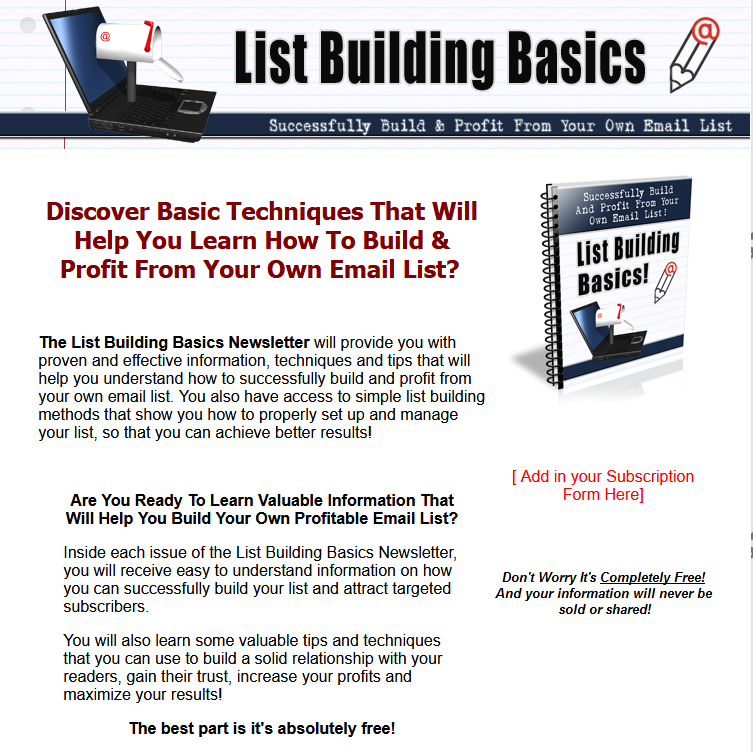 >>> Click Here To View Full Squeeze Page…
Features:
* 12 Issues Full Of Great Content
– Just add in your contact info and plug it in to your favorite auto responder. Each issue contains 500 words or more!
* One Ready To Go Squeeze Page
– Just add in your opt in form, upload to your server and your done!
* One Ready To Go Thank You Page
All ready to remind your subscribers to check their email and confirm their subscription. It even has built in revenue!
* 4 Researched Click Bank Products
These are top selling products on Click Bank that I've personally researched and chosen for each series.
* Extra Copy And Paste Article Content
You will get:
– Extra titles
– Extra opening paragraphs
– Extra closing paragraphs
– Extra fill in paragraphs
(these would make great tips that you add in to your follow ups system for more frequent contact with your readers)
Sample Content Preview
Hello "autoresponder code here",
In the last issue we talked about using articles and free reports to build
your list. In this issue we are going to talk about how to get your
subscribers to trust you quickly.
While the rest of the world have developed many barriers and
protections to keep their e-mail accounts spam-free, there are also
those that subscribe to mails that promotes their products, services and
their site. This is mainly because these subscribes wants to know more
about what these sites are offering and can be beneficial for them. They
expect to get be kept posted on what they are interested in and what
are new in the market or field they have chosen.
Businesses would be so lucky to have these kinds of customers; the
basic element needed to get these types of people is trust. When your
customers trust you they will reward you with their loyalty. Many internet
users have gone to great lengths in protecting their email accounts from
spam mail. Some free-mail internet providers and internet service
providers offer spam protection while there are also some internet
based companies that screen your mails for you.
With an optin mail list, the mails you send containing your promotional
materials such as newsletters, catalogs and marketing media will go
through. Your intended recipient will be able to read and view what you
have sent making it a successful transfer of information. To be able to
be allowed to do so, you will need permission from your recipient, to
get this permission; you need to be able to get their trust. With the great
lack of disregard for privacy in the internet, getting the trust of an
internet user you don't personally know is a big achievement.
To build a good optin list you need people to trust you, for a faster and
quicker build up, you need to get your optin subscribers to trust you
quickly. The faster you build your optin list the faster word about your
site and company gets to be spread. The bigger the scope of your opt-
in list the more traffic you get spelling more profits. It's easy math if you
think about it. Getting the numbers is not that simple though, or maybe it
is?
– Show your clients that you know what you are talking about.
Provide them with helpful hints and guidelines that pertain to what you
are selling. Talk about how to install a roof if you're into hardware
products or provide articles on insurance settlements if you're a
settlement lawyer. You don't have to be a big corporation to make use
of an optin list. If your customers see you as someone who knows what
he is doing and saying, they will trust you quickly.
– Be true to your customers, if you want to hype up your products and
services, provide guarantees. The more satisfied customers you get,
the bigger probability there is that they will recommend you. Generally,
people will trust someone they know, when that someone recommends
you then you're a shoo-in. They will go to your site and check it for
themselves and be given a chance to experience what the other shave
experienced from you, so make sure to be consistent in the service you
provide.
– Another tip in getting a customer to trust you quickly is to provide
them an escape hatch. Show them that you are not there to trap them.
Keep a clean list that would enable them to unsubscribe anytime they
want. Elaborate your web form by providing information on how to
unsubscribe from the list. Guarantee them that they can let go of the
service when ever they want to. Many are wary that they may be stuck
for life and would have to abandon their email accounts when they get
pestered with spam.
Remember that when you get the trust of your clients don't lose that
trust. Because if you do anything with their email addresses like sell
them or give them out, you will lose many members of your list as ell as
potential members. The true quickest way to gain the trust of your
subscribers is when you are recommended by someone they trust.
Make sure you look for your next issue soon. We are going to talk about
how you can use your list to make more money.
Until then,
"your name here"
"your email address"
"your URL here"
Sample Extra Titles
The Low Down on List Building Exposed
Dirty Facts About List Building Revealed
The Undeniable Truth About List Building That No One Is Telling You
What Everybody Else Does When It Comes To List Building And What You Should Do Different
The Idiot's Guide To List Building Explained
Unknown Facts About List Building Revealed By The Experts
The Hidden Truth on List Building Exposed
The Secret of List Building That No One is Talking About
The Unexposed Secret of List Building
The List Building Diaries
List Building – An Overview
The Ugly Side of List Building
An Unbiased View of List Building
What's Really Happening With List Building
The Ultimate Guide To List Building
5 Simple Facts About List Building Explained
What To Do About List Building Before It's Too Late
The Secret For List Building Revealed in 5 Simple Steps
The Ultimate Solution For List Building That You Can Learn About Today
Be The First To Read What The Experts Are Saying About List Building
The Truth About List Building
Find Out Who's Talking About List Building And Why You Should Be Concerned
5 Odd-Ball Tips on List Building
The List Building Chronicles
Kids, Work and List Building
7 Shocking Facts About List Building Told By An Expert
The Insider Secret on List Building Uncovered
What Everyone is Saying About List Building Is Dead Wrong And Why
The Insider Secrets of List Building Discovered
The Unexplained Mystery Into List Building Uncovered
The Insider Secrets For List Building Exposed
And More…
Sample Extra Paragraphs
Creating a website is made simple nowadays. A lot of programs are
milling about assisting regular computer users in making and
maintaining websites in a real simple way. Some website creator just
needs you to cut and paste, like that of a regular paint program. Several
web hosting sites are available too. Some are even free. If you have a
site of your own, you can ask visitors to register with you or sign your
guest book as they leave.
————————————
Newsletters also allow you to impress your subscribers. It can show
your expertise and knowledge about the topic at hand and the many
benefits you can offer them. When you impress people, they will
become potential customers and another great thing is that they can
recommend you to their friends, colleagues and family. All of them
could very well be customers in the future.
————————————
As mentioned in the first tip, make your homepage very, very
impressive. You need to have well written articles and descriptions of
your site. Depending on what your site is all about, you need to capture
your website visitor's fancy. Make your site useful and very easy to use.
Do not expect everyone to be tech savvy. Invest in having good
programming in your site, make your graphics beautiful but don't over
do it.
————————————
Generate solutions to the problems of your target market by using
Internet forum. Creating this type of forum will initiate the underlying
solutions that will answer to most of your target market's problem.
Through their posts and threads, you will be able to identify your target
market's problem and will be able to come up with a great solution. In
turn, it will be very handy when you make your opt in list.
————————————
Remember that visitors of a certain site are there because they are
interested in what the site has to offer. If they sign up for an opt-in list or
for a newsletter this means that they want to be updated for that certain
theme or subject. Be sure that when you publish your newsletter you are
providing for the need of the subscriber as well as their interests.
And More…
Other Details
- 12 Part Autoresponder Email Messages (TXT, DOC)
- Squeeze Page (HTML, PSD)
- Ecover (PSD, JPG)
- Affiliate Programs List
- File Size: 11,000 KB