Squeeze Page Preview: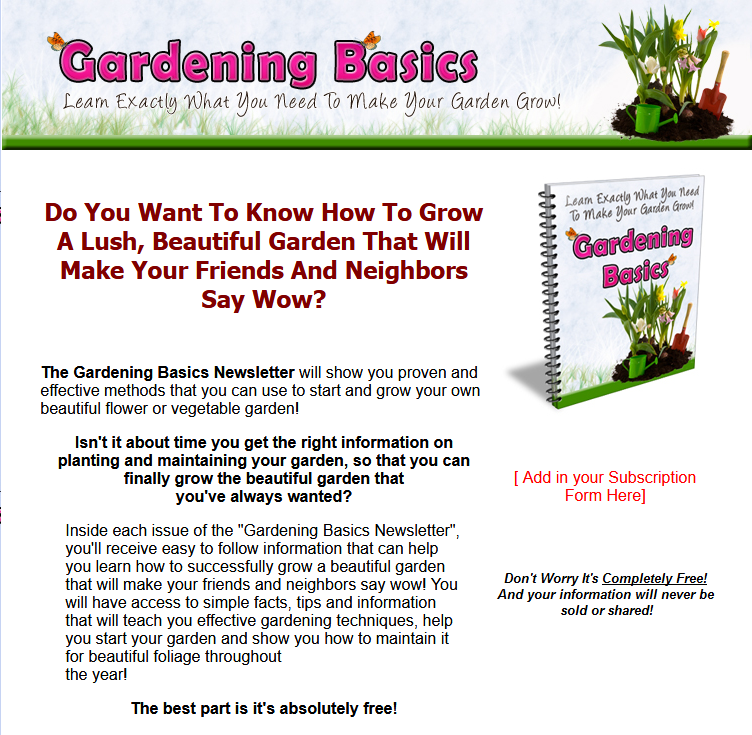 >>> Click Here To View Full Squeeze Page…
Features:
* 12 Issues Full Of Great Content
– Just add in your contact info and plug it in to your favorite auto responder. Each issue contains 500 words or more!
* One Ready To Go Squeeze Page
– Just add in your opt in form, upload to your server and your done!
* One Ready To Go Thank You Page
All ready to remind your subscribers to check their email and confirm their subscription. It even has built in revenue!
* 4 Researched Click Bank Products
These are top selling products on Click Bank that I've personally researched and chosen for each series.
* Extra Copy And Paste Article Content
You will get:
– Extra titles
– Extra opening paragraphs
– Extra closing paragraphs
– Extra fill in paragraphs
(these would make great tips that you add in to your follow ups system for more frequent contact with your readers)
Sample Content Preview
Hello "autoresponder code here",
In the last issue we talked about dealing with annoying garden
pests. In this issue we are going to go over the different types of
organic mulch that you can use in your garden.
Mulches are used for various gardening purposes, they are
applied to the soil surface. Properly used, they benefit plant growth
and minimize labor.
There are many options for mulching that you can explore.
These days, many gardeners are discovering new sources of free
mulch that has been there all along; an untapped resource. These
include clippings from a lawn, or woody pruning's from other plants
in your yard. You will be surprised by how beneficial all these
things can be, and how often the opportunity arises to use them.
Many gardeners have taken to spreading out their excess grass
clippings across the rest of their yard. You may think this will look
tacky, with big piles of grass just sitting in your yard as if you were
too lazy to rake them up. However, if you spread them out enough
then you won't even be able to tell that there is an excess amount.
Leaving the extra grass on the yard acts as a sort of mulch by
preventing evaporation and weed growth. With this extra water,
you won't have to water nearly as much to keep your grass green.
When I started leaving my grass clippings, I had to adjust the
frequency of my sprinkler system because I was worried my yard
was getting too much water!
If your garden is in more need of mulching than your yard, it is not
unheard of to rake up all the grass and transport it to your garden.
By making a small layer around the vicinity of the plant, you'll apply
all the same benefits from leaving it in your yard. My yard is rather
green on its own, but I often have trouble with my plants staying
green and healthy. So, rather than leave the grass clipping in my
yard, I move them all around my plants. It is just a matter of
choosing what your highest mulching priority is.
Sometimes, our pruning activities will lead us to have an amazing
amount of branches and twigs. If this is the case, you should
consider renting a wood chipper to put all of those branches to
use. After one day of intense pruning, you would be surprised at
just how many branches you end up with. Rather than throw these
away, you can turn them into a huge amount of mulch for your
plants. However, if your pruning has not left you with that big of an
amount, you should bundle it all up and save it to add onto the next
batch. This is because the chipping machines can be slightly
expensive to rent, and you want it to be absolutely worth it!
Over time, all organic mulches need to be replenished. This is
because they will naturally decompose in the conditions of your
yard. Usually you can tell for yourself just by looking at it, but
sometimes it can look perfectly regular but still have problems. If
you start to notice any poor plant growth whatsoever, you should
replace your mulch. Always keep in mind that during the process
of decomposition, your mulch will use up the valuable nitrogen in
the soil. Without this, the plants will be missing a key nutrient.
There are several types of fertilizers available on the market that
are specifically designed to deal with this problem.
The use of mulches in the yard and garden is something everyone
should try. Not only can it save lots of time by reducing the amount
of garbage you have to transport out, but it increases the
healthiness and integrity of your plants by putting that so called
garbage to good use. So if you think you would be able to save a
good amount of branches and twigs for chipping, or if you think
that you are ready to stop raking up all your grass clippings, then I
think that mulching is for you.
Make sure you look for your next issue soon. We will be talking
about using vines to decorate your garden.
"your name here"
"your email address"
"your URL here"
Sample Extra Titles
5 Simple Facts About Good Gardening Explained
What To Do About Garden Pests Before It's Too Late
The Ultimate Solution For Great Gardening
Winter Gardening – An Overview
Fall Gardening – An Overview
The Ugly Side of Gardening
The Truth About Growing a Garden
5 Odd-Ball Tips on Gardening
The Insider Secret on Growing a Garden
The Insider Secrets of Gardening Discovered
The Insider Secrets For Great a Gardening
Effective Strategies For Growing a Garden
What You Need To Know About Growing a Garden
The Most Overlooked Fact About Growing a Garden Revealed
A Simple Trick For Growing a GreatGarden
5 Simple Tactics For Growing a Garden
And More…
Sample Extra Paragraphs
Always check the roots before you plop down the money to purchase
the plant. Of course if the roots are in absolutely terrible condition you
will be able to tell by looking at the rest of the plant. But if the roots are
just slightly out of shape, then you probably won't be able to tell just by
looking at it. Inspect the roots very closely for any signs of brownness,
rottenness, or softness. The roots should always be a firm, perfectly well
formed infrastructure that holds all the soil together. One can easily tell if
the roots are before or past their prime, depending on the root to soil
ratio. If there are a ridiculous amount of roots with little soil, or a bunch
of soil with few roots, you should not buy that plant.
————————————
Gardening is definitely a healthy habit though, don't get me wrong. Any
hobby that provides physical exercise, helps the environment, and
improves your diet can't be a negative thing. So no matter what the
underlying psychological cause for gardening is, I think that everyone
should continue to do so. In the USA especially, which is dealing with
obesity and pollution as its two major problems, I think gardening can
only serve to improve the state of the world.
————————————
Many gardeners waste nitrogen and manures; farmers do otherwise.
Farmers only need a quarter to a third of nitrogen to mix with an inch of
compost, horse, or cow manure. Kate Burroughs of Sebastopol
California, uses the same rule for her home-grown lettuce and sweet
corns. When it comes to broccoli and pear trees, farmers only need a
small amount. Notice that gardeners apply larger amounts of compost
and manure than farmers. Obviously, they are not only wasting their
fertilizer but also their money.
————————————
Forks are used for turning and aerating compost and breaking up
lumps of soil. The cheaper ones are often not strong enough for heavy
soil, so go for sturdiness instead of price. Forks usually cost around
$30 – $100.
————————————
Apply biological pest control. Encourage predatory insects such
as green lacewings and dragonflies to feed on aphids and other
pests that attack your plants. You can do this by placing a
shallow bowl of water in the garden. Dragonflies especially will
hover around water. Bacterial insecticides such as B.
thuringiensis could also be used against caterpillars.
————————————
If you're just looking for something to look nice in your yard, you'll
want a flower garden. These are usually filled with perennial flower.
Perennial flowers are flowers which stay healthy year-round.
And More…
Other Details
- 12 Part Autoresponder Email Messages (TXT, DOC)
- Squeeze Page (HTML, PSD)
- Ecover (PSD, JPG)
- Affiliate Programs List
- File Size: 4,720 KB