Squeeze Page Preview: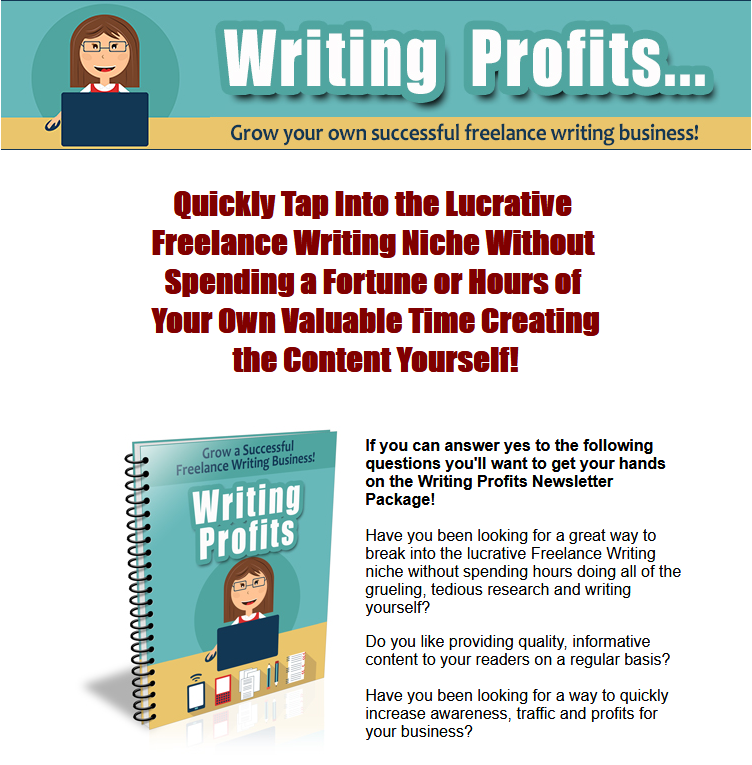 >>> Click Here To View Full Squeeze Page…
Features:
* 12 Issues Full Of Great Content
– Just add in your contact info and plug it in to your favorite auto responder. Each issue contains 500 words or more!
* One Ready To Go Squeeze Page
– Just add in your opt in form, upload to your server and your done!
* One Ready To Go Thank You Page
All ready to remind your subscribers to check their email and confirm their subscription. It even has built in revenue!
* 4 Researched Click Bank Products
These are top selling products on Click Bank that I've personally researched and chosen for each series.
* Extra Copy And Paste Article Content
You will get:
– Extra titles
– Extra opening paragraphs
– Extra closing paragraphs
– Extra fill in paragraphs
(these would make great tips that you add in to your follow ups system for more frequent contact with your readers)
Sample Content Preview
Hello "autoresponder code here",
In the last issue, we talked about how to specialize as a freelance writer for magazines.
In this issue, we are going to talk about how to get started as a freelance food writer.
If you have a good appetite and a way with words, food writing may be a great option to consider. Not only is doing research for food writing one of the more enjoyable tasks in freelance writing, but you'll never be short of restaurant recommendations and potential free meals, however you may find your cloths fitting a little tighter.
To become a successful freelance food writer, you'll need to know how to describe food in a way that makes your readers taste buds water. The key to descriptive writing, at least in traditional literature, is to make focused comparisons.
As an example, ask yourself which sentence you find more appealing:
"It was the tastiest shrimp I've ever eaten" or "The lime-pressed garlic shrimp, grilled over apple wood, had the lovely crunch of caramelized sugar and the texture of a medium-rare salmon filet".
The fundamental law of food writing is to make your reader wish that he or she had some of whatever delicious dish you're writing about, to make the reader personally invested in the food. There's a reaction in the human mind whenever we think about an object or activity, we activate the parts of our brain that turn on whenever we're interacting with that object or engaged in that activity.
For instance, if we think about eating a thick juicy steak, our mouth may water or our stomach may growl. When you're writing about food, you want to activate those same parts of the brain to make your reader feel that he or she is sharing in the experience of eating it.
Words like "tasty," "delicious," or, worst of all, "really good," won't do anything for your reader's emotions. Only words related to food or words and images with strong emotional connotations will really get their mouths watering.
Once you've written your articles, where do you market your food writing? If you live in a large city, you can write for a local newspaper or an alternative paper. Millions of people read these papers daily or weekly, and a good portion of those millions read the food section.
When anyone in a major city needs to make restaurant reservations for a date, business dinner, party, or other social engagement, they look in the food section of the local paper for hot new restaurant reviews. Stay on top of restaurant openings and closings in your city. New restaurant openings can be your "bread and butter." Local newspapers and online city guides always want to print new restaurant reviews.
If you have a favorite local hangout that not many people know about, write an article on it. Submit your article with a proper query letter to a local newspaper. You might be the first one to write about the place, throwing needed business their way. In the end, you collect a decent paycheck from the newspaper, along with a published clip, a byline, and hopefully more work and referrals.
Another option is to write for magazines dedicated to food, dining, city nightlife, general lifestyles, or for the tourist market. If you plan to write for magazines, your choice of what to write about becomes much broader.
Make sure you look for your next issue soon. We will be talking about some of the different pricing options available to you as a freelance writer.
Until then,
"your name here"
"your email address"
"your URL here"
Sample Extra Titles
The Secret of Freelance Writing That No One is Talking About
The Unexposed Secret of Freelance Writing
The Freelance Writing Diaries
Freelance Writing – An Overview
The Ugly Side of Freelance Writing
An Unbiased View of Freelance Writing
What's Really Happening With Freelance Writing
The Ultimate Guide To Freelance Writing
5 Simple Facts About Freelance Writing Explained
What To Do About Freelance Writing Before It's Too Late
The Secret For Freelance Writing Revealed in 5 Simple Steps
The Ultimate Solution For Freelance Writing That You Can Learn About Today
Be The First To Read What The Experts Are Saying About Freelance Writing
The Truth About Freelance Writing
Find Out Who's Talking About Freelance Writing And Why You Should Be Concerned
5 Odd-Ball Tips on Freelance Writing
The Freelance Writing Chronicles
Kids, Work and Freelance Writing
7 Shocking Facts About Freelance Writing Told By An Expert
The Insider Secret on Freelance Writing Uncovered
What Everyone is Saying About Freelance Writing Is Dead Wrong And Why
The Insider Secrets of Freelance Writing Discovered
The Unexplained Mystery Into Freelance Writing Uncovered
The Insider Secrets For Freelance Writing Exposed
And More…
Sample Extra Paragraphs
You can log on to job sites where they have a special section that features freelancing jobs or part time jobs. Some are even located in different states, which you can actually accept since most just require telecommuting and not your actual presence.
————————————
When you think about it, it is not really hard to look for freelance writing opportunities. In fact, a lot of writing jobs especially freelance, have opened up because of the increasing demand for people who can update online content. In addition to the other areas and industries that they can write in, websites have given them greater number of potential assignments and jobs.
————————————
The freelancer is free to choose his working hours and be his/her own boss. Because of the freedom in work schedule, freelancing gives a person more time to pursue other interests or take on more jobs. Other freelancers also consider the fact that they can even take care of their family better as soon as they start working freelance.
————————————
Improved income and savings. Freelance workers can usually command higher income rates for their projects because they are hired for their specific talents and skills. This is a big plus because they are paid high but do not have to work full time. Though income rates for freelancers vary, most of them still benefit from the setup.
————————————
Because you are actually doing the work that you are doing in the company that you work for, it is important that you always do your best and to make sure that you take care of your work reputation. Your work, whether they are PR write-ups or newspaper articles, will be the basis for you being commissioned for freelance work. So make sure that you always give your best in every assignment.
And More…
Other Details
- 12 Part Autoresponder Email Messages (TXT, DOC)
- Squeeze Page (HTML, PSD)
- Ecover (PSD, JPG)
- Affiliate Programs List
- File Size: 8,400 KB