Squeeze Page Preview: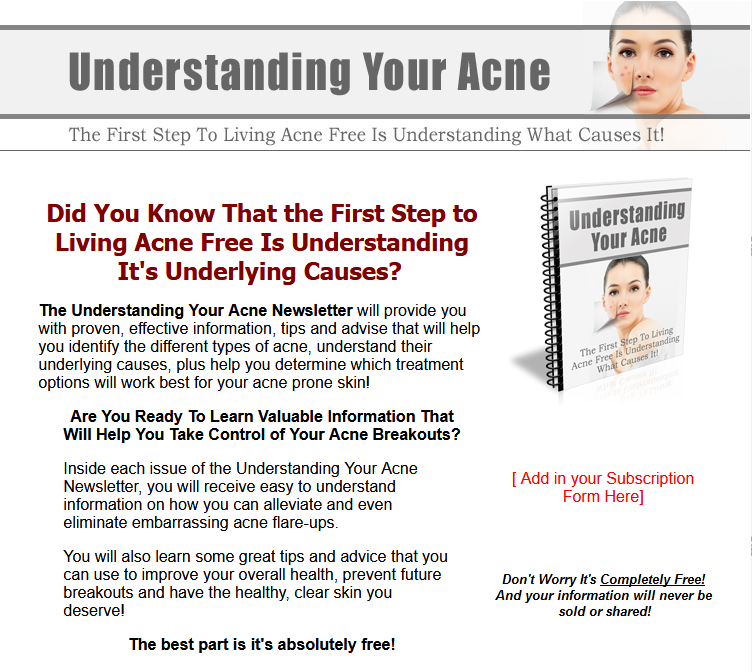 >>> Click Here To View Full Squeeze Page…
Features:
* 12 Issues Full Of Great Content
– Just add in your contact info and plug it in to your favorite auto responder. Each issue contains 500 words or more!
* One Ready To Go Squeeze Page
– Just add in your opt in form, upload to your server and your done!
* One Ready To Go Thank You Page
All ready to remind your subscribers to check their email and confirm their subscription. It even has built in revenue!
* 4 Researched Click Bank Products
These are top selling products on Click Bank that I've personally researched and chosen for each series.
* Extra Copy And Paste Article Content
You will get:
– Extra titles
– Extra opening paragraphs
– Extra closing paragraphs
– Extra fill in paragraphs
(these would make great tips that you add in to your follow ups system for more frequent contact with your readers)
Sample Content Preview
Hello "autoresponder code here",
In the last issue we talked about some of the ingredients in different
acne treatments, so that you could narrow down your product and
treatment choices. In this issue we are going to go over some simple
lifestyle tips that can help you reduce the occurrence and frequency of
your breakouts.
When it comes to fighting the war against acne breakouts often times it
seems like a never ending battle. However there are some very simple
lifestyle tips and changes that can help you reduce the frequency and
severity of your acne flare up's.
While these may appear to be common sense, lifestyle habits they can
be very effective when it comes to alleviating some of your symptoms:
– Drink plenty of water
Now, I know you've heard me say this before but is important to
consume plenty of water especially during moderate to severe
breakouts. Water is by far one of the most effective treatments for acne.
Not only does water helps flush your system of unwanted toxins it
is designed to hydrate the body, cleanse the colon, assist in the body's
detoxification process and as if that's not enough it can also help
improve blood circulation to the skin, restore a healthy hormonal
balance, and normalize your pH balance as well. Not only do all of the
things help reduce the frequency of your outbreaks they can help
prevent them too!
A good rule of thumb is to drink 8 to 10 glasses of clean water per day.
This will help your body efficiently get rid of oil, waste, toxins, plus help
to hydrate your skin and keep your pores from clogging. another
beneficial side affect of drinking plenty of water is that it helps to relieve
stress, relax your body and can even lead to a better night sleep.
While increasing your water consumption is a good first step is also a
good idea to try to reduce your consumption of coffee, tea, soda and
alcohol as well. This is because these beverages can act as a partial
diuretics and can actually drive more water out of your cells than they
put in.
– Avoid using harsh astringents
Acne prone skin is very sensitive, so it is a good idea to avoid using
harsh astringents like witch hazel which are designed to remove oils
and shrink pores unless they are specifically designed for the treatment
of acne. Not only can these astringents dry out and burn your skin they
can also lead to your pores becoming even more clogged, which can
cause the onset of an acne breakout.
– Avoid certain stimulants
Coffee, tea, cigarettes, as well as excessive sugar from sweets and
soda should be avoided. Consuming anything that has the potential
alter your body chemistry, brain and nervous system can also stimulate
the sebaceous glands to release more oil. This oil leaves the body
through your pores causing more frequent breakouts.
– Keep an eye on your diet
Yes, we have talked about this before. Diet does have an impact on the
frequency of breakouts that you experience. while having a huge ship
tourists we treat once in a while won't cause a sudden breakout it's
important to stick to a healthy diet full of nutrient rich fruits and
vegetables. Reducing your fat intake is also a good idea, because the
more fat you eat the more oils capable of producing acne your body will
secrete.
– Avoid alcoholic beverages
While alcohol is considered a nice stress reliever and there's no harm
in enjoying a drink or two for a special occasion you may want to limit
your consumption of your favorite tasty beverage, especially during
times of moderate to severe breakouts. Why you may ask? It is
because alcohol acts as a type of internal astringent, dehydrating our
bodies and shrinking our pores, plus making them more prone to
clogging.
– Bath and shower in tepid water
You may not think that the temperature of your bath water is anything
more than a personal choice but it can have an impact on your acne.
People with acne prone skin should avoid bathing in very hot and very
cold water on areas of the skin affected by acne. Hot water can reek
havoc on your sensitive skin, causing inflammation and damage to your
pores. On the other hand cold water will shrink your pores making them
more prone to clogging. Instead use tepid water during your shower or
bath. Try to keep the temperature below 98.5 degrees. Treat your
sensitive, acne prone skin much like you would newborn babies.
Make sure you look for your next issue soon. We will be talking about a
severe type of acne known as Cystic Acne, how to identify it and what
type of treatment you should seek if you have it.
Until then,
"your name here"
"your email address"
"your URL here"
Sample Extra Titles
Why Nobody is Talking About Acne And What You Should Do Today
The Death of Acne
The Birth of Acne
Rumors, Lies and Acne
The Most Overlooked Fact About Acne Revealed
The Forbidden Truth About Acne Revealed By An Old Pro
A Simple Trick For Acne Revealed
5 Simple Tactics For Acne Uncovered
What You Can Do About Acne Starting In The Next 10 Minutes
What The Experts Aren't Saying About Acne And How It Affects You
5 Tips on Acne You Can Use Today
Why Everyone Is Dead Wrong About Acne And Why You Must Read This Report
The Ultimate Strategy For Acne
3 Tips For Acne You Can Use Today
How To Find Out Everything There Is To Know About Acne In 5 Simple Steps
Shocking Information About Acne Exposed
What Everyone Is Saying About Acne And What You Should Do
The Single Best Strategy To Use For Acne Revealed
And More…
Sample Extra Paragraphs
Acne can have severe emotional and psychological repercussions.
Since it affects their appearance it also affects their self image and self
esteem. Teenagers are especially vulnerable to this attack on their self-
confidence and can even trigger withdraw and depression, as well as
feelings of anger and frustration.
————————————
Most people will have outgrown their acne problems by the time they
reach their twenty's, but some people will continue to suffer from acne
even as adults. In some cases people will not have any acne issues
until they are adults, this happens more frequently in men than women.
————————————
Porphyrins absorb light best in the blue wavelength range – 400 nm to
430 nm. A low intensity blue light source (405 nm to 420 nm) has been
studied for the treatment of mild to moderate inflammatory acne. In the
study, two 15-minute exposures a week for a period of four weeks
produced a 60 percent reduction in acne in 80 percent of patients.
Reported remissions from acne lasted as long as three to eight
months.
————————————
However, with acne, sebum is trapped within the follicle and
skin bacteria multiplies within the clogged pores. Acne develops on
those areas of the skin where sebaceous glands are most numerous:
the face, scalp, neck, chest, back, and upper arms and shoulders. Acne
typically begins in adolescence, although onset in the twenties or
thirties is common.
————————————
People who have acne can resort to topical treatments at first but if it
does not work out, then it is best to seek treatment and proper
prescriptions from licensed dermatologists.
————————————
It is unthinkable how many people allow their lives to be inhibited by
acne when there are numerous ways of treating such skin disorder. A
person, or even his parents, should immediately seek treatment for this
skin disorder as soon as possible to avoid further damage top the skin.
And More…
Other Details
- 12 Part Autoresponder Email Messages (TXT, DOC)
- Squeeze Page (HTML, PSD)
- Ecover (PSD, JPG)
- Affiliate Programs List
- File Size: 16,500 KB