Squeeze Page Preview: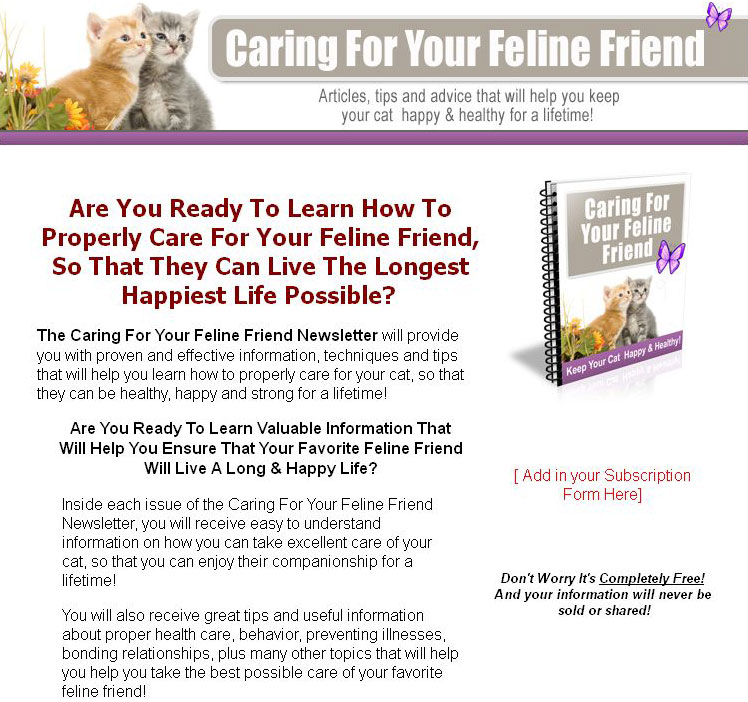 >>> Click Here To View Full Squeeze Page…
Features:
* 12 Issues Full Of Great Content
– Just add in your contact info and plug it in to your favorite auto responder. Each issue contains 500 words or more!
* One Ready To Go Squeeze Page
– Just add in your opt in form, upload to your server and your done!
* One Ready To Go Thank You Page
All ready to remind your subscribers to check their email and confirm their subscription. It even has built in revenue!
* 4 Researched Click Bank Products
These are top selling products on Click Bank that I've personally researched and chosen for each series.
* Extra Copy And Paste Article Content
You will get:
– Extra titles
– Extra opening paragraphs
– Extra closing paragraphs
– Extra fill in paragraphs
(these would make great tips that you add in to your follow ups system for more frequent contact with your readers)
Sample Content Preview
Message # 1
Subject line: Your First Caring For Your Feline Friend Issue
Hello "autoresponder code here",
Welcome to your first issue of Caring For Your Feline Friend
In each issue of Caring For Your Feline Friend you will learn valuable
information on how you can take excellent care of your cat and keep
them happy and healthy for a lifetime. In this first issue we are going to
talk a little bit about basic cat care, so that you can make sure your cat
lives a long and healthy life.
There is no doubt in my mind since you took the time to subscribe to
this newsletter that you are among the millions of people who think cats
make wonderful companions. Did you know that cats are one of the
most popular pets in today's busy times? It's true! In fact, according to
avma.org there are nearly 82 million pet cats in the US alone.
With a multitude of breeds available to choose from, Moggies which
stands for "mixed breeds" are among the most popular, with Parisian,
Siamese and Maine Coon's topping the ranks for popular choices
among Cat lovers everywhere!
As we know cats are a domesticated animal, but were you aware that
their domesticated origin dates back some 4,000 years when the
ancient Egyptians began using them to control vermin and other pests
to protect stored food? This domestication quickly led to other
civilizations taming the cat, spreading throughout Europe until finally
they made their way to the New World with pilgrims. Quite a journey!
Just like with any other type of pet it takes time and money to properly
care for your beloved feline friend. So, before you bring home that cute
new kitten it's important to consider the costs. You'll obviously need
food, and it's a good idea to plan for vet costs in advance.
You'll also need:
A litter box
Litter, which will be an ongoing expense.
Food and water dish.
Some toys are a very good investment to keep your cat entertained.
A scratching post is a good idea to help protect your furniture.
A pet carrier for trips to the vet.
A bed, unless you plan on sharing yours.
An ID collar, just in case your cat ever gets lost.
Feeding your pet will depend a great deal on its age. For instance;
– Older cats require two small meals or one large meal a day.
– Kittens on the other hand, require several feedings a day until they are
around 12 weeks old.
– Cats that are between three and six months old need to be fed three
times a day.
Cats love canned food and it can be a good diet option for them. Just
keep in mind that it doesn't hold any benefits for their dental health,
whereas dry food helps prevent the buildup of tartar on your cat's teeth,
keeping them healthy and strong. Not to mention that feeding your feline
friend a diet of all gourmet canned food can quickly get very expensive,
I would recommend a combination of wet and dry food to keep your cat
healthy and happy.
TIP: Be sure to discard any canned/wet food that had been left out
longer than 30 minutes.
TIP: When you give your cat dry food, you should always make sure that
he has enough water.
When you buy dry food, you should always look at the ingredients and
health benefits, and try to stay away from generic food. Even though
generic food may be cheaper, it may not offer the nutrients your pet
needs. A good rule of thumb is to look for a food that lists protein as its
first ingredient. Look for chicken, turkey, lamb, salmon, etc.
If you have a kitten, you should only give it kitten food. You'll also need
to clean and refill their water dish every day. Even though kittens and
adult cats like cow's milk, you should avoid giving it to them, especially
if you notice that it causes them to vomit or give them diarrhea. Treats
are fine on occasion, just be aware too many traits can make your cat
fat.
By nature, cats keep themselves very clean. You don't have to bathe
them that often, you'll need to give them a good brushing once in a
while. If your cat has long hair you should brush it at least once a day.
Brushing your feline friend helps reduce the risk of hairballs and keeps
your their coat nice and clean. If you are keeping your cat indoors,
you'll need to put their litter box in an area that is easy for them to
access. You should always scoop it on a daily basis, and clean it out
once a week. Cats don't like to use dirty litter boxes, they prefer for it to
be nice and clean.
Although cats do require some time and effort they make great pets
that will provide you with years and years of loving companionship. As
long as you properly take care of them and keep up with regular vet
checkups, they should live a long and healthy life.
Make sure you look for your next issue soon. We will be talking about
bonding with your favorite feline friend.
Thank you again for joining,
Until then,
"your name here"
"your email address"
"your URL here"
Other Details
- 12 Part Autoresponder Email Messages (TXT, DOC)
- Squeeze Page (HTML, PSD)
- Ecover (PSD, JPG)
- Affiliate Programs List
- File Size: 16,465 KB