Squeeze Page Preview: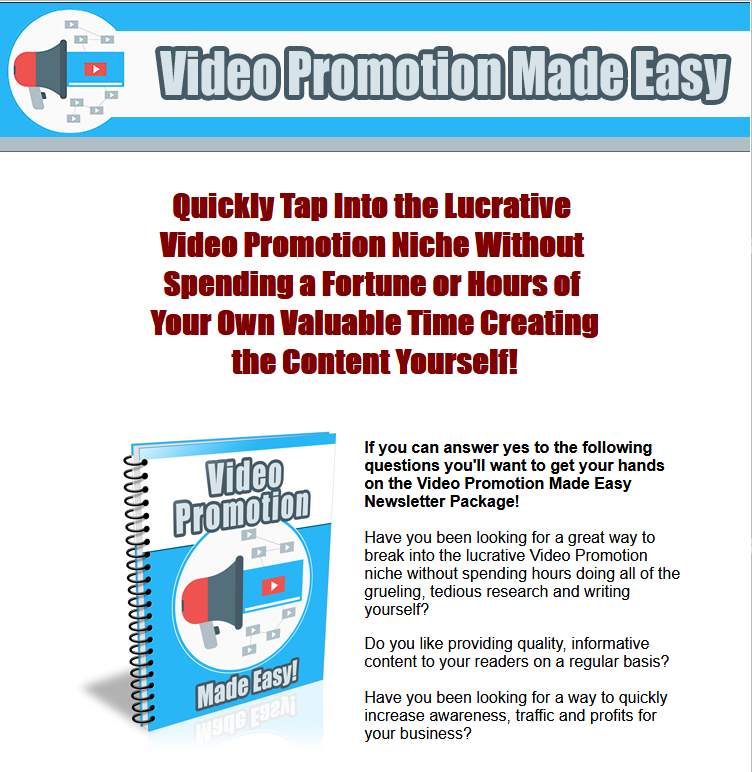 >>> Click Here To View Full Squeeze Page…
Features:
* 12 Issues Full Of Great Content
– Just add in your contact info and plug it in to your favorite auto responder. Each issue contains 500 words or more!
* One Ready To Go Squeeze Page
– Just add in your opt in form, upload to your server and your done!
* One Ready To Go Thank You Page
All ready to remind your subscribers to check their email and confirm their subscription. It even has built in revenue!
* 4 Researched Click Bank Products
These are top selling products on Click Bank that I've personally researched and chosen for each series.
* Extra Copy And Paste Article Content
You will get:
– Extra titles
– Extra opening paragraphs
– Extra closing paragraphs
– Extra fill in paragraphs
(these would make great tips that you add in to your follow ups system for more frequent contact with your readers)
Sample Content Preview
Hello "autoresponder code here",
In the last issue, we talked about how video can help you reach more customers.
In this issue, we are going to go over some of the dos and don'ts of video promotion.
In order to keep up with the competition in this world, you have to make use of many promotion techniques. Some businesses go with internet marketing; others go with affiliate or even network promotion. While these techniques are very effective, they can be even more powerful when combined with video.
Make the most of the resources that you have when creating a video for promotion. Think of all the different people that you know. This can help you to come up with places to shoot your video and people that you can put in it. The more that you can get done for free the better.
Video promotion can often be informal. People like promotion efforts that don't look too forced or slick. They can seem too much like television commercials, and everyone has learned to tune those out. If your video is a little "rough," that is okay. Make it personal and genuine. You will likely attract more viewers.
When making video, use a three category approach. You'll need to use showpiece, workhorse, and long-tail videos. Showpiece videos simply use visual flare to make the business look presentable. Workhorse videos give customers an insight as to what the business offers. Long-tail videos address specific topics more in depth than the other videos.
Do you offer a variety of services in your business? If so, consider using video promotion to explain the common services in your business. Make a short video showing each type of service you do and how a customer can determine the level of service they need. This will inform your customer and likely increase sales. So, show with video all the things that make your services a cut above the rest.
People love to see what goes on behind the scenes so give your viewers what they want. Making an unconventional video that highlights the offbeat side to your business or an insiders look can really help to keep things interesting. It shows your viewers that you are more than just the products that you sell.
If you end up with a topic, which runs really long, cut it into separate videos. For example, a five-minute video could be divided into five one-minute long videos. Then released every day for a week. People will come back daily to see what's next and you'll have a whole week's worth of content in one video!
A great way to engage users with video promotion is to leave a few questions unanswered or make your videos thought provoking. This will encourage your viewers to engage you with comments and will give you a chance to speak to them on a personal level. When you communicate with your viewers, you end up building a bond with them on a personal level.
You want to make sure that you put out videos regularly. Once people have seen your video and are, familiar with it they will more than likely stop watching it. Posting new material will keep your viewers coming back to see what kinds of new things you are promoting.
Use your promotion video to highlight something original about your product or service. Chances are you are competing with many other companies for customers so you need to show people why your company is different from the rest. You can also express how your competitors do not meet your level of professionalism without naming names. Doing so can be viewed negatively so be sure to avoid it.
All of the other promotion techniques are great in their own right, but they don't hold a candle to what video promotion can offer. It offers a certain level of success that is unmatched by anything.
Make sure you look for your next issue soon. We will be talking about great reasons why you should use video in all of your marketing campaigns.
Until then,
"your name here"
"your email address"
"your URL here"
Sample Extra Titles
The Video Promotion Trap
The Low Down on Video Promotion Exposed
Dirty Facts About Video Promotion Revealed
The Undeniable Truth About Video Promotion That No One Is Telling You
What Everybody Else Does When It Comes To Video Promotion And What You Should Do Different
The Idiot's Guide To Video Promotion Explained
Unknown Facts About Video Promotion Revealed By The Experts
The Hidden Truth on Video Promotion Exposed
The Secret of Video Promotion That No One is Talking About
The Unexposed Secret of Video Promotion
The Video Promotion Diaries
Video Promotion – An Overview
The Ugly Side of Video Promotion
An Unbiased View of Video Promotion
What's Really Happening With Video Promotion
The Ultimate Guide To Video Promotion
5 Simple Facts About Video Promotion Explained
What To Do About Video Promotion Before It's Too Late
The Secret For Video Promotion Revealed in 5 Simple Steps
And More…
Sample Extra Paragraphs
Your videos should be chock full of information and straight to the point. The attention span of the typical web viewer is rather short. Work on making videos of less than five minutes in order to hold people's attention. You might have great content, but it won't help you if you lost viewers before the video is over.
————————————
While your video productions don't need to be as perfect as the latest Hollywood blockbuster (and why you might not want them to be too polished at all, for reasons we will talk about in a future issue), but your planning and your strategy need to be as close to perfect as possible.
————————————
Whenever you're talking about a tool this powerful, with the ability to literally produce a video in just a couple of hours and release it to the world with the click of a button, you need to understand that even the slightest misstep can cost you hundreds, maybe thousands of sales.
————————————
This benefit simply cannot be overstated, especially in a world where most people (your customers included) think that selling online is just a modern form of the Wild West snake oil salesman. People have been promised the moon and the stars in sales letters and constantly let down, all from faceless entities they've never seen or met. People are (and rightfully so) nervous about dealing with impersonal business and faceless sales letters, but video allows you to break through all of that.
————————————
A video created for marketing has to be marketed too! Post links to it on forums, through email, on your social media accounts, on your blog and anywhere else you can think of. The more people you get the link to, the more viewers you'll have both through their own viewing and their sharing.
————————————
Video is a great medium for conveying ideas. This works in business by showing customers what makes your business special. A short video describing your products or highlighting your experience will go a long way to making that sale. Remember to be clear and make any ideas your convey simple to understand so that your video marketing campaign will be a total success.
And More…
Other Details
- 12 Part Autoresponder Email Messages (TXT, DOC)
- Squeeze Page (HTML, PSD)
- Ecover (PSD, JPG)
- Affiliate Programs List
- File Size: 6,420 KB