Squeeze Page Preview: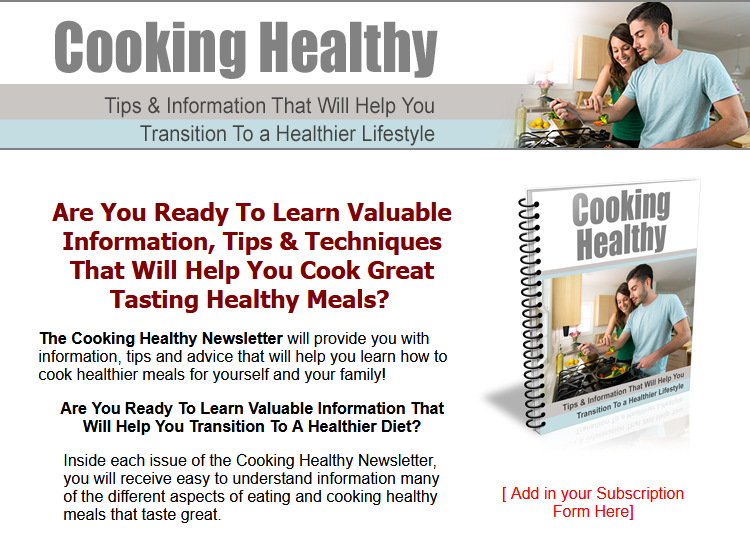 >>> Click Here To View Full Squeeze Page…
Features:
* 12 Issues Full Of Great Content
– Just add in your contact info and plug it in to your favorite auto responder. Each issue contains 500 words or more!
* One Ready To Go Squeeze Page
– Just add in your opt in form, upload to your server and your done!
* One Ready To Go Thank You Page
All ready to remind your subscribers to check their email and confirm their subscription. It even has built in revenue!
* 4 Researched Click Bank Products
These are top selling products on Click Bank that I've personally researched and chosen for each series.
* Extra Copy And Paste Article Content
You will get:
– Extra titles
– Extra opening paragraphs
– Extra closing paragraphs
– Extra fill in paragraphs
(these would make great tips that you add in to your follow ups system for more frequent contact with your readers)
Sample Content Preview
Hello "autoresponder code here",
In the last issue we talked about the importance of having the right tools in your kitchen for cooking healthy meals. In this issue we are going to go over a few low fat cooking tips for the whole family.
When you are learning to eat and cook healthier you should also try to reduce the amount of fat in your diet. While you may be picturing yourself eating nothing but cardboard-like food think again. With a few simple tips you can cook tasty low-fat food the whole family will enjoy.
The first thing to remember is, don't cut out all fats. This is a common mistake that is not only unhealthy it often leaves you feeling deprived. The human body needs fat because some vitamins, such Vitamin D, are fat soluble, which means you won't absorb them without the presence of fat. So make sure you include some healthy fats, such as olive oil, in your recipes.
Look in your fridge and see what high-fat foods you can replace. That way, you'll have low-fat versions on hand for cooking. Dairy products are especially easy to find in low to no-fat versions. Health experts recommend low-fat rather than fat-free for dairy products, because your body will have a hard time absorbing the Vitamin D in dairy products without some fat.
Chicken, beef, and vegetable stock also come in fat-free versions, which are convenient to have on hand for all sorts of dishes. You can also use the broth to sauté instead of oil.
Keep your kitchen stocked with lean beef, poultry, and fish. In addition, fatty fish is a good source of healthy fats, so you can always keep some salmon or Arctic char on hand, too.
Learn how to bake, broil, steam, and poach foods instead of frying them. For sautéing, you can use broth instead of oil, or use the sauté as a chance to get some healthy oil into your diet.
Use non-stick cookware. While old-fashioned cast iron cookware may be durable, it requires more "grease" than non-stick cookware. In fact, you need to keep cast iron oiled for it to perform well. Using non-stick cookware allows you to cook foods without a lot of added fat to prevent sticking. Use cooking spray instead of oil or butter. If cooking spray is not an option, use liquid oils instead of solid fats.
Choose low-fat substitutes. Did you know that fruit purees, particularly prune and apple can replace some of the fat in many dishes? Especially baked goods. The same can be said for plain yogurt. Try replacing a half to three-fourths of the fat in a recipe with low-fat, plain yogurt.
You should always keep plain low-fat yogurt on hand. Did you know you can strain it to make a cream cheese-like texture, or use it as a sour cream substitute in many dishes. It can also be used in place of heavy cream to thicken sauces.
When shopping for groceries choose lean cuts of meat, skinless chicken breasts, and try to trim all the visible fat from meat. Instead of frying, use other cooking methods such as grilling, broiling, baking, braising, poaching and microwaving foods. When you must sauté, use small amounts of oil or broth instead.
Make sure you look for your next issue soon. We will be talking about making the transition to eating and cooking healthier food.
Until then,
"your name here"
"your email address"
"your URL here"
Sample Extra Titles
Unknown Facts About Healthy Cooking Revealed By The Experts
The Hidden Truth on Healthy Cooking Exposed
The Secret of Healthy Cooking That No One is Talking About
The Unexposed Secret of Healthy Cooking
The Healthy Cooking Diaries
Healthy Cooking – An Overview
The Ugly Side of Healthy Cooking
An Unbiased View of Healthy Cooking
What's Really Happening With Healthy Cooking
The Ultimate Guide To Healthy Cooking
5 Simple Facts About Healthy Cooking Explained
What To Do About Healthy Cooking Before It's Too Late
The Secret For Healthy Cooking Revealed in 5 Simple Steps
The Ultimate Solution For Healthy Cooking That You Can Learn About Today
Be The First To Read What The Experts Are Saying About Healthy Cooking
The Truth About Healthy Cooking
Find Out Who's Talking About Healthy Cooking And Why You Should Be Concerned
5 Odd-Ball Tips on Healthy Cooking
The Healthy Cooking Chronicles
Kids, Work and Healthy Cooking
7 Shocking Facts About Healthy Cooking Told By An Expert
And More…
Sample Extra Paragraphs
When it's possible, you should avoid eating large meals at night. When
your body gets ready for sleep and slows down, it also burns calories at
a much slower pace. Never eat bread before bed, and make sure to
avoid the butter. Choose fish or poultry for your meal instead, and
include vegetables as a side dish.
————————————
Water in the body decreases with age, so many older folks will become
dehydrated very easily. Sometimes they won't feel thirsty, while other
times it's too much work to pour a glass a water. With this in mind, it's
recommended that they drink at least 1 ounce of water for every 2.2
pounds of weight.
————————————
Like oranges, potatoes are very high in vitamin C. The fact is, one
medium potato contains 45% of the vitamin C that's recommended for
good health. Potatoes are also high in fiber and carbohydrates and
contain more potassium than a banana.
————————————
Preventing malnutrition and dehydration are your most important factors
during first trimester. When you are pregnant, you need to consume
around 300 calories more than usual every day. The best way to go
about doing this is listening to your body when you are hungry. You
should try to eat as many foods as possible from the bottom of the food
pyramid.
————————————
You can prepare potatoes by boiling them, steaming them, or even
roasting them. If at all possible, you should avoid putting potatoes in
the refrigerator or freezing them, as cold will turn the potato starch to
sugar and cause them to turn dark when they are cooked.
————————————
Because they don't eat meet, vegetarians will often wonder how they'll
get enough protein. Although you may not realize it, the average
American actually consumes more protein than he actually needs. For
the lacto-ovo vegetarian, dairy products are an excellent source of
protein. Vegans on the other hand, get their protein from nuts, seeds,
and soy products.
And More…
Other Details
- 12 Part Autoresponder Email Messages (TXT, DOC)
- Squeeze Page (HTML, PSD)
- Ecover (PSD, JPG)
- Affiliate Programs List
- File Size: 75,100 KB