Squeeze Page Preview: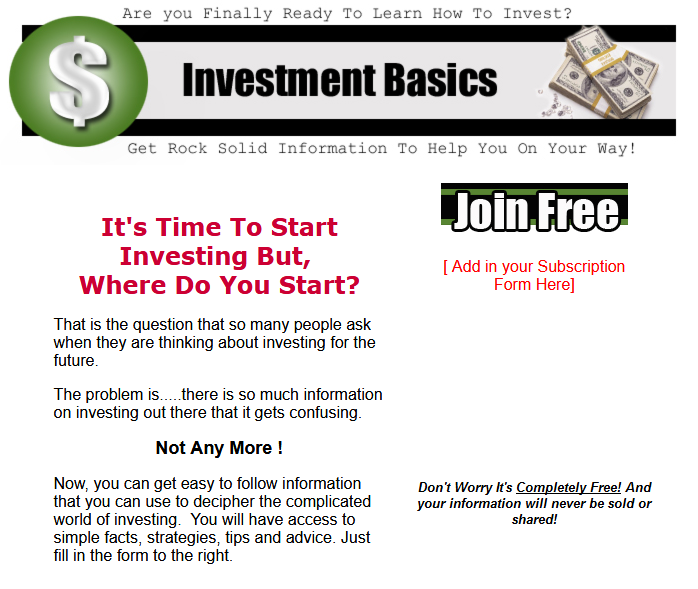 >>> Click Here To View Full Squeeze Page…
Features:
* 12 Issues Full Of Great Content
– Just add in your contact info and plug it in to your favorite auto responder. Each issue contains 500 words or more!
* One Ready To Go Squeeze Page
– Just add in your opt in form, upload to your server and your done!
* One Ready To Go Thank You Page
All ready to remind your subscribers to check their email and confirm their subscription. It even has built in revenue!
* 4 Researched Click Bank Products
These are top selling products on Click Bank that I've personally researched and chosen for each series.
* Extra Copy And Paste Article Content
You will get:
– Extra titles
– Extra opening paragraphs
– Extra closing paragraphs
– Extra fill in paragraphs
(these would make great tips that you add in to your follow ups system for more frequent contact with your readers)
Sample Content Preview
Hello "autoresponder code here",
In the last issue we talked about some investment basics.
In this issue we are going to go over some of the reasons
why you should invest.
Investing has become increasingly important over the years,
as the future of social security benefits becomes unknown.
People want to insure their futures, and they know that if they
are depending on Social Security benefits, and in some
cases retirement plans, that they may be in for a rude
awakening when they no longer have the ability to earn a
steady income. Investing is the answer to the unknowns
of the future.
You may have been saving money in a low interest savings
account over the years. Now, you want to see that money grow
at a faster pace. Perhaps you've inherited money or realized
some other type of windfall, and you need a way to make that
money grow. Again, investing is the answer.
Investing is also a way of attaining the things that you want,
such as a new home, a college education for your children,
or expensive 'toys.' Of course, your financial goals will
determine what type of investing you do.
If you want or need to make a lot of money fast, you would
be more interested in higher risk investing, which will give
you a larger return in a shorter amount of time. If you are
saving for something in the far off future, such as retirement,
you would want to make safer investments that grow over
a longer period of time.
The overall purpose in investing is to create wealth and
security, over a period of time. It is important to remember
that you will not always be able to earn an income… you will
eventually want to retire.
You also cannot count on the social security system to do
what you expect it to do. As we have seen with Enron, you
also cannot necessarily depend on your company's
retirement plan either. So, again, investing is the key to
insuring your own financial future, but you must make smart
investments!
Make sure you look for your next issue soon.
"your name here"
"your email address"
"your URL here"
Sample Extra Titles
How Where And When To Invest?
Determining Where You Will Invest
How Do I Invest In Stocks?
What Are Bonds And How Do I Use Them?
Getting Your Feet Wet With Investing
Investing for Retirement How?
What To Know Before You Invest
The Importance of Diversification
Understanding Bonds
What Is Your Investment Style?
Choosing A Broker
To Invest Or Not To Invest
Determine Your Investment Risk Tolerance
And More…
Sample Extra Paragraphs
Naturally, if you find that you have a low tolerance for risk, your
investment style will most likely be conservative or moderate at
best. If you have a high tolerance for risk, you will most likely be
a moderate or aggressive investor. At the same time, your
financial goals will also determine what style of investing you use.
A good diversification will usually include stocks, bonds, real
property, and cash. It may take time to diversify your portfolio.
Depending on how much you have to initially invest, you may
have to start with one type of investment, and invest in other
areas as time goes by.
Pull your credit report. You should do this once each year. It is
important to know what is on your report, and to clear up any
negative items on your credit report as soon as possible. If
you've set aside $25,000 to invest, but you have $25,000
worth of bad credit, you are better off cleaning up the credit
first!
If you are saving for retirement in your early twenties, you should
use a conservative or moderate style of investing – but if you are
trying to get together the funds to buy a home in the next year or
two, you would want to use an aggressive style.
Conservative investors want to maintain their initial investment.
In other words, if they invest $5000 they want to be sure that they
will get their initial $5000 back. This type of investor usually
invests in common stocks and bonds and short term money
market accounts.
And More…
Other Details
- 12 Part Autoresponder Email Messages (TXT, DOC)
- Squeeze Page (HTML, PSD)
- Ecover (PSD, JPG)
- Affiliate Programs List
- File Size: x,xxx KB