Squeeze Page Preview: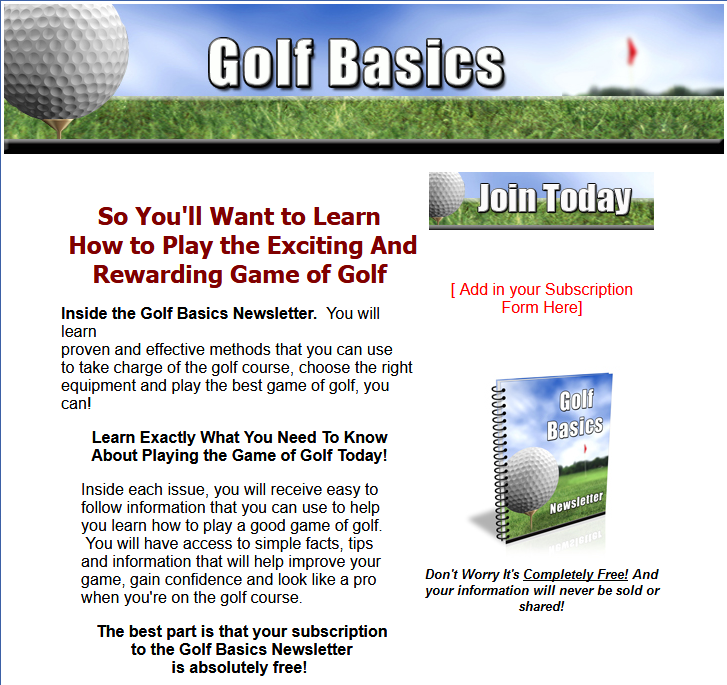 >>> Click Here To View Full Squeeze Page…
Features:
* 12 Issues Full Of Great Content
– Just add in your contact info and plug it in to your favorite auto responder. Each issue contains 500 words or more!
* One Ready To Go Squeeze Page
– Just add in your opt in form, upload to your server and your done!
* One Ready To Go Thank You Page
All ready to remind your subscribers to check their email and confirm their subscription. It even has built in revenue!
* 4 Researched Click Bank Products
These are top selling products on Click Bank that I've personally researched and chosen for each series.
* Extra Copy And Paste Article Content
You will get:
– Extra titles
– Extra opening paragraphs
– Extra closing paragraphs
– Extra fill in paragraphs
(these would make great tips that you add in to your follow ups system for more frequent contact with your readers)
Sample Content Preview
Hello "autoresponder code here",
In the last issue we talked about how to improve your golf swing.
In this issue we are going to go over some things you should know
before you buy used golf clubs.
Used golf clubs, should you or shouldn't you? This is a question
that many golfers ask themselves when it's time for a new
set of clubs.
Golf clubs can be very expensive. That's why many people
consider buying used golf clubs instead of new ones. In this
issue we're going to go over some of the things you should
consider before you purchase your next set of golf clubs.
Of course, the cost is one of the main reasons people give
for buying used clubs. Recycling is another good reason,
simply because it is good for the environment. You can't go
wrong there!
Let's talk about some of the things you should know before you
buy a set of used golf clubs?
The first thing you need to check is the club heads for face wear.
often times clubs that have been used for a long time will have a
shiny worn spot in the center. This isn't good because the club face
won't hold the ball as well as it should. Make sure that the grooves
on the club still have well-defined edges and be sure to stay away
from used clubs that show signs of heavy wear as these can affect
the flight of your ball
The shaft is also another important thing to look at when you are
inspecting used clubs. To test graphite shafts check to make sure
they don't have worn areas or indentations and then twist the grip
and the head of the club in opposite directions.You should feel a
substantial bit of resistance. When testing steel shafts, check for
the same signs of wear and look down the shaft to make sure it
hasn't been bent back into shape.
Inspect the grips on the golf clubs. You will be looking for cracks,
splits, and worn areas. Keep in mind that it will cost you between
$6 and $15 per club before you purchase a used set of clubs
and add that on top of your purchase price.
Another quick test, you can do is to lie of the clubs and compare
them. Make sure they all appear to have come from the same set.
After all, you don't want a set of used golf clubs with different shaft
types or models.
The final test is the only way that you can really tell how a used
set of golf clubs will perform. You will need to find a place to take
a few test swings and see how they feel to you. This is very important
because, you will be using them for a long time and your score
will depend on them.
The last thing you should do is compare prices for new clubs versus
what you will be paying for your used clubs. Sometimes you can get
a new set for less than what the used set is selling for. Always be
sure to keep a look out, because sometimes you can find a great
deals at your local golf store or by doing some shopping online.
Purchasing a set of golf clubs is a big deal, so don't jump in too
quickly when it comes to getting the right clubs for you!
Make sure you look for your next issue soon. We will be talking
about golf training aids, and what they can do for your game.
Here's to finding your perfect set of clubs,
"your name here"
"your email address"
"your URL here"
Sample Extra Titles
So We Want to Be a Professional Golfer
What to Wear on the Golf Course
Quick Ways to Improve Your Golf Swing
Quick Ways to Improve Your Putt
Simple Tips For Good Golf Game
Going on a Golf Vacation
How to Have the Perfect Golf Vacation
Combining Golf and Business
Doing Business on the Golf Course
Winning Ways To Improve Your Golf Game
Driving Range Tips You Can Use
The Benefits of Practicing on the Driving Range
Practicing Your Swing on the Driving Range
Choosing the Right Golf Club
Choosing the Right Golf Bag
The Importance of the Proper Clothing on the Golf Course
Why Are Golf Shoes So Important?
What to Do on the Golf Course If It Rains
Where Are the Best Golf Courses?
What Do I Wear on the Golf Course?
And More…
Sample Extra Paragraphs
If you want to travel for golf, you can't go wrong by going to
the home of golf – Scotland. St. Andrews Golf Club is one
of the most beautiful places you can travel to and provides
two different courses you can play including "the old one"
which is where the game of golf originated.
————————————
By 1744, the game of golf had become wildly popular. So
much so that a group of men called Gentlemen Golfers
decided that a set of rules must be laid out for fair play.
They came up with a list of thirteen guidelines on playing
the game.
————————————
It is a dream of many golfers to play professional golf one day
and make a living doing something that they truly, truly love.
Your office is the course, and your co-workers are people
who love the game just as much as you do. You share
common interests at the professional level of golf and it can
be a very satisfying career. But isn't that obvious?
————————————
As a general rule when planning a golf vacation, you should
consider the courses first and the accommodations next.
Resorts, especially those with quality golf courses, are
expensive. But all in all, if golf is a main purpose or highlight
of your trip, decide where you want to play first, and then
decide on accommodations. You can take a golf vacation
where you stay at a hotel to gain access to a course and
then move to a less expensive hotel later. It's an
inconvenience to have to repack and move during the trip,
but can be well worth it in order to play top courses while
not spending the entire vacation at posh resort prices.
————————————
Getting through the Q school is very competitive and most
professional golfers never achieve it. There can be up to
four stages to negotiate each of them like a regular golf
tournament with only a small number of players going on to
the next state. The final qualifying school may be played
over up to six rounds compared with the standard four rounds
in a professional golf tournament. However, players who are
successful at Q school can reach the elite level of competition
very quickly.
And More…
Other Details
- 12 Part Autoresponder Email Messages (TXT, DOC)
- Squeeze Page (HTML, PSD)
- Ecover (PSD, JPG)
- Affiliate Programs List
- File Size: 3,830 KB