Squeeze Page Preview: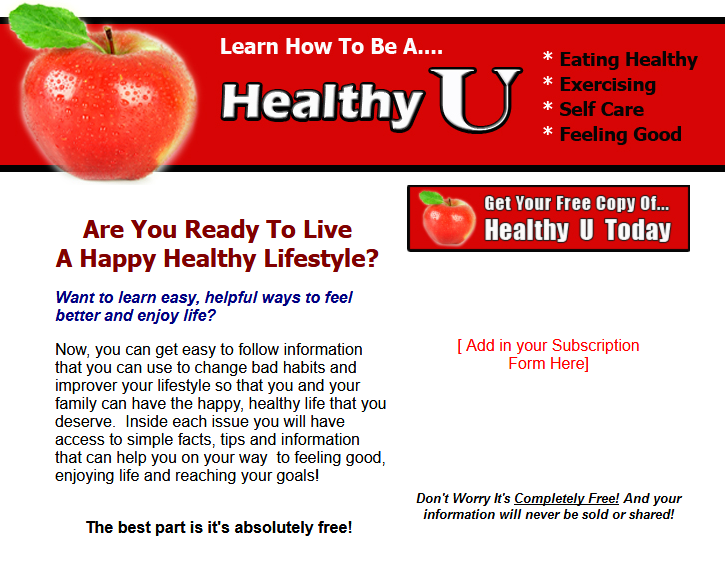 >>> Click Here To View Full Squeeze Page…
Features:
* 12 Issues Full Of Great Content
– Just add in your contact info and plug it in to your favorite auto responder. Each issue contains 500 words or more!
* One Ready To Go Squeeze Page
– Just add in your opt in form, upload to your server and your done!
* One Ready To Go Thank You Page
All ready to remind your subscribers to check their email and confirm their subscription. It even has built in revenue!
* 4 Researched Click Bank Products
These are top selling products on Click Bank that I've personally researched and chosen for each series.
* Extra Copy And Paste Article Content
You will get:
– Extra titles
– Extra opening paragraphs
– Extra closing paragraphs
– Extra fill in paragraphs
(these would make great tips that you add in to your follow ups system for more frequent contact with your readers)
Sample Content Preview
Hello "autoresponder code here",
In the last issue we talked about diet and exercise.
In this issue we are going to go over some of the ways
you can get your family to join you in your healthy living
plan!
It is hard to diet on your own this is true!
You can turn to some things like exercise classes, support
groups, and even a partner to diet with. You could go to
special health clubs or weight loss centers to get the help
you are looking for.
In this society where weight loss and fitness is the forefront
of every ones mind you may be forgetting one important
thing!
You have your family there with you to lean on and get great
support from.
Think about that for a minute. Families will come together
to work through just about anything. They can work through
disagreements, tragedies and successes. So why not involve
your family in the healthy living process as well?
As I've said before, you should always check with your doctor
first and make sure that your particular diet and exercise plan
is going to be safe and secure for all of the members in your
family to participate in. You can get your kids, spouse and
even your parents involved in this plan.
One of the best ways to get over temptation is to create a
healthier environment for you and your family. You will be
amazed when you get the junk food out of your sight and out
of the house, you will be able to feel better because you are
not going to want to eat it as much. Getting the whole family
involved will help your dieting efforts and get help get
everyone in the house healthy.
One thing I want you to realize is that this may not be an
easy transition, but that doesn't mean that you shouldn't
do it!
At first, there may be some resistance to this idea, but you
can all pull together and get this moving in the right direction
that will benefit everyone and bring you all closer in the end.
Finding healthy activities that everyone can participate in can
be a challenge. However it will be worth the time and effort.
Take the time to cook together as a family and give your
children the special skill that they will need to make healthier
choices for their diet.
You can learn to cook healthier and find the good tasting
and nutritious recipes that are going to be easy to make
and fun as well.
You can also get the whole family involved in exercise.
This is very important to do. Get outdoors and play some
games. Choose your favorite sports and get down to
business. This is fun for everyone and when the kids and
the adults are having fun together as a family, everyone is
growing together and getting healthier at the same time.
The last thing that you can do is learn proper nutrition
together!
There are many different books that are helpful for children.
They will help them learn about the food pyramid and other
health concerns. These books are a also great place for
adults to start the learning experience too. You can
encourage your children to ask the doctor or the school
nurse any questions that they may have.
You can incorporate eating healthy in your child's school
lunches or even science project or school activity. Family
dieting can be fun as well as good for over all health
and fitness of everyone in the house.
Did you know that children that learn healthy habits early on
are less likely to make unhealthy choices in the future like
smoking or drinking alcohol?
That is why working on a healthy living plan together as a
family is an important part of your own plan and the best part is
everyone you love can benefit from it.
Make sure you look for your next issue soon.
We will be talking about how to make healthy choices
when you dine out.
"your name here"
"your email address"
"your URL here"
Sample Extra Titles
Staying Fit While Your In School
Keeping Fit Even When You're Busy
Binge Eating And Your Health
Diabetics And A Healthy Life Plan
Illnesses And Dieting
Dieting can Make You Sic
When You Don't Need To Diet
Talk To Your Doctor First
To Diet Or Not To Diet?
Why Should I Eat Healthy Food?
I Want Good Health, Where Do I Start?
Getting Started With A Healthy Living Plan
How Do I Know What Is Good For Me?
Should I Watch What I Eat?
I Want To Feel Better, What Do I Do First?
And More…
Sample Extra Paragraphs
It is also a great idea to consider your food choices on
a daily basis. If you feel as though you have no time for
anything more than fast food for lunch during the day,
consider healthy choices, like subs instead of burgers
and water instead of soda. The best choice is to bring
a packed lunch every day instead. This will save you
money and really doesn't take much time to prepare
in the morning. Find a healthy lunch meat and low-fat
cheese combination that you love, or purchase
ready-to-go salad that you can take with you to work.
———————————————-
One relatively simple thing you can do to really cut back
on calories without lots of time or effort is think about your
drinks. First, cut back on all alcoholic beverages. If you
like to go out to happy hour, have one drink instead of two,
or switch to diet options. If you feel pressured to drink on
the weekends, simply offer to be the designated driver.
Alcohol isn't the only thing you should consider, however.
You should also think about drinking fewer beverages with
lots of sugar. Trade your coffee in the morning for green tea.
Replace sodas with carbonated flavored waters. Simply
cut back on your intake of beverages all together, and drink
water. Doing this alone will allow you to shed pounds,
especially if you usually drink a lot of non-water beverages
during the day.
———————————————-
There are many reasons why a child could have problems with
weight. First of all, it is possible that he or she will have a
medical problem causing the weight gain or loss. Remember
that low weight can be as dangerous and unhealthy as high
weight. Medical problems that cause this can usually be
controlled by medical treatment by a professional, but some
conditions are very dangerous if to go untreated. Always
have your child see a doctor for regular checkups and do
not hesitate to call if you are concerned about a specific
weight problem.
———————————————-
If your child is not getting the appropriate nutrients, he or
she may also have problems with weight. It is very
important for your child to eat the same nutritious foods
enjoyed by adults, only in smaller portions. If your child eats
lots of junk foods and does not get enough good foods like
fruits and vegetables, whole grains and nuts, lean meat,
and low-fat dairy products, being overweight may be a
problem. Children can also be very picky eaters, and
younger children will not understand that eating enough
healthy foods is important. This can cause your child to be
underweight or may stunt growth.
And More…
Other Details
- 12 Part Autoresponder Email Messages (TXT, DOC)
- Squeeze Page (HTML, PSD)
- Ecover (PSD, JPG)
- Affiliate Programs List
- File Size: 1,490 KB