Squeeze Page Preview: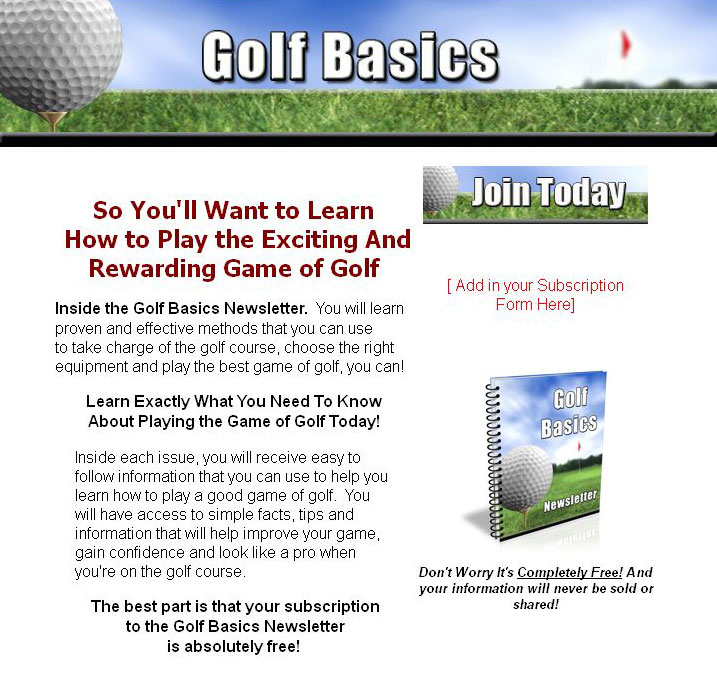 >>> Click Here To View Full Squeeze Page…
Features:
* 12 Issues Full Of Great Content
– Just add in your contact info and plug it in to your favorite auto responder. Each issue contains 500 words or more!
* One Ready To Go Squeeze Page
– Just add in your opt in form, upload to your server and your done!
* One Ready To Go Thank You Page
All ready to remind your subscribers to check their email and confirm their subscription. It even has built in revenue!
* 4 Researched Click Bank Products
These are top selling products on Click Bank that I've personally researched and chosen for each series.
* Extra Copy And Paste Article Content
You will get:
– Extra titles
– Extra opening paragraphs
– Extra closing paragraphs
– Extra fill in paragraphs
(these would make great tips that you add in to your follow ups system for more frequent contact with your readers)
Sample Content Preview
Message # 1
Subject line: Your FirstGolf Basics Issue
Hello "autoresponder code here",
Welcome to the first Golf Basics issue.
In each issue of Golf Basics you will learn valuable information
on how you can successfully master the sport of golf.
Golf is one of the most rewarding sports there is. When you
play golf you will enjoy the benefits of fresh air and exercise.
Not to mention the thrill of achieving a lower handicap than
your golf buddy. Like anything that you approach in life your
attitude will determine how much enjoyment you get out of
the game.
Golf players are an extraordinary breed of individual; we're
obsessive, passionate and dedicated, after all we're golfers.
Once you've golfed for awhile you come to understand that
golfers are unlike any other sports enthusiasts on the planet,
because we often take the sport a lot more seriously than we
actually should. But do we worry what other people think? NO!
We love the game and we will not apologize for it.
In this first issue, I want to share with you, a few tips, and
some of the ways that you can identify a true golf fanatic. First
let's go over how to identify golf fanatics:
Golf players constantly monitor the weather conditions and
whenever the temperature is over fifty degrees, we Grab our
gear, and head for the course.
We have The Weather Channel website as number one on
our favorites list and check it daily. The weekly forecast is
our best friend.
We wear the label of golfers proudly and it is reflected on
our cloths and our vehicles. We want everyone to know that
we love golf and we are not embarrassed to admit it!
The Golf Channel is a essential part of TV viewing for all
golfers. If our cable company doesn't have it we change
companies. If they charge extra for it, we gladly dish out
whatever price they ask!
We know that the Masters is the most significant PGA Tour,
but we also know that it's just as entertaining to watch the
Pebble Beach Celebrity Pro-Am too!
Now that you can properly identify whether or not you're a
golf fanatic lets move on to a few tips that will help you
get ready for your next golf game.
It's important to get the most out of your golf experience. You
can easily increase the exercise benefits of golf by choosing
to walk the course instead of using a cart.
It's a good idea to decide whether or not, you will be walking
or riding while you're playing golf before you go shopping for
your new golf bag. Golf bags are available in a range of shapes
sizes and materials. You will want to choose a bag that suits
your needs and your climate.
Golf shoes are very important to playing a good game. Make
sure they are comfortable and waterproof. It's a good idea
to break them in gradually
A rain suit is also a good addition to your list of golf accessories.
You should carry one in your golf bag, so that your game will not be
interrupted by a little bit of rain.
Quiet your mind and envision your shot before you pick up
a club and hit the ball. Develop the right mental attitude, remain
positive and you'll be on the road to a low handicap in no time.
This quote from Bobby Jones says it all…..
"Golf is a game that is played on a five-inch course – the
distance between your ears.
Make sure you look for your next issue soon. We will be going
over some tips that can help you improve your game
Thank you again for joining,
"your name here"
"your email address"
"your URL here"
Other Details
- 12 Part Autoresponder Email Messages (TXT, DOC)
- Squeeze Page (HTML, PSD)
- Ecover (PSD, JPG)
- Affiliate Programs List
- File Size: 39,371 KB