Salespage Snapshot: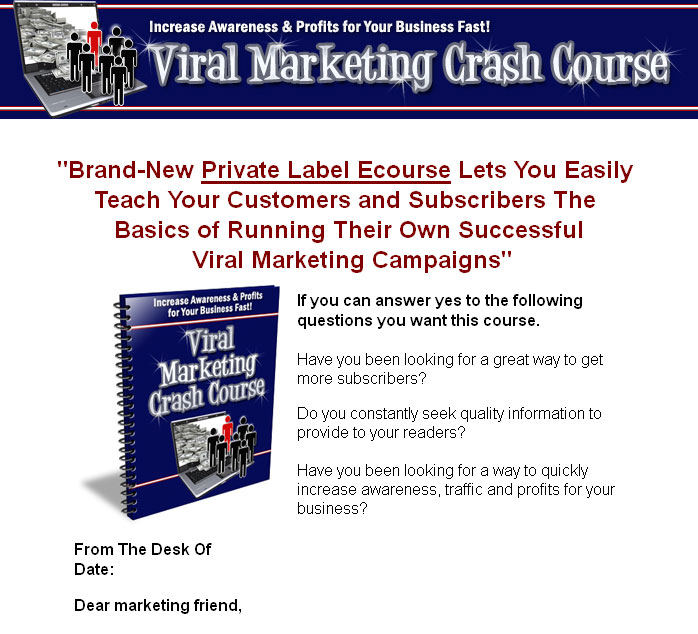 >>> Click Here To View Full Sales Page…
Sample Content Preview:
Subject line: First Lesson – Viral Marketing Crash Course
Hello "autoresponder code here",
Welcome to the first lesson in Viral Marketing Crash Course.
Each day for the next 7 days you will receive a lesson
that will help you learn the how you can use viral marketing
to increase awareness and profits for your business.
In this first lesson let's talk a little about the different types of viral
marketing. As we dive in to the wonderful world of viral marketing
I want you to keep something in mind; a true viral campaign gets
forwarded because consumers are compelled to do so by the
entertainment or quality of the content, not because you bribed
them with a reward or something else.
In the beginning, e-mail was the main way that viral marketing was
passed along. Since then viral marketing has gone from a
marketing strategy to an art form and there are many ways to
accomplish your objectives and create a successful viral
marketing campaign. In this lesson we are going to go over the
different types of viral marketing tools (methods), so that you can
become familiar with them.
We are going to start at the very beginning with e-mail:
It was first but it is still around and still used. It is, however, getting
a little harder to use as more and more government restrictions
are placed on it. Still… it does work.
Newsletters: This is an extension of e-mail but it a very effective
tool. If you include enough timely and valuable information, a good
newsletter can drive up the number of visits to your website.
Blogging: Providing the tools on your website to enable bloggers
to interact with one another is a terrific way to get the message
about your product of service out there and being talked about.
Bloggers have their ears to the ground for new products and
services.
Chat Rooms: A chat room on your website can and does
encourage interaction among your customers and that can't be a
bad thing. Also, you can use the chat room to schedule special
events like having an expert available to answer questions on a
given day at a given time.
Ebooks: Share your ebook with your visitors and let them share
copies of the ebook with their own visitors and other contacts.
Include a nice blurb or ad for your most popular product with links
to your website.
Software: Share a trial or "lite" version of your software with
your visitors and just like with your ebook tell them that they can
share copies of the software with their own visitors and other
contacts.
Templates – Design your own website or other templates,
include your own marketing information on them and give them
away as free downloads or as an electronic package. Grant
permission for recipients to pass them along.
Articles – Write articles about your niche topic. Include your
website and contact information in the byline and grant permission
for others to publish as long as they keep the byline in tact. Then
people can use your contact on websites, in ezines, newsletters
and other places where once again, viral marketing will speed the
spread of information about your business.
Video Clips: This is one of the hottest types of viral marketing.
Including cool video clips on your website will keep the interest up
and increase traffic.
Flash Games: Although they are a little costly to start, they are
an extremely effective tool to get your viral marketing campaign
going. Once they are launched, they require nothing more from
you.
Of course there are other methods for getting your marketing
message to go viral, but we will get in to those later.
As we close this first lesson I want to touch on one of the main
things that make starting a viral marketing campaign such a good
idea. It is the simple fact that it costs a lot less to implement than
traditional advertising and can be much more effective in a shorter
period of time.
You will also want to keep in mind that viral marketing is just one
basic components of your overall marketing plan. It should be
linked with other strategies such as setting up squeeze pages to
collect subscribers. When you take the time to combine viral
marketing with other essential business building strategies it can
help you increase awareness about your business, generate traffic
to your web site, build a huge and solid customer base, add to
your sales and go a long way in contributing towards your
success.
We have a lot to go over in the next seven days if you want to learn
how to use viral marketing to your advantage, so make sure you
look for your next lesson soon. We will be talking more about using
email to achieve your viral marketing objectives.
Thank you again for joining,
"add your name here"
"your email address"
"your URL here"
Other Details
- 7 Messages (DOC)
- Salespage (HTML)
- Ecover (PSD, JPG)
- File Size: 7,935 KB
License Details:
What you can do:
[Yes] Can be used to build a mailing list for free (more info below)
[Yes] Can be packaged
[Yes] Can be offered as a bonus to a paid product
[Yes] Can Be Edited Completely
[Yes] Can claim authorship
[Yes] Can be added to paid membership sites
[Yes] Can sell this product
[Yes] Can sell Resale Rights
[Yes] Can sell Master Resale Rights
[Yes] Can sell Private Label Rights
[Yes] Can be offered through auction sites
Recommended retail price $7.00 - $15.00
What you cannot do:
[NO] Can Claim Copyright
[NO] Resale Rights Can be given away for free
[NO] Private Label Rights can be given away for free
[NO] Can be added to free membership sites