Salespage Snapshot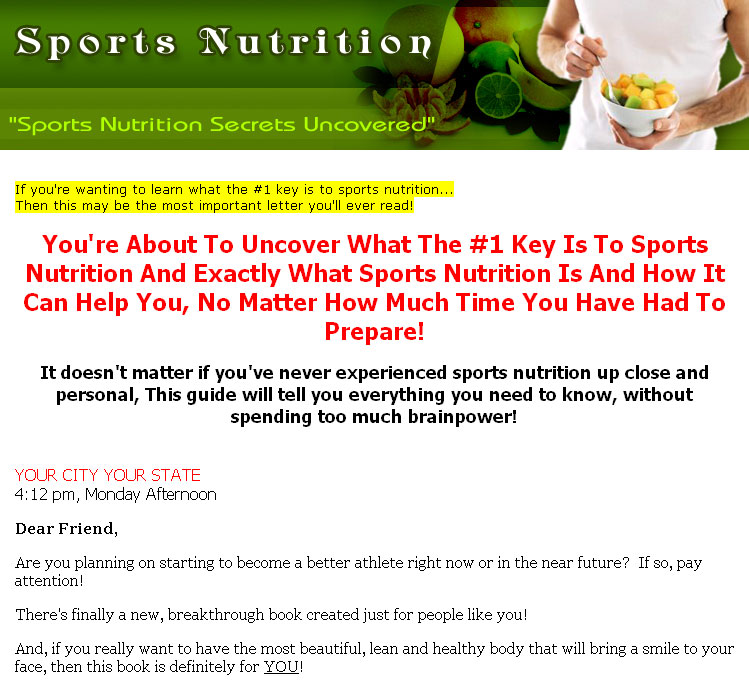 >> Click Here To View Sales Page...
Ebook Table Of Contents
Introduction
Chapter 1:  What Is Sports Nutrition? ……………………..7
Chapter 2:  Hydration's Key ……………………………………………12
Chapter 3:  Fueling Your Body ……………………………………….20
Chapter 4:  Carbohydrates Rule …………………………………….28
Chapter 5:  The Need For Protein ………………………………….34
Chapter 6:  The Story With Fats …………………………………….40
Chapter 7:  Meal Planning For Your Game …………………….45
Chapter 8:  Food That Works Well ………………………………….50
Chapter 9:  Foods That Will Hurt …………………………………….54
Chapter 10:  Supplements ………………………………………………56
Conclusion ……………………………………………………………………….59
Ebook Sample Content Preview
Introduction
Sports nutrition is nothing short of essential.  What you do not know about the athletes that you see on the television, competing in the Olympics and breaking world records is that they have a plan in place that allows them to succeed.
If you will succeed at your sport, you too need to insure that your nutrition is the top of the line.  Do you know what you need to do?
Ask yourself these questions:
• Do you know when to eat before your game is to start?
• Do you know what foods are going to help to ultimately win the game if eaten before you compete in the game?
• Do you truly know how much hydration your body needs to power its way through all that you plan to put your body through?
• Did you know that with proper nutrition, the right plan and consistency, your body can do better, perform harder and be more likely to be successful at what you want it to do?
Dedication Counts
When it comes to sports nutrition, there is no reason to assume that you know it all.  In fact, you should be hungry for learning.  Learn about what is out there to help enhance your body's performance.  Learn about what you should be doing now so that your time on the floor is perfectly optimized.  And, learn how to properly take care of yourself to avoid the risk of injury.
When it comes to these things, dedication is the most essential element.  You will learn in this book that it takes a lot of hard work and dedication to be successful at sports nutrition. There are no short cuts worth taking either.
Knowledge is the first key to success.  You will learn how sports nutrition affects virtually every aspect of your game and how you can better enhance your game by the foods, exercises and processes that you put your body through.
You should dedicate time to work through these steps and suggestions to better your overall performance.  As we mentioned, it takes quite a bit of dedication.  Therefore, do not expect to eat the right meal and get results right away.
Your body needs you to provide it with the fuel that it needs to do each and every thing that you want to do.  Yet, most sports players do not pay enough attention to their goals in sports nutrition.  Many make the mistake of believing that if they just work harder that they can do what needs to be done.
Work Smart By Learning First
As an athlete, you need to look at all aspects of the game.  Therefore, it is up to you to insure that your game has all the fuel and power behind it to allow you to succeed quickly and effectively.
To get started, read through our ebook and learn what you are missing.  Then, move to using these elements in your everyday life, by adding them in as you go.  You should …
Other Details
* 60+ Page PLR Ebook
* Professionally Written Salesletter
* 50 PLR Articles
* 5 Part Autoresponder Email Course
* 1 Complete Adsense Website
* Professionally Designed Graphics Set
* Highly Targeted Keyword List
* Pre Written PPC Ads
* PDF and MS Word Source File For eBook
* PSD Files For Graphics