Salespage Snapshot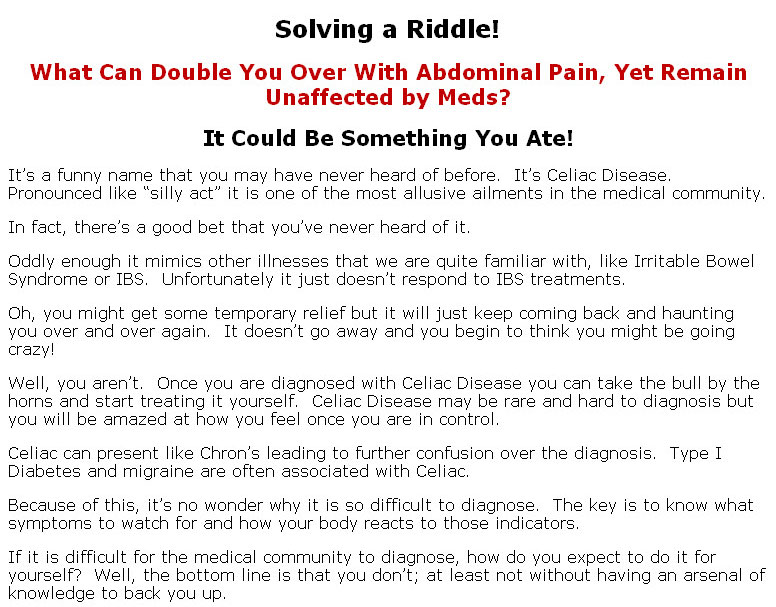 >> Click Here To View Sales Page...
PLR Ebook Table Of Contents
What Is Celiac Disease?
What Causes It?
What Are the Symptoms?
How is Celiac Disease Diagnosed?
What Are Latent and Silent Celiac Disease
What Other Diseases are Associated with Celiac Disease?
Complications of Celiac Disease
Treatments for Celiac
Taking Care of Yourself
The Gluten Free Diet
Finding Gluten Free Foods and Ingredients
Dining Out
How Age Affects the Diagnosis
What If a Gluten Free Diet Fails to Give Relief?
What's New in Research for Celiac Disease?
PLR Ebook Sample Content Preview
What Is Celiac Disease?
Nutrition is important to survive. However, if food and nutrients are not properly absorbed by the body, you can be at risk for a variety of diseases and symptoms.
Celiac Disease may not be very well known, but it is vital that you understand the process, so you can provide early and effective treatment. Knowing the signs early and having the right diagnosis can prevent complications and enhance recovery.
Defining the Condition
Celiac Disease is a disorder of the digestive system which damages the small intestine and prevents the proper absorption of nutrients that come from food. Individuals who have the condition cannot tolerate gluten. Gluten is a protein present in wheat, barley and rye. It is generally found in foods but other products like lip balms, vitamins and medications may also have gluten. When affected persons consume products or food that has gluten, the immune system reacts by destroying or damaging villi. Villi are the small protrusions that appear like fingers lining the small intestine.
Other Details* Sales Page:
Included, HTML, MS Word Doc
* File Format:
MS Word Doc, PDF
* Number of Pages:
78
* Download File Size:
228 KB