Salespage Snapshot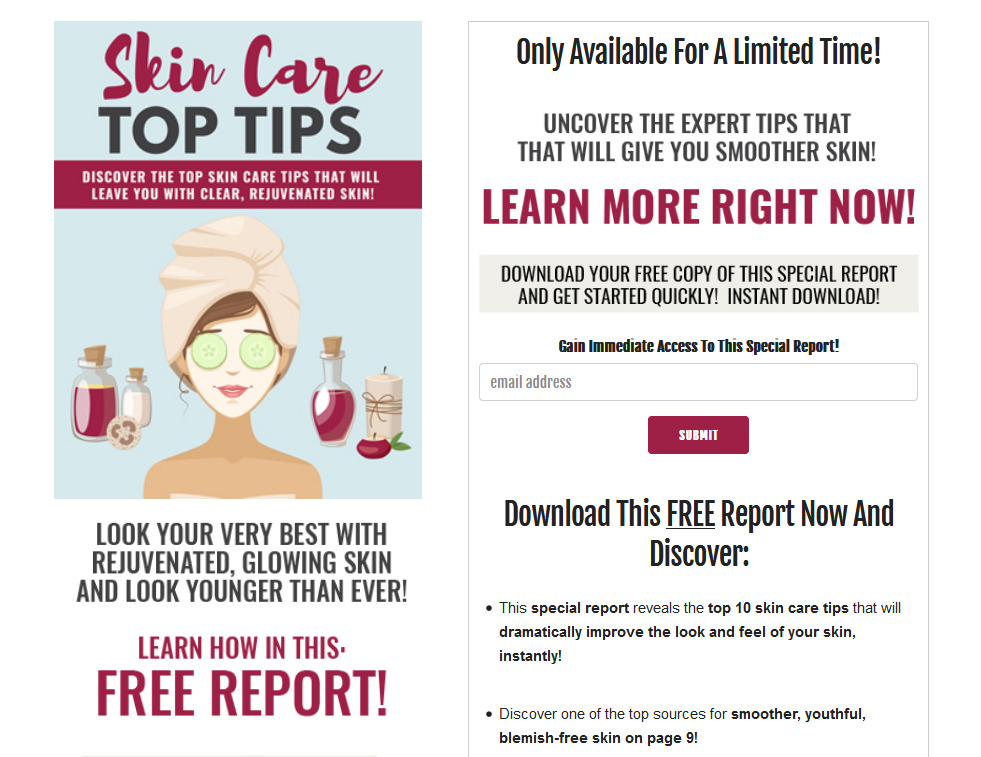 >> Click Here To View Sales Page...
Table of Contents
Table of Contents 3
Introduction 5
Tip #1: Rejuvenate Your Eyes 7
Tip #2: Coconut Oil For Your Skin 9
Tip #3: Natural Facelifts 11
Tip #4: Calming Green Algae 14
Tip #5: Stay Hydrated 17
Tip #6: Exercise, Meditation And Sleep 19
Tip #7: Tea Tree Oil 21
Tip #8: Limes 23
Tip #9: Shea Butter 25
Tip #10: Facial Steaming 27
Resources 30
Sample Content Preview
Tip #2: Coconut Oil For Your Skin
Not only is coconut oil good for your physical health, but it also has many benefits when applied directly to your skin.
Coconut oil is high in good kinds of fat, which is why cooking with it is so beneficial. But those same fats also contain antimicrobial properties, which means they're great for your skin as well.
There are many different types of skin infections that you can develop; Athlete's foot and folliculitis are just a couple. By incorporating coconut oil into your natural skincare routine, your chances of developing a skin infection drastically diminishes.
More than half of the fatty acids in coconut oil are lauric acid, which is extremely antimicrobial and helps ward off nasty bacteria. In fact, studies have shown it to be one of the best fatty acids to prevent bacterial infections.
You can easily incorporate coconut oil into your natural skincare by using it as a body moisturizer, hair mask, and even as a facial moisturizer.
It's important to keep your skin type in mind before trying coconut oil, though, as it can clog your pores. Start by using it on a small patch of your skin and see how you react. If you're unsure of your skin type, then consult with a physician who can make that determination with you.
Make sure to always opt for the all-natural variety to avoid adding any extra unneeded chemicals to your skin.
Tip #3: Natural Facelifts
As we get older, our skin slowly loses its elasticity. This leads to a sagging face that can reflect our true age, sometimes even making us look older than we really are. But you don't have to spend a penny to fix this common skincare concern.
Yoga is an ancient form of stretching that thousands of people practice on a daily basis. In addition to keeping our joints intact and strong, there are certain moves that will give you an instant facelift.
Before having your picture taken or going to a big event, take a few minutes and practice one or more of the following yoga poses:
Downward-Facing Dog: Start in plank position like you're getting ready to do a pushup. Slowly bring your rear and abdomen upward, making an upside down v with your body. Hold this pose for several seconds and then move back into plank position.
Deep Forward Fold: Standing straight, keep your feet firmly planted as you lean forward, letting your hands fall straight in front of you. Hold for one to five minutes, and then slowly come back up. To stretch your shoulders, fold your arms, grabbing your elbows and gently sway your torso from side to side.
Bridge Pose: Laying on your back with your feet stretched out in front of you and your hands behind your head, slowly lift and arch your back until the top of your head is touching the ground. Hold for one to five minutes, and then slowly lower yourself back down.
As with any physical activity, please check with your healthcare provider ahead of time.
All of these movements increase blood circulation to your face, along with giving it a temporary facelift.
Yet another reason to start practicing yoga!
Tip #4: Calming Green Algae
If you think back to your middle school days, specifically when you were learning about chlorophyll, you probably remember playing with algae. Well, there's a reason to start playing with it again, as an adult: natural skincare!
Chlorella vulgaris, which is the scientific word for algae, is chockfull of beta carotene and lutein, which are minerals that your body needs. Beta carotene is an anti-aging miracle nutrient, thanks to the high levels of antioxidants. No wonder your parents made you eat so many carrots as a kid!
But what is lutein, and why is it good for you?
More than ever, we are feeling our deep connection to one another. Cell phones, tablets, computers, and technological advancements leave your loved ones at the touch of a button. Chances are, you spend a good amount of your day staring at some type of screen.
That can show in your eyes.
Lutein works as a barrier from blue light exposure for your eyes, which is exactly the type of light that hits you when you stare at screens. In addition to being used as a natural barrier, it also does double duty for your skin.
This amazing antioxidant actually increases both skin hydration and elasticity!
Other Details
- 1 Ebook (PDF, DOC), 32 Pages
- 7 Part Autoresponder Email Messages (TXT)
- 1 Squeeze Page (HTML)
- Year Released/Circulated: 2020
- File Size: 3,925 KB
License Details:
[YES] Can be sold
[YES] Can be used for personal use
[YES] Can be packaged with other products
[YES] Can modify/change the sales letter
[YES] Can modify/change the main product
[YES] Can modify/change the graphics and ecover
[YES] Can be added into paid membership websites
[YES] Can put your name on the sales letter
[YES] Can be offered as a bonus
[YES] Can be used to build a list
[YES] Can print/publish offline
[YES] Can convey and sell Personal Use Rights
[YES] Can convey and sell Resale Rights
[YES] Can convey and sell Master Resale Rights
[NO] Can be given away for free
[NO] Can be added to free membership websites
[NO] Can convey and sell Private Label Rights