Salespage Snapshot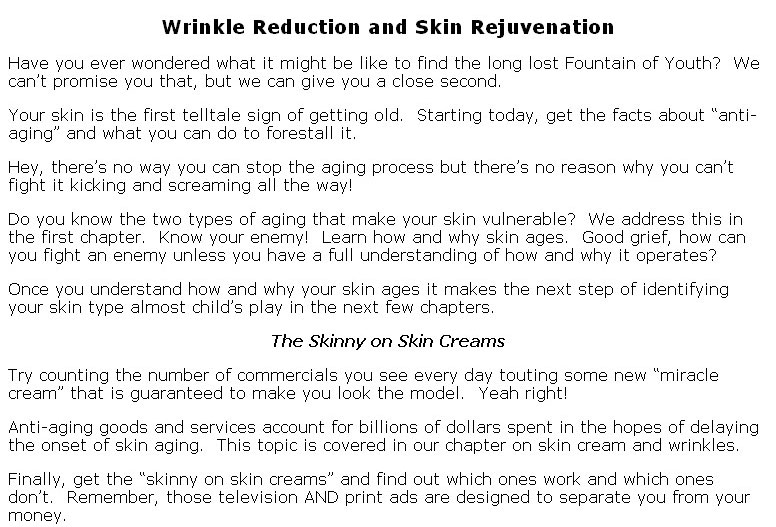 >> Click Here To View Sales Page...
Table Of Contents
How and Why Skin Ages
Know Your Own Skin Type
Treating Oily Skin
Treating Dry Skin
Double Whammy – Combination Skin
How to Protect Your Skin
The Sun and Your Skin
Skin Creams and Wrinkles
Good Nutrition and Your Complexion
How Free Radicals Damage Skin Cells
Vitamin C and Skin Care
Is Dermabrasion Right for Your Skin
Chemical Skin Peels
Skin Care from the Inside Out
Facelifts and Other Skin Procedures
Resources
Ebook Sample Content Preview
How and Why Skin Ages
For as long as one can remember, it has always been the pursuit of many to keep their youthful looks, even at great costs. And in this day and age, the trend has not changed. Now more than ever, methods, techniques and treatments meant to retain that "youthful glow" proliferate everywhere. As it is the most telltale sign of getting old, anti-aging goods and services account for billions of dollars spent in the hopes of delaying the onset of skin aging.
Unfortunately, many have been and are misinformed on how and why the skin ages misleading these same people into buying products that only offer short-lived, if not unsuccessful and disappointing, results.
It is therefore only smart to know just how the skin develops over time. In understanding the hows and whys of aging skin, the correct habits and treatments can then be developed to retain as much one's youthful looks for as long a time as possible.
First off, there are two types of aging for the skin. There is the intrinsic (internal) aging, which is caused by factors within one's own body, such as genes and body condition; and extrinsic (external) aging, which is caused by factors outside one's body, such as sunlight and lifestyle.
Other Details* Sales Page:
Included, HTML, MS Word Doc
* File Format:
MS Word Doc, PDF
* Number of Pages:
63
* Download File Size:
221 KB