Squeeze Page Preview: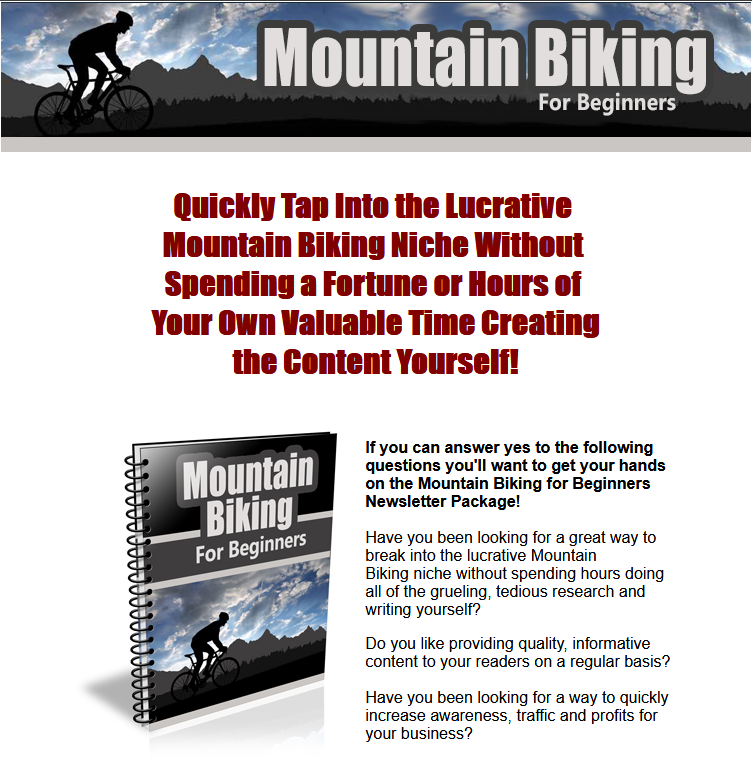 >>> Click Here To View Full Squeeze Page…
Features:
* 12 Issues Full Of Great Content
– Just add in your contact info and plug it in to your favorite auto responder. Each issue contains 500 words or more!
* One Ready To Go Squeeze Page
– Just add in your opt in form, upload to your server and your done!
* One Ready To Go Thank You Page
All ready to remind your subscribers to check their email and confirm their subscription. It even has built in revenue!
* 4 Researched Click Bank Products
These are top selling products on Click Bank that I've personally researched and chosen for each series.
* Extra Copy And Paste Article Content
You will get:
– Extra titles
– Extra opening paragraphs
– Extra closing paragraphs
– Extra fill in paragraphs
(these would make great tips that you add in to your follow ups system for more frequent contact with your readers)
Sample Content Preview
Hello "autoresponder code here",
In the last issue, we talked about developing the skills you need to be a solid and safe rider. In this issue, we are going to go over some important mountain biking safety tips so you can enjoy carefree rides.
There are many ways that you can improve your personal safety when you're out mountain biking. Many riders will tell you that wearing a helmet is the most important step to staying safe. The second most important step is that you should always be in control of yourself and your bike.
By riding in control, you'll not only prevent crashes, you will keep others safe on the trail as well. When riding out of control you lose the ability to adjust to the terrain as you ride over it. This can and usually does result in serious injury to yourself or others. That is why it extremely important to have the right gear and to keep the following tips in mind before you hit the trails.
Make sure that you wear a helmet and other necessary safety gear for the conditions that you plan to ride in. Never ride beyond your control. There is no shame in walking areas of the trail that you don't feel comfortable riding on and you should never let anyone else tell you that there is. Always make sure you keep your speed at a level where you can quickly adjust to any obstacles or change in the trail.
Get to know the trail before you speed up your pace. You should never push the limits on trails that you
aren't familiar with, instead take them at a slow speed until you are comfortable on them. Always slow down around blind corners. If you can't see past a corner you should never take it fast, because you never know who or what is coming around from the other direction.
Start small then go big. Work your way up to stunts or obstacles. Practice in less difficult situations before you move up to the more challenging and sometimes-dangerous ones. Lastly, always play it smart
If you start to question what you're doing, you probably shouldn't be doing. When in doubt go with your instincts and stay away from stunts that could land you I the hospital.
Make sure you look for your next issue soon. We will be talking about must have mountain biking accessories.
Until then,
"your name here"
"your email address"
"your URL here"
Sample Extra Titles
The Truth About Mountain Biking
Find Out Who's Talking About Mountain Biking And Why You Should Be Concerned
5 Odd-Ball Tips on Mountain Biking
The Mountain Biking Chronicles
Kids, Work and Mountain Biking
7 Shocking Facts About Mountain Biking Told By An Expert
The Insider Secret on Mountain Biking Uncovered
What Everyone is Saying About Mountain Biking Is Dead Wrong And Why
The Insider Secrets of Mountain Biking Discovered
The Unexplained Mystery Into Mountain Biking Uncovered
The Insider Secrets For Mountain Biking Exposed
Effective Strategies For Mountain Biking That You Can Use Starting Today
What You Need To Know About Mountain Biking And Why
Why Nobody is Talking About Mountain Biking And What You Should Do Today
The Death of Mountain Biking
The Birth of Mountain Biking
Rumors, Lies and Mountain Biking
The Most Overlooked Fact About Mountain Biking Revealed
And More…
Sample Extra Paragraphs
Aluminum is stiffer than chromoly, and therefore it
will crack before chromoly. Of course, this depends
on how you ride and how much abuse you give the frame.
The advantages of aluminum is that the frame is very
light and very stiff through over sizing or butting.
————————————
Some say that mountain biking began with the Buffalo
Soldiers, which was a turn of the century infantry
who customized bikes to carry gear over the rough and
tough terrain. They began in August of 1896, over
the course of 800 miles. Their mission was simple –
to test bikes for military use in the toughest of
terrain.
————————————
Pedal around, shift your gears, and bounce your
bike around. If you hear anything squeak, there's
a moving part there are it should be lubed
immediately.
————————————
Today, we believe that the history of the mountain
bike is most apparent in Northern California. There
are a few areas that claim to be the first community
for mountain biking, although each and every history
book will tell you Marin County.
————————————
Apply a generous amount of mountain bike lube to
your chain as you move the pedals around backwards.
It also helps to find a spot to steady your hand
such as the frame while you move the pedals around
and around. Make sure you watch out for the cranks
and chain rings as they move around.
And More…
Other Details
- 12 Part Autoresponder Email Messages (TXT, DOC)
- Squeeze Page (HTML, PSD)
- Ecover (PSD, JPG)
- Affiliate Programs List
- File Size: 16,800 KB