Salespage Snapshot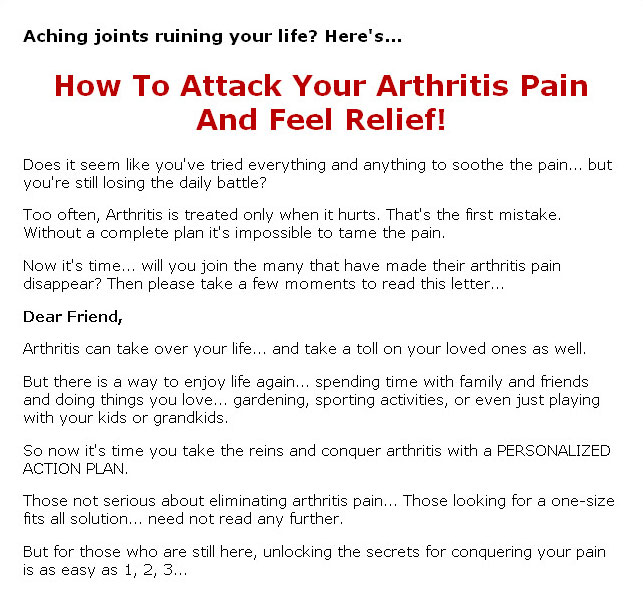 >> Click Here To View Sales Page...
PLR Ebook Table Of Contents
SECTION 1                                    3
Introduction and Background
Arthritis Treatment  and Pain Relief – A New FOCUS – Making The PAIN disappear.
Tests and Conditions, Types of Arthritis and how they affect us
Treatment Options
initial intervention strategies
SECTION 2                                    11-19
HAVING A PERSONAL ACTION PLAN FOR MAKING ARTHRITIC PAIN DISAPPEAR is the key!!
Pills and Prescriptions, Medications and Drugs – Treating from the inside, outward
Topical Treatments You Rub, Apply And Treating From The Outside, Inward
Combination Treatments and NSAID's
Other
SECTION 3                                    20-30
ARTHRITIC PAIN SELF-MANAGEMENT ACTION PLANS
SEVENTY (70) Practical Considerations And Tips For Dealing With The Pain Of Arthritis And Making The Pain Disappear
SECTION 4                                    31-44
PERSONAL ARTHRITIC CUSTOMIZED SOLUTIONS THAT WORK AND LAST
Effective Treatments And Pain Management Science
Practical Suggestions To Minimize PAIN In Your Life Due To Arthritis And Related Conditions
THIRTY-THREE (33) More Insights For Success With Arthritic Pain And Management Of Your Condition, Lifestyle And Future!
SECTION 5                                    44-52
Final Tips For Healthier, Pain-Free, Arthritic Lifestyle Recommendations And Situations
Other Helpful Arthritis Resources and Online Links
Arthritis – Abbreviations Page
ARTHRITIS – A FASCINATING TALE THROUGH TIME
Ebook Sample Content Preview
Section 1
Introduction and Background
Arthritis Treatment and Pain Relief – A New FOCUS – Making The PAIN disappear.
Yes, various sufferers will tell you that they are aware that there is no real cure so to speak in medical terms for this condition in its various forms and severity. Treatment options vary depending on the type of arthritis and include physical and occupational therapy, medications (symptomatic or targeted at the disease process causing the arthritis), and as a last resort, arthroplasty. Although prosthetic joint replacement is a treatment of last resort, it is generally very effective and more than 90% of patients are very satisfied.
Arthritis is a very commonplace condition that has to do with inflammation of the joints. The umbrella term we so easily use covers a great many conditions. Groups of symptoms, aspects and factors, diagnoses and prognoses are covered with this terminology. Mostly the illness, condition and discomforts are due to damage caused to the joints of the body, impeding movement. It is no surprise then that arthritis is often cited as the ONE leading cause of disability in people over the age of 65, in the US and across the globe. But, how come, we as humans are so susceptible to this degradation? Why doesn't everyone develop it? What should you do once you have been diagnosed with it to not sacrifice your mobility and quality of life?
Other Details* Sales Page:
Included, HTML
* File Format:
MS Word Doc, PDF, RTF
* Number of Pages:
53
* Download File Size:
263 KB