Salespage Snapshot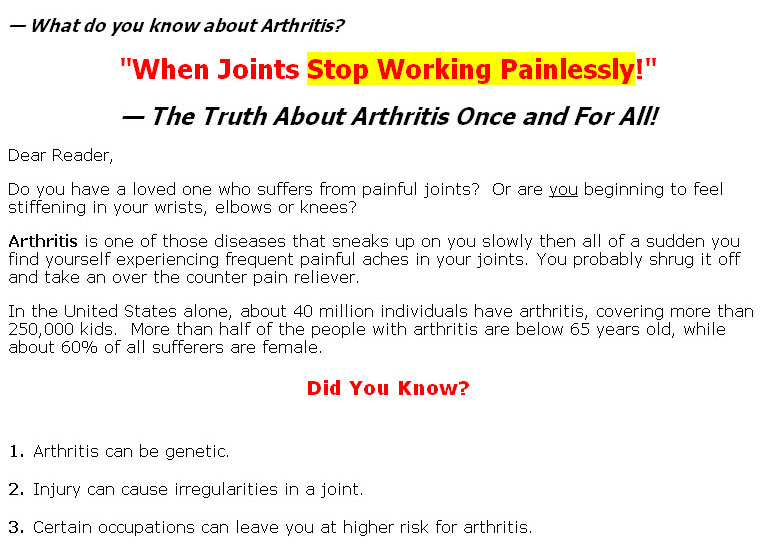 >> Click Here To View Sales Page...
Ebook Table Of Contents
What is Arthritis
Different Types of Arthritis
Symptoms of Arthritis
Diagnosing Arthritis
Arthritis Treatments
Alternative Treatments
Arthritis and Your Diet
Is Arthritis Genetic
Arthritis in Children
Arthritis in Seniors
Managing Psoriatic Arthritis
Managing Rheumatoid Arthritis
What is Muscular Rheumatism
Septic Arthritis in Children
Arthritis Resources and Research
Ebook Sample Content Preview
What is Arthritis?
Several individuals start feeling some pain and discomfort in their joints during certain phases in their life. Most usually start developing problems when they turn 40 years old. There are also some who experience discomfort as early as in their teen years. Arthritis is a common occurrence for most individuals. Knowing the nature and characteristics of the problem can help you avoid it and learn more about treatment and alleviation.
About the Problem
Arthritis is described as a joint disorder that mainly features inflammation. A joint is defined as a part of the body where two bones meet. A joint works to move the body parts linked by its bones. Arthritis means inflammation of one or more joints literally. The problem is usually accompanied by joint paint. Joint pain is also known as arthralgia.
There are different kinds of arthritis. The types range more than 100, covering those associated with cartilage wear and tear like osteoarthritis or others linked with inflammation that stems from an overactive immune system like rheumatoid arthritis. Several types make up some of the most common diseases in America.
Other Details* Sales Page:
Included, HTML, MS Word Doc
* File Format:
MS Word Doc, PDF
* Number of Pages:
63
* Download File Size:
184 KB