Salespage Snapshot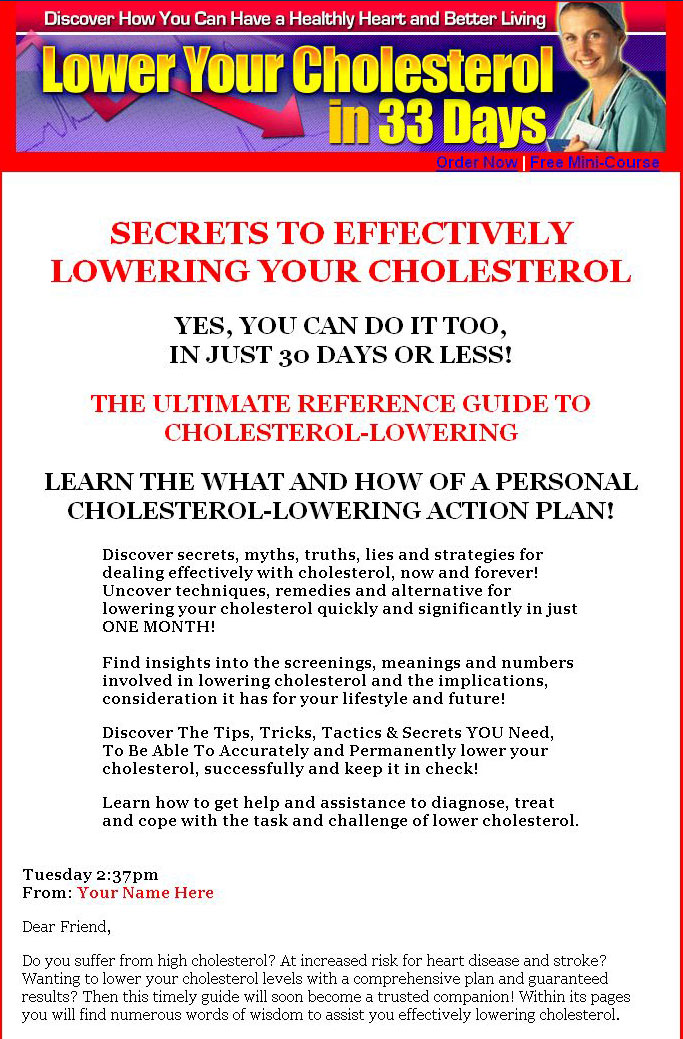 >> Click Here To View Sales Page...
PLR Ebook Table Of Contents
TO GET YOU STARTED …
Getting a handle on the basics of cholesterol                        3
What is cholesterol exactly?                                4
Why and how cholesterol and your arteries have an uneasy alliance!         8
Lifestyle and food choices for Lower Cholesterol                    10
Cholesterol in the younger generation                            20
Keys to unlocking the secrets of lowering cholesterol                22
Enable yourself to lower cholesterol                            25
Treatment Options and Alternatives for Lowering Cholesterol            35
GETTING RESULTS LOWERING CHOLESTEROL!                    39
Ready for MORE permanent solutions lowering your cholesterol?        44
Who cares about cholesterol and YOU?                        45
Unmasking some ugly hard truths, lies and myths regarding cholesterol    50
Where to find help for lowering cholesterol – Resources and references    52
Useful Terminology and Concepts when dealing with Cholesterol         54
Conclusion                                            55
APPENDIX 1: Review Checklist                                 57
Sample Content Preview
Getting A Handle On The Basics Of Cholesterol
For most of us, worrying about cholesterol starts with a diagnosis and some treatment suggestions by our physicians. For others, wanting to live healthy lives, lowering their cholesterol is an important well-being and health-conscious priority.
Maybe some new research, study or statistics gave you reason and pause for thought, concern and/or reflection. Whether you are concerned for your own health, a loved one, or maybe just someone you know or care about, this guide will have valuable insights for you.
Most of us are worried about having or getting the dreaded diagnosis of high levels of "bad" cholesterol. Whatever the motivation was for you picking up this book, there is lots to learn surrounding this life-enabling or debilitating health concern.
In fact, many experts now think that high cholesterol levels are among the greatest health problems that face us today.  In this book, you will learn how to take control of your health.  By the end of this e-book, you will know:
•How to speak to your doctor about cholesterol and get the information you need to do the right thing and lower your cholesterol
•Myths regarding cholesterol that deserve your attention
•The secrets that can make healthy cholesterol a part of your life permanently!
•What cholesterol is and why it is important
•What secrets you should know to live a healthy life
•What to eat for a healthy heart and to lower your cholesterol maintain it and stick with your plan on keeping it within and below acceptable limits, for a healthy life and longevity
•What too high cholesterol can do and treatments that can help you lower your cholesterol
… and much,  much more!
The book is written to enable you to use it any which way you please. You can read it cover to cover, or just focus in on particular sections that appeal to you and address your situation or needs. A glossary and resource listing is provided at the end of the text. Getting your cholesterol in check in as less than 30 days is the goal. Practical, handy tips and advice is provided throughout the text to help you along the way.
It is NOT structured as a systematic DYI process,  for each situation and individual and challenges we face are difference. Lowering cholesterol is also NOT a logical sequential process per se. It is a complex, layered and multi-faceted problem and issue.  High cholesterol can kill you! That is the seriousness and reality at hand here. There are several ways of dealing effectively with it and lots you  can do, to.
Other Details* Sales Page:
Included, HTML, DOC
* File Format:
MS Word Doc, PDF
* Number of Pages:
55
* Included Graphics:
Ecovers, PSD
* Extras:
5 Part Autoresponder Email Message Series
* Download File Size:
4,431 KB