Salespage Snapshot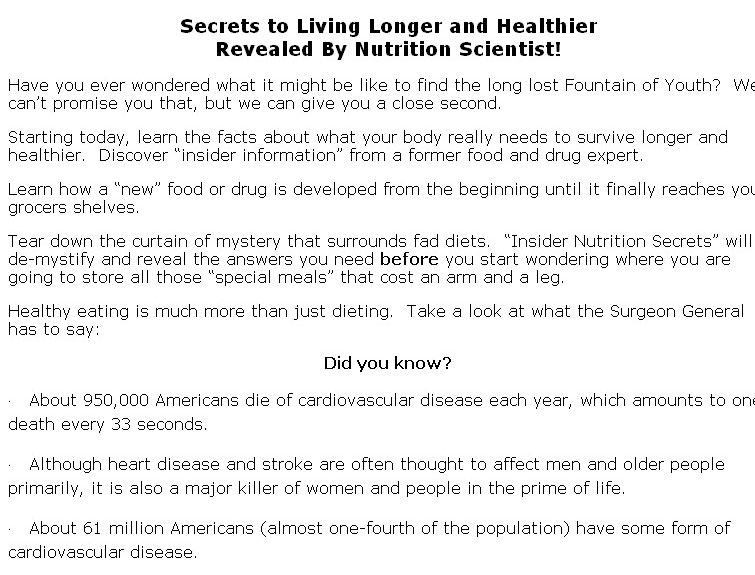 >> Click Here To View Sales Page...
Ebook Table Of Contents
Introduction
Overview
Diet and Nutrition
Digestion
Protein
Carbohydrates
Dieting
Vitamins and Minerals
Is Our Food Supply Healthy?
Resources
Ebook Sample Content Preview
Introduction
Q- How long have you been involved in the nutrition field?
A- I've been in the nutritional field for about 35 years. I worked for 14 years for Pillsbury which became General Mills then I left that job and worked another 20 years for a pharmaceutical food Company called Novartis, a large food corporation.
Q- What did you do for these companies?
A- Well I was in a lowly position with Pillsbury where I was working as a technician and I was a non-professional. I had a 2 years degree and then I worked my way up the ladder there and then I became a food scientist and finally ended up getting a 4-year degree from the University of Minnesota.
Then when I went to work for Novartis, I ended up working with a scientist title and I continued to work my way up and I did a lot of work formulating products, looking at the nutrition of different products and really following the development of food all the way up from the research state to full scale manufacturing. Basically a product development food scientist does everything; they work with the marketing people of the…
Other Details* Sales Page:
Included, HTML, MS Word Doc
* File Format:
MS Word Doc, PDF
* Number of Pages:
53
* Download File Size:
183 KB