Salespage Snapshot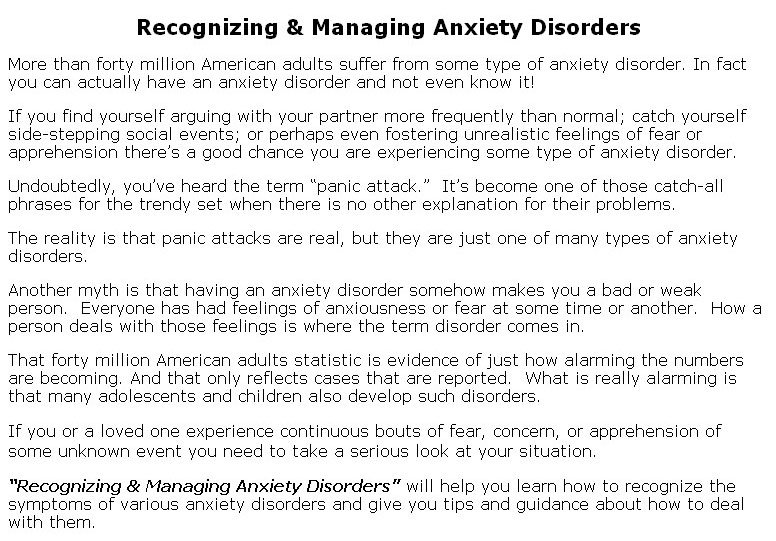 >> Click Here To View Sales Page...
Ebook Table Of Contents
What is An Anxiety Disorder?
What Are the Different Anxiety Disorders?
What Are the Symptoms of Panic Disorder?
What Are the Symptoms of Social Anxiety Disorder?
What Are the Symptoms of Generalized Anxiety Disorder?
What Are the Symptoms of Obsessive-Compulsive Disorder?
What are the Symptoms of Post Traumatic Stress Disorder?
About Agoraphobia
Conquer Claustrophobia
Your Child and Anxiety Disorders
Anxiety Disorder Research
How to Know if You Have an Anxiety Disorder
Treatment Options – Medication or Therapy
Natural Remedies and Self Help Tips
How Anxiety Disorders Affect Work, Family and Relationships
PLR Ebook Sample Content Preview
What is An Anxiety Disorder
Anxiety Disorder 101
Anxiety disorder is the term used to define pathological fears, phobias, anxieties and nervous conditions that either appear suddenly or develop over time. It may affect daily activities.
Oftentimes, anxiety disorders affect the emotions of the individual. Both terms, anxiety and fear, have specific meanings in a scientific usage. Normally, they are interchanged.
Here's a clearer explanation. When pertaining to phobia, it is a kind of anxiety that is somehow irrational. On the other hand, fear is said to be the physiological and emotional response to anything that poses to be a threat.
Anxiety Disorders affect around 40 million Americans age 18 years and above in a year. This makes them fearful and uncertain of various situations. There is the relatively mild case, which is brief anxiety due to a stressful event. An example is publicly speaking in a room full of strangers or going out on a first date with someone you really like.
Other Details* Sales Page:
Included, HTML, MS Word Doc
* File Format:
MS Word Doc, PDF
* Number of Pages:
72
* Included Graphics:
Ecovers, PSD
* Download File Size:
1,967 KB