Salespage Snapshot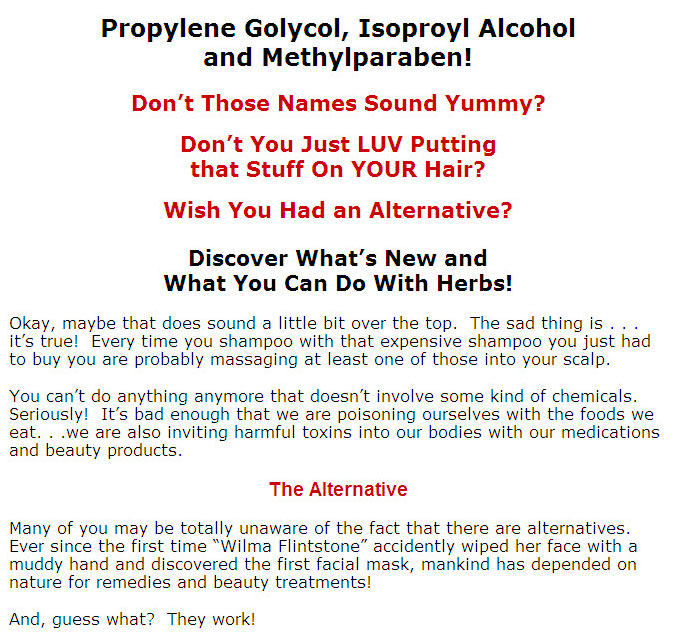 >> Click Here To View Sales Page...
PLR Ebook Table Of Contents
Herbal History
Why Go Herbal
Herbal Beauty Compositions
Herbal Hair Care
Herbal Skin Care
Tonics and Preparations for Colds
Herbal Remedies for Indigestion
Herbal Remedies for Ear, Nose and Throat
How to Flush the Bowels with Herbs
Herbal Help for Arthritis
How to Make Capsules, Syrups, Tinctures and Salves
Herbal Preparations for Treating Pets
Common Household Herbal Uses
Herbs to Plant for Pest Control Herbal Harvesting and Preparation
PLR Ebook Sample Content Preview
Herbal History
The history of herbal medicine dates as far back as the history of mankind. This is especially true during earlier times when people had no access to modern medicines and relied mainly on what nature could offer. The use of herbal remedies can be referred to as "medicinal botany" as it basically utilizes the different parts and ingredients present in the plant to provide cures for common illnesses.
Herbal Medicine and its History
The use of herbs for medicinal purposes has been the oldest form of health care known to man. Recent studies have shown the therapeutic and medicinal value present in most herbs. They naturally produce chemical substances that respond to viruses or bacteria that cause disease.
Herbs are used in several cultures throughout the world. As the world evolved into modern civilization, herbal medicine went along with it. And despite of the intense modernization, it remains to be an integral part of this society. As history progressed and more modern technologies innovated, the use of herbal medicine progressed as well.
In-Depth Look at Herbal Medicine
Several parts within a plant or herb are utilized for life-saving, curing, preventive, or relieve from illnesses. Some of the parts of the plant that are extracted with healing properties include:
1. stems
2. leaves
3. flowers
4. fruits
5. root
6. bark
The list encompasses almost every part of the plant. For remedies at home, the parts of the plant are applied directly to the infected areas, or drank as a solution or juice to provide the desired relief. One of the many reasons why people are turning to herbal medicine is the lack of harmful side effects, knowing that only natural ingredients are used.
Other Details* Sales Page:
Included, HTML, MS Word Doc
* File Format:
MS Word Doc, PDF
* Number of Pages:
86
* Included Graphics:
Ecovers, PSD
* Download File Size:
1,490 KB