Salespage Snapshot: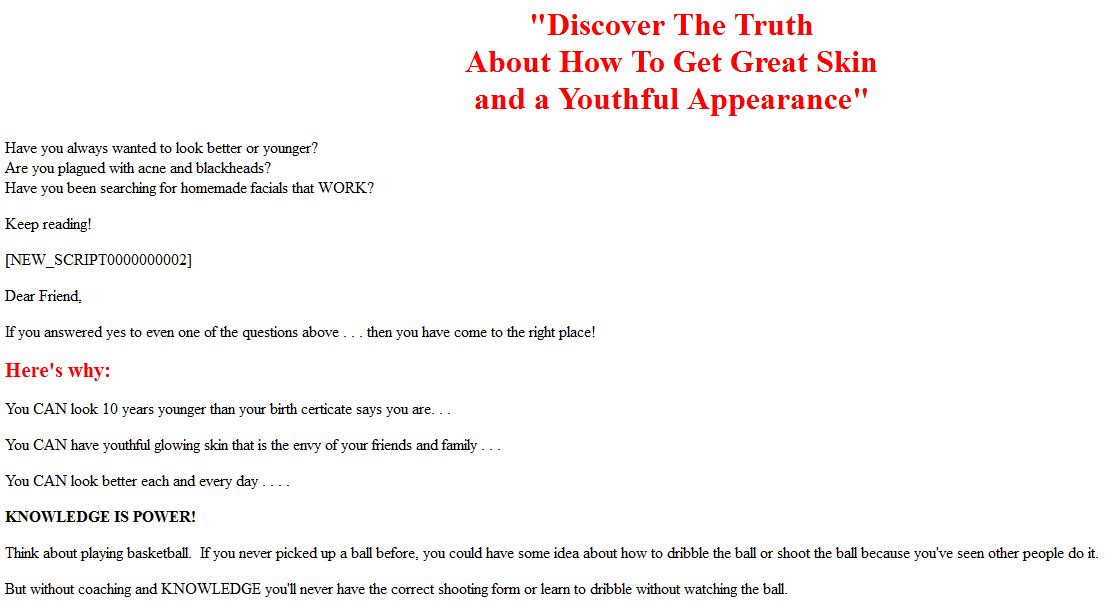 >>> Click Here To View Full Sales Page…
Great Skin Care Plr Ebook Table of Contents
Skin Structure
What's My Skin Type?
Skin Care Begins From The Inside Out
Negative Effects That Last A Lifetime
Cleansing, Toning and Moisturizing
Masks and Exfoliation
Home Made Skin Care
Slow the Aging Process
Acne Prevention Techniques
Sample Content Preview
Now that you know what your overall skin type is you'll be able to choose the skin cleanser that works best for you without causing further tightness or shininess to your face during the day. Using the correct cleanser can also decrease any breakouts that you may be prone to experiencing.
Choosing your make up is also important. Many of the make up products today are classified for all skin types, dry skin or oily skin. Those products, which are used for people with oily skin don't add additional moisture, while those designed for people with dry skin will add additional moisture to the face.
Many women find that if they have oily skin a make up foundation that is powder based, such as a mineral make up, adds little moisture, gives great coverage and doesn't add to any breakout problems. Women also find that mineral make up feels lighter, doesn't settle into the creases in their face and also doesn't leave that tell tale make up line under their chin.
If you have dry skin you may find that a tinted moisturizer works well for your foundation. This adds moisture while still giving coverage. When choosing your foundation look for one that includes a sunscreen or that you use a sun screen before applying a foundation.
For the most part, the majority of women have combination skin, have minimal breakouts, minimal shine or dryness. These generalizations may vary during different season such as in the summer the skin may be oilier and in winter a bit dryer.
When choosing moisturizer purchase one which is a lightweight product and is oil free. Your daily cleansers should be gently exfoliating that will take away the impurities without drying out the skin. If your face feels dry and tight after washing then the cleanser may be too drying. If you feel oily or greasy then it may have too much moisture for your skin type.
Understanding how skin type impacts the products and the skin aging process will help to improve your chances of never really looking your age. With advanced skin care technology, knowledge, prevention and treatment options women today have the ability to look far younger than their calendar years. And benefiting from these advantages doesn't have to be expensive, time consuming or difficult.
Next let's address the benefits your skin gains from giving it the right vitamins, minerals and hydration. Your skin care really begins from the inside out.
Skin Care Begins From The Inside Out
Your skin is actually a fingerprint of what is happening inside your body. When we suffer from psoriasis, acne and the aging process, it is a manifestation of what the body requires internally – include nutrition. So while we might focus on care of our skin for a better presentation to the public we are also providing our bodies with the nutrition it needs to thrive.
Now, while it would be naïve to believe that just changing our nutrition can wipe out wrinkles or completely stop the aging process, it is also naïve to think that we aren't what we eat.
Our bodies use the nutrition and hydration we provide to build cells, fight infections, and build tissue. If what we provide are processed foods, trans fatty acids, and high amounts of animal fat then we can't be surprised by the results – even if our skin cream is $50.00 for each 0.5 ounce tube.
What we eat affects every organ in our bodies. Our skin is the largest organ in our body so it stands to reason that the skin will be affected by our eating habits.
A good skin cream will help to provide the vitamins that skin needs directly to the epidermis but the dermis depends upon the nutrients we eat to develop well.
Every cell in the body depends upon a complex cocktail of dozens of nutrients and metabolites such as vitamins, minerals, living enzymes and essential amino acids. By providing these nutrients you actually are able to slow the aging process of the body overall, and therefore the skin.
There are limitations to providing adequate nutrition to slowing the aging process and we'll discuss those factors in the next section under Negative Effects to Skin Care.
Another limitation to good nutrition is that you won't notice a striking change immediately. It will take weeks, if not months, for a change in your diet to make a change to your body. But neglecting this aspect of caring for your skin will definitely produce negative effects as time marches on.
Mild deficiencies in vitamins and minerals, which may not make a clinical difference in your health, will impede the ability of the skin to rejuvenate and repair itself – and thus move the aging process along even faster. Improving nutrition in people who have some subclinical nutrient deficits may result in younger looking skin and a partial reversal of some signs of aging. This isn't the effect of a facelift but rather a change in texture and tone, which can reduce the appearance of fine lines.
So what are those essential vitamins for skin health?
Looking at the paragraphs above it's apparent that the skin requires most, if not all, of the nutrients that the rest of the body needs in order to function properly. But there are several vitamins that seem to be chronically deficient and with addition may result in significant changes.
Some of the new and exciting dermatological discoveries are the impact that vitamins have to counteract the effects of sun exposure. Does this mean that we should neglect using sunscreen? Absolutely not! But, when we occasionally forget the sunscreen, or if it wears off, it's good to know that vitamins can help to counteract our neglect.
From a topical standpoint, a research study published in the 2002 Annual Meeting of the American Academy of Dermatology, researchers from Duke University demonstrated that appreciable photo-protection (protection from sun damage) can be received from topical vitamins C and E.
This study was backed up by a more recent study in 2005 in the Journal of Investigative Dermatology. Researchers found that people who took Vitamin C and E internally long-term reduced their risk of sunburn from exposure to UVB radiation and they found reduced factors linked with DNA damage. This lead them to conclude that antioxidant vitamins help protect against DNA damage.
This discovery has had effects that reach further than skin damage or the aging process. Many of today's chronic diseases such as diabetes, cancer and cardiac disease can be linked back to damage done by free radicals. And free radicals are what cause DNA damage AND they are what anti-oxidants fight.
A further discussion of free radicals follows in the next section. Combining these two particular vitamins in skin lotion can be highly protective against sun damage.
This does NOT mean that you can slather on sunscreen, take your vitamins and then bake in the sun. But rather, this means that the UVA and UVB radiation, that breaks through the sunscreen, can potentially be negated by your daily vitamins and nutritional intake.
The best vitamins are found in their natural state. As much as researchers would like to reproduce the vitamins our bodies need into a pill it is impossible to provide all of the enzymes and minerals that work in the complex cocktail our bodies need to function appropriately.
Vitamin C is found in its natural state in citrus fruit and vegetables such as broccoli, bell peppers, cauliflower and leafy greens. Vitamin E is found in nuts, seeds, olives, spinach and asparagus. In recent research scientists have found that large doses of Vitamin E can be harmful to your health. So while large doses are hard to achieve using whole foods, the addition of a supplement can increase your chances of causing more harm.
Vitamin A is necessary for the repair and maintenance of your skin. If you have enough from the foods you eat adding more in the form of a vitamin pill probably won't be harmful since it is a water soluable vitamin. But if you are just a bit deficient you will see effects such as dry flaky skin. Fruits and vegetables are loaded with Vitamin A.
Water soluable vitamins are those that are excreted in the urine when the body has had enough. Fat soluable vitamins, on the other hand, are stored in the fat deposits of the body.
Topical Vitamin A can make a real difference to your skin. Medical studies have shown a reduction in wrinkles, acne and aging. The topical form of Vitamin A is called Retinol.
Retinol is also very drying and although it protects against photo aging and damage it also can incite further damage if the skin is exposed to the sun when it is undergoing initial changes to the topical cream.
Researchers published a study in the British Journal of Dermatology, which found that foods high in beta-carotene also appear to reduce the risk of psoriasis.
Vitamin B complex is another of the vitamins that make a difference in the health of skin. The most important of these is biotin, which forms the basis of skin, hair and nail cells. Mild deficiencies can cause symptoms and in severe cases it leads to hair loss, and dermatitis.
Other Highly Recommended PLR Rights Products:
– Skin Care Plr Ebooks
– Skin Care Plr Articles
– Skin Care PLR Autoresponder Email Series
Other Details
- 1 Ebook (DOCX, PDF, TXT), 34 Pages
- 1 Salespage, Squeeze Page (TXT)
- Affiliate Programs List (DOC)
- Keywords List (XLS)
- Bonus Images (JPG)
- File Size: 921 KB