Salespage Snapshot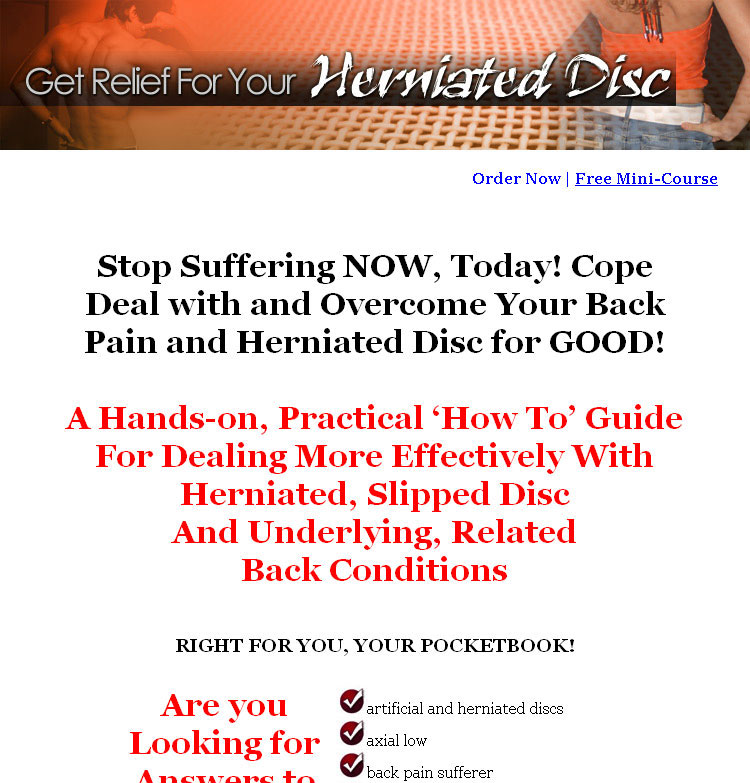 >> Click Here To View Sales Page...
Ebook Table Of Contents
Part I: Introduction Pages    1-10
Getting Started With Back Pain And Herniated Disks
Insights On And Understanding Of Back-Pain, Anatomy Of The Spine, Muscles And Dynamics Of The Human System (Body)
Part II: How To Tell And Know That There Is A Problem Pages    10-14
The Characteristics, Nature And Dynamics Of Pain
Moving From Symptoms, Diagnosis, Prognosis, To Treatment Getting A Medical Opinion And Input On Your Condition, Assessments And Tests (Relevance, Importance, Necessity)
Self-Diagnosis, Versus Formal Diagnosis
Causality Relating To Back-Pain, Slipped, Problematic Or Herniated Discs
Part III: Intervention, Correction, Prevention, Holistic, Comprehensive And Combination Treatment Plans And Therapies    Pages 14-54
Rest, Relaxation, Stretching
Medication, Prescription, Over The Counter Solutions, Drugs, Pharmacology
Exercise, Flexing, Physical Therapies
Medical Intervention, Surgery
Alternative Therapies
Acupuncture
Professional Chiropractic Therapies
Specialized Massage Therapy (Swedish Massage, Deep Tissue)
Movement And Mobility, Physical Exercise (Targeted, Pain, Slipped Disc, Sciatica, Abs, Back Muscles)
Part IV: Pain Relief And Related Strategies    Pages 55-59
Walking, Strolls, Hiking, Weight Loss, Control, Management And Maintaining Healthy Optimal Weight, Water, Hydrotherapy
Innovative, New Therapies: Oxygenation, Hybratic Ozone Therapy     Nucle-oplasty, Genetics, Genomes and Bio-engineering, DNA, Regeneration etc.
Final Thoughts On Back-Issues, Slipped And Herniated Disc Ailments    59
Herniated Disc Glossary (Adapted)    61
Resources, Online Links and References    63-65
Ebook Sample Content Preview
PART I: Introduction
Obviously, the whole musing and discussion on back-pain, herniated discs have to start somewhere and the logical place is where and what it is, why it occurs, what types of difficulties and discomforts are there and how to treat and deal with them effectively. That is the main content and intent behind this first and introductory part. We have refrained from using complex terminology in this conversation (with a glossary provided at the back of the text for more detailed definitions, reference and easy-to-following reading ease for the audience – that's you!).
So, without further ado, let us get on with it. Stay tuned for great insights, insider tips, to build your own knowledge, coping strategies and even bio-facts about what your spine is, the muscle groups that work, vertebrae and inter-vertrebral spaces (between), fluids, lubricants, joints,  aging and degradation, challenges and obstacles, dynamics and complexities of the human system, particularly the back and neck!
Let us start this off with a key question:
Have you (personally, or known someone that has) ever been, felt battled or challenged by :
A variety of on-going, recurring, constant, severe back pain symptoms
Degenerative disc disease
Lumbar, lungo, Lower back pain
Sciatica  (nerve-related) aches and pains
Vertebral column issues, concerns, problems, anomalies, imbalances, protrusions, leaks, tears etc.
… or other such related matters? Are you familiar with the nature, scope, characteristics, features, discomforts, disabilities and debilitating issues, coping with pain relief, remedies, therapies and the search for answers and solutions, then this is the guide for you . It is about so much more than back pain and herniated discs! …
Other Details* Sales Page:
Included, HTML, DOC
* File Format:
MS Word Doc, PDF
* Number of Pages:
66
* Included Graphics:
Ecovers, PSD
* Extras:
5 Part Autoresponder Email Message Series
* Download File Size:
11,424 KB