Salespage Snapshot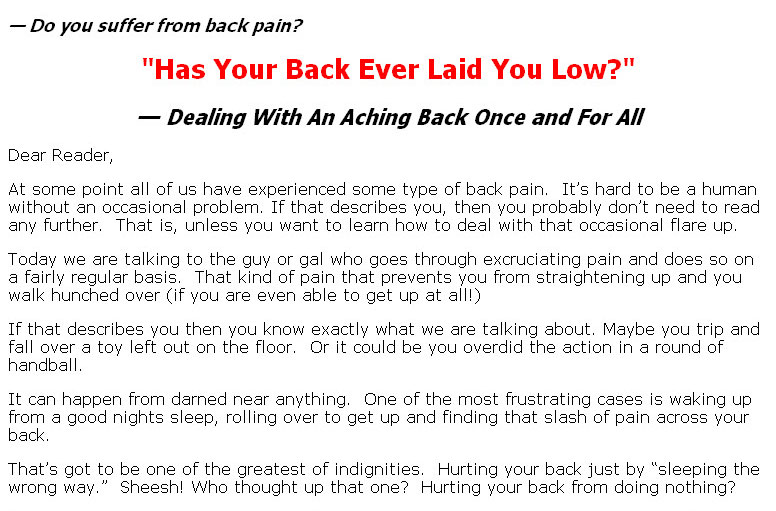 >> Click Here To View Sales Page...
Ebook Table Of Contents
What Causes Back Pain
About the Skeletal Muscles
Joints, Connective Tissue and Back Pain
What Is a Slipped Disk?
What is Gouty and its Effect on Back Pain
Common Back Injuries
Osteoporosis and Back Pain
Osteogenic Sarcoma and Back Pain
Osteomyelitis and Back Pain
How Stress Fractures Can Affect Back Pain
Rheumatoid Arthritis and Back Pain
Sacroiliac Bones and Back Pain
Your Shoes and Back Pain
Treating Back Pain
Preventing Back Pain
PLR Ebook Sample Content Preview
What Causes Back Pain
Your ability to determine what causes back pain problem is vital in finding efficient treatment to stop any sensation of pain, regardless of severity. Some of the commonly identified causes are listed and discussed further below.
Understanding Causes of Back Pain
Identifying what causes back pain can be difficult, yet it is highly important. However, the reason for this is quite obvious – your lower back is often responsible for bearing all the weight and stress of your entire body. Hence, you are very likely to cause strain on the ligaments and muscles on your lower back, which is further aggravated with awkward body movement or posture.
In some cases, back pain results due to a combination of factors, which make diagnosis even more difficult. Based on health research and studies though, below are common causes of back pain with a discussion on how they develop and possible treatment options.
Other Details* Sales Page:
Included, HTML, MS Word Doc
* File Format:
MS Word Doc, PDF
* Number of Pages:
68
* Included Graphics:
Ecovers, PSD
* Download File Size:
2,342 KB