Salespage Snapshot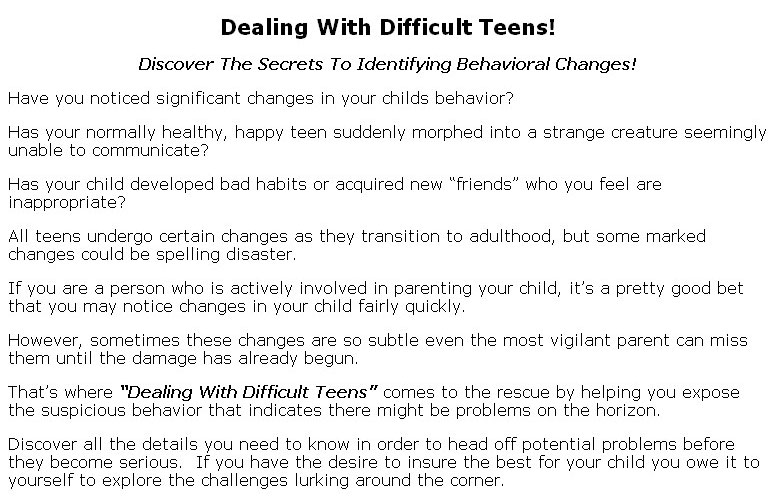 >> Click Here To View Sales Page...
PLR Ebook Table Of Contents
What Are The Warning Signs
Peer Prevention
How to Deal With Teen Truancy
Dealing With Teen Depression
Is Your Teen in a Gang?
Is Your Teen Violent
Your Teen and Substance Abuse
When Your Teen Runs Away
Is Your Teen an Underachiever?
Responsibility, Chores and Your Teen
Is Your Teen ADD, ADHD or Bipolar
Is Your Teen at Risk for Suicide
Your Teen and the Dark Side
Your Teen and the Internet
Treatment for Your Teen
PLR Ebook Sample Content Preview
What Are The Warning Signs
Contrary to popular opinion, not all teenage crises will appear out of the blue and because of its unexpected appearance, render parents helpless to change the situation for the better. There are always warning signs – and you just have to know what you're look for.
5 Warning Signs of Teenage Crises for Parents to Take Note of
Change in Academic Grades – Most teenagers who are experiencing serious problems – mental, psychological, or emotional – would usually end up letting their grades slip although this may be unintentionally or otherwise. If your child used to have straight A's all the time and yet all of a sudden, other letters start showing up in his report card, it's definitely a sign that there's trouble on the horizon.
Ideally, a positive change in academic grades is something to welcome – and you definitely should if you see ample proof that your child is finally working hard to do well in school. But if there's no visible evidence to support this change, and further probing reveals that your child isn't just studying in another setting, then this could be considered a warning sign as well..
Other Details* Sales Page:
Included, HTML, MS Word Doc
* File Format:
MS Word Doc, PDF
* Number of Pages:
61
* Included Graphics:
Ecovers, PSD
* Download File Size:
1,778 KB