Salespage Snapshot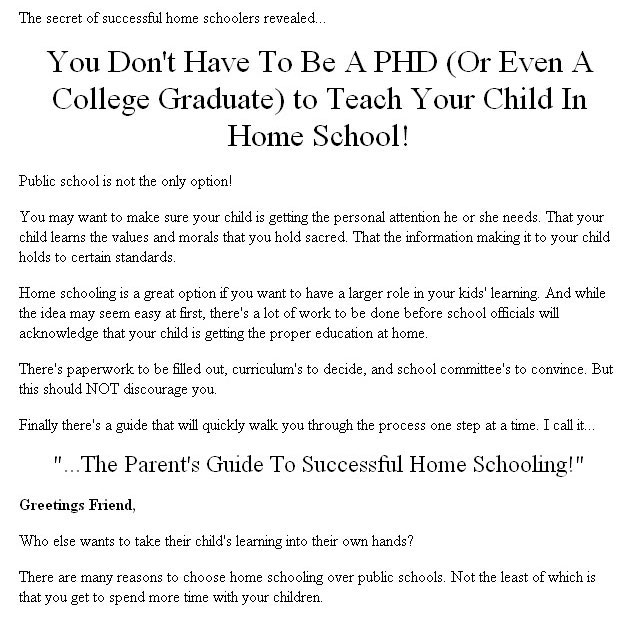 >> Click Here To View Sales Page...
Ebook Table Of Contents
pg. 3     Introduction
pg. 5     Getting Started
pg. 9    Tips for Writing your Education Plan
pg. 18    A Sample Education Plan
pg. 19    Choosing Teaching Materials
pg. 24    10 Steps to Developing A Quality Lesson Plan
pg. 28     Sample Lesson Plans
pg. 35     Scheduling & Planning Lessons
pg. 44     Homeschooling Gifted and Special Needs Children
pg. 47     Summary
pg. 50     Resources
PLR Ebook Sample Content Preview
Introduction
The decision to home school your child can be a difficult one to make. Many parents wonder if it is the right thing to do. Many wonder if their children can get the same "grade" of education if they are homeschooled.
There are many reasons why parents choose to homeschool their kids. For many it is because they want to add religious content to their children's learning experience.
Making the decision to home school is usually a very difficult not and it is not one to be taken lightly. It is a personal decision that no one can make for you, but maybe I can help in the thought process by providing you with a comprehensive guide to making the choice to homeschool your kids a successful one.
When making the homeschool decision, you must first consider these things:
1.    Time commitment that is involved. Homeschooling has a tendency to take up a lot of time in your day. It involves more than just sitting down with books for a couple of hours. There are experiments and projects that have to be done, lessons to prepare, papers to grade, field trips, park days, music lessons, and the list just keeps on going. You can go online and search for some sample schedules that will help to give you an idea of a typical day.
2.    Personal sacrifice. The homeschooling parent has very little personal time or time alone and away from their children. If a lot of care is not taken to set aside time for yourself, it is easy for the parent to feel overwhelmed. Basically, the parent and child are together 24 hours a day and this can get frustrating on both sides.
3.    Financial problems can arise. Homeschooling can be accomplished with very little cost to you; however, it usually requires that the teaching parent will not…
Other Details* Sales Page:
Included, HTML
* File Format:
MS Word Doc, PDF, RTF
* Number of Pages:
53
* Download File Size:
251 KB