Salespage Snapshot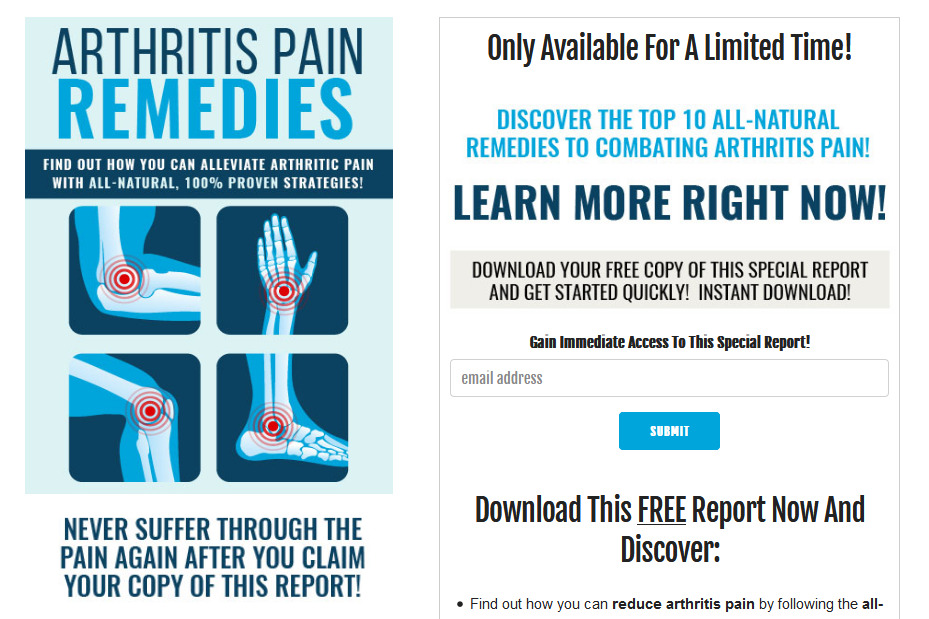 >> Click Here To View Sales Page...
Table of Contents
Table of Contents 3
Introduction 5
Tip #1: Regular Exercise 7
Tip #2: Hot & Cold Treatments 9
Tip #3: Acupuncture 12
Tip #4: Omega-3 Fatty Acids 14
Tip #5: Turmeric 17
Tip #6: Massage Therapy 19
Tip #7: Aquatic Therapy 21
Tip #8: Tai Chi 23
Tip #9: Yoga 26
Tip #10: Meditation 28
Final Words 30
Resources 32
Sample Content Preview
Tip #1: Regular Exercise
Exercise is vital to keeping those joints and muscles elongated, warmed up, and moving. Make sure to always discuss your weight and exercise routine with your physician before following any workout plan.
Keep in mind that exercise doesn't have to mean 7 days at the gym pumping iron and running on treadmills. Regular movement, whether it's walking around your home or participating in aerobic classes at your gym, does wonders for arthritic pain.
In the past, it was thought that exercise made arthritis pain worse, but this has been shown to, not only be untrue, but quite the opposite. Daily workouts help to build and maintain a strong and healthy cardiovascular and muscular system.
Beyond the strengthening and stretching you get from exercise, maintaining a healthy weight contributes in many other ways as well, such as reducing the strain on muscles and joints. If you are overweight, it is important that you set goals with your physician to reach your optimal healthy weight and that you set yourself up for long-term success, rather than short-term results.
Laura Robbins, Senior Vice President of Education and Academic Affairs at the Hospital for Special Surgery in New York, says that for every pound you lose, you reduce the pressure on your knees by four pounds.
In fact, Roy Altman, MD, Professor of Medicine at the University of California, has seen symptoms of arthritis completely disappear from patients that have lost ten to twenty pounds of excess weight.
Along with the symptoms of arthritis, you will be improving your overall mental and physical well-being, helping to control other ailments your body may face as you age. A strong heart and a strong mind can do wonders for pain management!
Tip #2: Hot & Cold Treatments
One of the main natural treatments for arthritis include hot and cold treatments. There are several different types of arthritis so make sure to ask your doctor which will be better for your specific symptoms.
Cold Therapy helps to reduce joint swelling and inflammation. This type of treatment is most often recommended to rheumatoid arthritis sufferers, but can help others as well.
You can alternate hot and cold treatments as needed but always monitor how your skin reacts and adjust or discontinue as needed.
Cold treatments should be limited to 20-minute sessions. Here are several cold treatments used:
Use a cloth covered bag of ice applied to the painful area.
Submerge the joint in an ice bath.
NOTE: Check with a physician before submerging, especially if it is a large area of the body.
Simple cold packs kept in fridge or freezer, applied when needed.
Heat therapy is often good for all other types of arthritis, as well as, in conjunction with cold treatments. The heat relaxes your muscles and helps blood flow to the affected area.
Heat treatments should be monitored and adjusted depending upon your body's reaction.
Here are several heat treatments widely used by arthritis sufferers:
Start your day with a hot bath or shower to get your blood flowing and joints relaxed.
A warm paraffin wax to affected joints. (This can often be done by a professional to monitor wax temperature.)
Apply a heating pad, heat pack, or other warm heat source to the affected joints.
Always make sure, when using heat therapy, to maintain a comfortable level of heat.
Hot tubs are also excellent ways to cover larger areas of the body, but always check with your physician first as they can be dangerous for those with certain health conditions.
Tip #3: Acupuncture
Acupuncture has been around for centuries and is an ancient Chinese Medicine. This process involves a medical professional trained in the art, inserting thin needles into specific pressure points on your body.
The focus of acupuncture is to reroute the energy stored behind your pain, and balance it throughout the body. It may sound gimmicky, but acupuncture is actually one of the most researched alternative therapies in the world, and is even recommended by the World Health Organization for a multitude of ailments.
Acupuncture is also one of the oldest pain remedies in history, and is completely natural. These tiny needles are stimulating the energy laid out in pathways across your body, called meridians. Studies have shown that acupuncture lowers the levels of inflammation inducing chemicals in the body.
Keep in mind that acupuncture cannot be safely administered by anyone except for a trained and certified acupuncturist.
The needles not only need to be placed in very specific spots connected to your specific ailments, but there is a rigorous hygienic process as well. Make sure to speak to your doctor, and get a referral if necessary, to find the right practitioner for you.
And don't worry, it may sound painful, but the needles are barely inserted into the skin, keeping the process relaxing and rejuvenating.
Other Details
- 1 Ebook (PDF, DOC), 32 Pages
- 7 Part Autoresponder Email Messages (TXT)
- 1 Squeeze Page (HTML)
- Year Released/Circulated: 2020
- File Size: 2,419 KB
License Details:
[YES] Can be sold
[YES] Can be used for personal use
[YES] Can be packaged with other products
[YES] Can modify/change the sales letter
[YES] Can modify/change the main product
[YES] Can modify/change the graphics and ecover
[YES] Can be added into paid membership websites
[YES] Can put your name on the sales letter
[YES] Can be offered as a bonus
[YES] Can be used to build a list
[YES] Can print/publish offline
[YES] Can convey and sell Personal Use Rights
[YES] Can convey and sell Resale Rights
[YES] Can convey and sell Master Resale Rights
[NO] Can be given away for free
[NO] Can be added to free membership websites
[NO] Can convey and sell Private Label Rights