Salespage Snapshot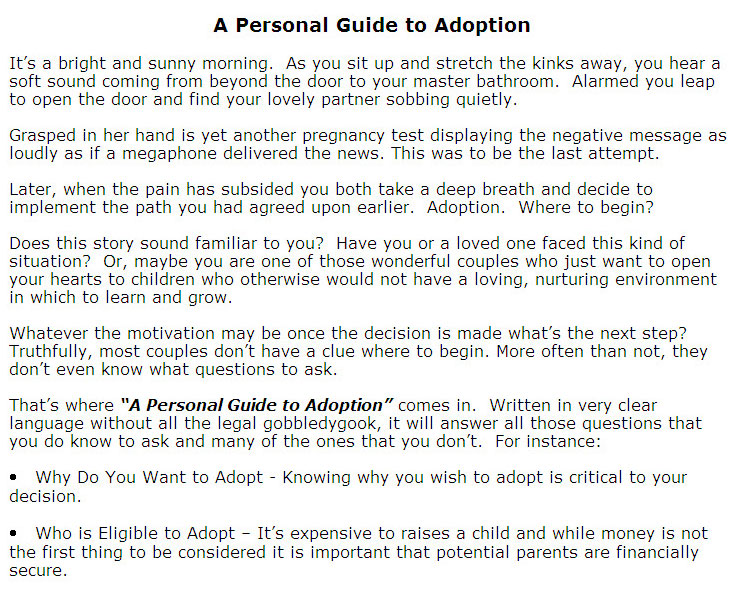 >> Click Here To View Sales Page...
PLR Ebook Table Of Contents
Why Do You Want to Adopt
Who is Eligible to Adopt
Infant or Older Child
Where and How to Begin
What About a Private Agency
What is an Identified Adoption
Independent Adoption
Selecting an Adoption Attorney
How to find a Birth Mother
Meeting the Birth Mother
Special Conditions
International Adoption
Adopting a Toddler
Special Needs and Trans-racial Adoptions
Telling Your Child His History
PLR Ebook Sample Content Preview
Why Do You Want to Adopt?
8 Bad Reasons for Adopting a Child
Contrary to popular opinion, adopting isn't always the right decision to make. Certain situations can make the choice of adopting the wrong one, and if you truly care about the child you're planning to adopt – make sure you've the right reasons for adopting a child.
It's easy to identify the right reasons for adopting a child. If you and your partner have a genuine desire for raising a child with the capacity of loving him as if he was your own, then yes, of course you should go ahead with your decision. But the wrong reasons for adopting a child are something people find it harder to determine simply because they also find it hard to accept that they're adopting for the wrong reasons.
Adoption is a Fad
Just because the likes of Angelina Jolie (who started the fad), Madonna, and even Sharon Stone are doing it doesn't mean you have to do the same just so you can be fashionable. Regardless of the kind of lifestyle you can afford to give your adopted child, adopting him for such a shallow reason will still end up hurting and pushing him away. You're adopting a child, not an object!
Other Details* Sales Page:
Included, HTML, MS Word Doc
* File Format:
MS Word Doc, PDF
* Number of Pages:
58
* Included Graphics:
Ecovers, PSD
* Download File Size:
1,489 KB